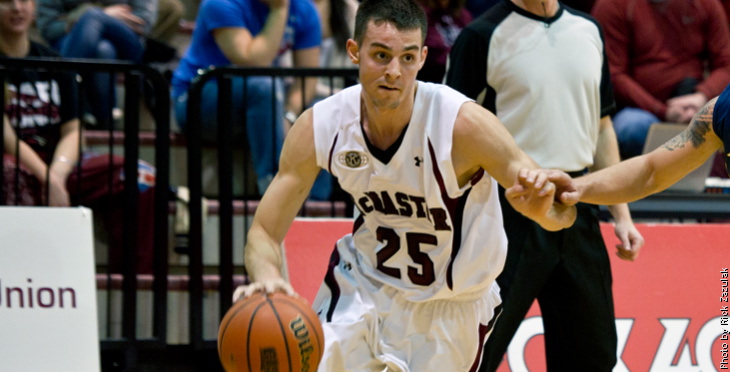 McMaster Marauders Set the Tone Defensively, Open Pre-Season with Victory
NPH Top Performers
McMaster
Aaron Redpath: 17 pts
Rohan Boney: 14 pts
A-Game
HAMILTON, ON–The 2012-2013 version of the McMaster Marauders took the floor for the first official pre-season game last night at Burridge Gymnasuium, defeating A-Game Hoops 89-62.
The young Marauders certainly have talent and good depth on the roster, however what became striking throughout the course of the game was their defensive intensity.
McMaster Head Coach Amos Connolly made it clear that a lack of energy was not acceptable, and that a winning team is one that will produce starting with the first man, all the way to the twelfth player on the bench.
"I just think that there are a lot of guys that come here, and work their tail off every single night at practice and they come to the game totally supportive but don't get a lot of minutes," Connolly told NPH.
"When our guys on the court can't play with an intensity level, there's a moderate level of disrespect, because those guys are dieing to be on the court," he passionately explained. "Both people owe each other. The guys on the court have to respect the bench guys for giving them energy, but the bench guys have to understand that when there's a lull, they have to raise the intensity level; so it works back and forth."
The Marauders played with a great deal of effort, holding a talented A-Game Hoops team composed of former CIS stars & top notch high school prospects to only 62 points.
Sophomore guard Aaron Redpath registered a game-high 17 points, while displaying an improved passing game. As expected, freshman wing Rohan Boney was very impressive on both ends of the floor. Defensively, he is adjusting to the team's philosophy and in the open court he is a nightmare on the attack.
Despite Boney's production and efficiency, his ceiling is still very high with untapped potential, thanks to the combination of length, athleticism, versatility and signs of an improved perimeter game.
Adam Presutti, 2011-2012 CIS rookie of the year, is entering his sopohmore season and by the looks of last night, he is picking up where he left off.
Presutti has erased all doubt about whether he can man the point guard position full time. Coming out of high school, he looked like a combo guard still transitioning. However, his rookie year at McMaster proved otherwise and this season he will once again lead the Marauders.
Taylor Black and Nathan McCarthy were exceptional, and will be key this season for inside scoring and rebounding.
McMaster will head up the street to take on the CCAA National Champion Mohawk Mountaineers on October 16.