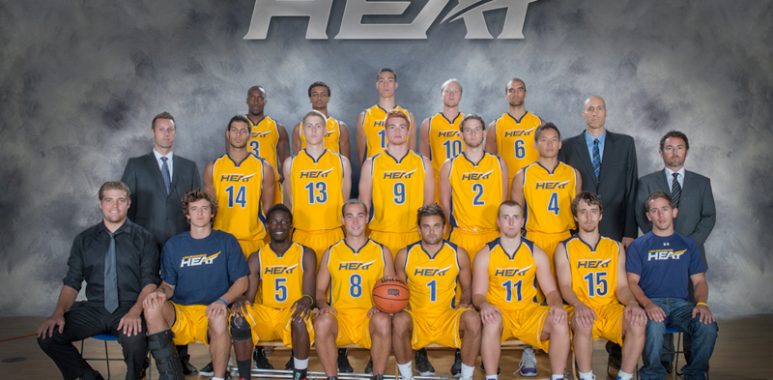 NPH CIS Preview: UBCO Heat
Last Season:
| | | | | | | | |
| --- | --- | --- | --- | --- | --- | --- | --- |
| 3-15 | .167 | 3-15 | .167 | Won 1 | 3-6 | 0-9 | 0-0 |
Head Coach: Pete Guarasci 
Assistant Coaches: Kelly Broderick, Matt Heyworth, Alex Roth
2011-12 Record: 3-15 (Canada West).
Key Players: Yassine Ghomari, Mitch Goodwin, Landry Ndayitwayeko, Ryan Fahandeg, Dave Mackay
Incoming Recruits: 
Mitch Goodwin – 6'2", Kelowna, BC / Kelowna Secondary
Landry Ndayitwayeko – 6'3" Windsor, ON / Algonquin College
Anwar Faza – 6'4" Ottawa, ON / Macewan University
Greet Gill – 6'4", Oliver, BC / South Okanagan Secondary
Dario Gini – 6'0" Kelowna, BC / Immaculata Regional
Departures:  Simon Pelland, Steve Morrison
The UBC-Okanagan Heat struggled in their first year as a member of the CIS, but with a deep recruiting class and some key returning players, first year head coach Pete Guarasci is looking to develop a winning culture and build a competitive program.
Mitch Goodwin's late decision to play at home and in the CIS, rather than playing at a prep school (Blair Academy) will certainly give the program a boost, but Goodwin is hoping it will do more than that.
In a recent article in the Kelowna Capital News Goodwin was quoted as saying:
"There were so many good reasons to stay here, the education part of it, being close to home, and playing for Pete was an important aspect, too."
"(The CIS) is getting better and better all the time, we need to keep developing basketball in Canada. Maybe by staying in Canada, I can inspire other guys to do the same and we can keep improving the quality of the game here."
Entering their second year in the CIS, the Heat will have a completely new look and Coach Guarasci gave us his thoughts on some key players, and on the incoming recruits:
Fourth Year guard, and last year's leading scorer, Yassine Ghomari – "Yassine has been a leader so far in practice, just works hard every day, setting the tone. He's going to play some point, he'll play some two, he can definitely score."
"We have a little more depth this year, we're going to look to use him not only as a scorer but also to facilitate the offense. He draws so much attention because he is so skilled. He'll be a focal point, but I'm excited to find ways to get him free, and to get him to initiate offence, and for other players to feed off his strengths. He's been great both offensively and defensively."
UFV transfer Ryan Fahandeg – "He's a strong, athletic wing that can shoot. He opens up the court for us; he's a very good offensive player. He gives us some more experience. He works hard, can rebound, so he'll be fun to coach"
Second Year guard Bret Macdonald – "He had a pretty decent second half of his first year. We're looking for Bret to continue his development and help us at the one and two spots in the back court."
College transfers Landry Ndayitwayeko and Anwar Faza – "They are very versatile players, very competitive. They are going to be good for us on the wing. They'll help us in terms of depth. Smart players."
First Year guard Mitch Goodwin – "He's a very important recruit, and to have him join our program, we are really happy. He's absorbing lots of coaching right now and I think he's doing a great job. He's getting better every day, and I think he's going to turn into a really nice point guard at some point. He's been a pleasure to coach, he works very hard, he has a great skill set and pretty good athleticism so now it's just really working on his conceptual play, which I've seen improvements with in one practice, after one coaching tidbit he gets better. It's exciting to know he's going to be here for four or five years and the gains that he could make."
First Year guard Dario Gini – "He is very far ahead conceptually in the way he sees the game, and reads the game. He has a very nice skillset and can really shoot."
First Year wing Greet Gill – "He just has a real good motor, he absorbs coaching very well and understands what's trying to be done on the court. He's an excellent rebounder. He's more of an opportunist at this point, where he takes what the defence gives him. But, he's doing a great job of that, and that's the way I want a lot of our guys to play. He really battles, and understands what it means to compete."
With the loss of two experienced post players (Morrison and Pelland), and a wealth of talent in the backcourt and at the wing positions, Coach Guarasci is looking to tailor his system to take advantage of this speed and depth.
"We're not a big team. We're going to have to use our speed and athleticism. I'd love to get out in transition, but to get out in transition you're going to have to have a pretty good defence, so we're really trying to zone in on being aggressive defensively, forcing turnovers or forcing challenged shots, then rebounding with all five guys and getting out in transition."
As far as expectations are concerned, Coach Guarasci stressed the importance of practice and of gradual and continued improvement.
"I expect my team to keep getting better as the season progresses, and keep developing. For me, it's very important for us to work hard every day in practice, be better than our last game, and just keep improving, keep getting better."
Guarasci continued, "We want to use our spacing and our decision making on the offensive end. Rely on that more than a system or a structure. Put them in simple situations to put the ownership into their hands to make some good decisions. At the beginning of the season that can be a little tough, but I always say that if you stay on that track, towards the end the players just keep betting and better, and it's fun to watch them develop, in that sense."
One thing is guaranteed, you can expect the UBC-Okanagan Heat to compete every night, and don't be surprised to see this young team turn some heads in the Canada West.