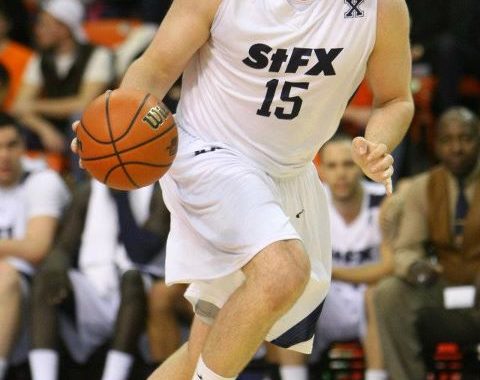 NPH CIS Preview: St. Francis Xavier X-men
Last Season:
| | | | | | | | |
| --- | --- | --- | --- | --- | --- | --- | --- |
| Overall | Pct. | Conf. | Pct. | Streak | Home | Away | Neutral |
| 16-4 | .800 | 16-4 | .800 | Won 7 | 9-0 | 7-4 | 0-0 |
Team: St. FX X-Men
Head Coach: Steve Konchalski
Assistant Coaches: Denton Anthjony, Alex Wolf
2011-12 record: 16-4 (AUS)
Key Players: Terry Thomas, Jeremy Dunn, Tyrell Vernon
Incoming Recruits: Dave Benoit, Jordan Tyrrell, Kristian Rasenburg, Mathieu MacDonald
Departures: Bol Kong, Marquis Clayton, Riiny Ngot
Every year expectations in the small town of Antigonish are for their X-Men to compete for an AUS title and a National Championship.  This years expectations are well placed with the X-Men coming off a CIS Bronze Medal and returning key players.
Yes, the X-Men did take a hit with the loss of a very talented player in Bol Kong, but they seemed to never really adjust when he returned from injury in the 2011/12 season, as they didn't play with the same flow as they did in the undefeated preseason and the 7-0 start.
That being said the X-Men's fortunes this season will depend on AUS All Star, team captain Jeremy Dunn and his versatility, complimented with super athlete All Canadian Terry Thomas. Dunn's decision making on the floor especially interms of staying away from bad fouls will again determine the X-Men's flow in individual games.  When Dunn stays in the game and plays his point forward style, he and the X-Men are very difficult to defend.
Terry Thomas literally jumped on the NPH radar last season and was also named an All Canadian. The biggest improvement for Thomas last season was his ability to make mid range jumpers. He made people defend him, then just out played, and out jumped every player who defended him.
Thomas is an absolute beast in the open court which is the style that ST FX looks to play. If Thomas' shooting and ball handling improved this off season as it did last year, look for him to be one of the most unstappable players in the country.
Coach Konchalski is building on his CIS all time win total and continues to cement himself and the X-Men program as one of the all time greats in CIS basketball, while pushing for a fourth National Championship.
With Tyrell Vernon, a true point guard who is a coach on the floor running this team and spreading the ball around to the many talents the X-Men possess, they will definitely a large threat in the CIS.
Helping with this push is incoming recruit, Jordan Tyrrell a 6'1 guard out of Quebec (John Abbott / CEGEP all-star in 2011/12), as well as key role players– seniors Jordan Clarke, Will Donkoh, juniors Shane Coupland and Rodrigo Medera.
This is a very mature basketball team who knows how to deal with expectation, who knows how to deal with turmoil and who knows how to play together which equates to them winning together.
The only team in the country with greater expectations on winning is the Carleton Ravens; look for the X-Men to be pushing the defending National Champions in the rankings all season and challenging for Championships in March. And don't forget the heated battle for the AUS championship as St FX challenges fellow AUS elite and defending conference Champion The Acadia Axemen.
[youtube Pzp1Yd2r6e4]