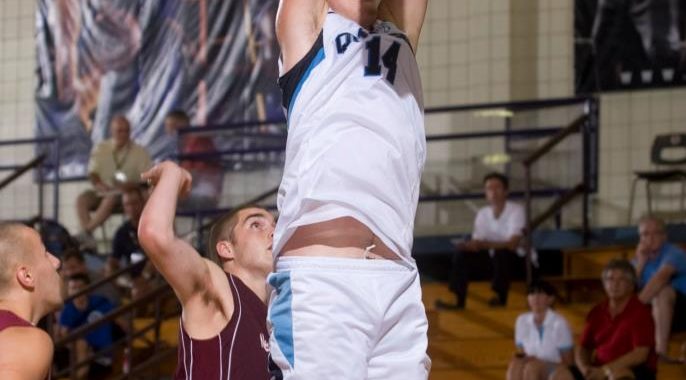 Final Four Is Set: Ontario, Quebec, Manitoba, British Columbia
SHERBROOKE,QC–After four days of basketball, four teams remain for gold medal contention with Team Ontario remaining as a heavy favourite. Quebec, Manitoba and British Columbia round out the final four.
In the first semi-final game, Ontario will take on Quebec in what will likely be the game of the tournament. Team Ontario is the favourite to win it all and have been rolling all week, however Quebec does have the home court advantage.
Team Ontario
Fire Power: Malcolm Duvivier, Marcus Lewis, Connor Gilmore, Juwan Miller, Tyrell Bellot-Green, Mackenzie Morrison
Ontario will apply pressure defence throughout the entire game to generate offense and easy scoring opportunities. They have multiple scorers and multiple bodies to throw on defence to ensure the team consistently has fresh legs. However, this will be the first time in this national tournament that Ontario matches up with a team that possesses a combination of size and talent, that Quebec does.The Ontario coaching staff will have their team prepared and surely not take Quebec lightly.
Team Quebec
Fire Power: Noah Daoust, Keevon Small, Abdul Atta, Richardson Maitre
Quebec has some good size in their front court with Noah Daoust in particular. Daoust has been a beast all week crashing the boards, blocking shots, diving for loose balls and simply giving it 110%. Daoust will be the key for Quebec as he will need a big game by establishing his presence down low. As Ontario defenders double or triple team, Daoust has the presence in mind to either kick out for the open three, or pass it in the interior for an easy bucket. Richardson Maitre, Quebec's floor general will have a big responsibility of protecting the ball and ensuring his team maximizes every possession. If the turnovers pile up for Quebec, this will spell trouble.
Team Manitoba
Fire Power: Justus Alleyn, Ben Miller, Junior Sesay, Ayob Ayob
We have been quite impressed with Manitoba's discipline and patience on offense, as they rarely rush their shot, do a good job of moving the ball and usually find the open man for a quality possession. With this being said, they have not yet been truly tested despite beating a feisty Nova Scotia team, convincingly. Against BC they will face some size, something that shouldn't be too much of a factor. As they continue to execute, Manitoba will have a good chance at defeating BC and advancing to the finals. Stay tuned.
Team British Columbia
Fire Power: Montell Lindgren, Leslie Charles, Alex Hart
BC's lead guard, Montell Lindgren will be the key for his team. He must dictate the flow of the offense and understand when it is best to feed the post, when to push in transition, essentially organizing the squad. He has shown the ability to be the floor general in spurts, however if British Columbia is to be efficient and effective, it will have to be for the length of the game, and it will start from the one-spot.