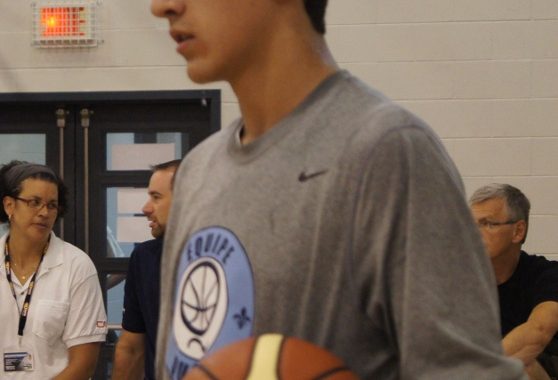 Jerome Desrosiers Jumps on NPH National Radar as Quebec Handles Nova Scotia
NPH TOP PERFORMERS
Jerome Desrosiers- 19 pts, 8 rbs, 3 ast, 5 stl – Quebec
Ethan Gabert-Doyon- 20 pts, 5 rbs, 2 ast – Quebec
Sylvio Biabo- 11 pts, 11 rbs, 3 ast, 2 stl- Quebec
SHERBROOKE, QC–It was my first opportunity to catch both U15 Quebec and Nova Scotia teams at nationals. For the Scotians, we had seen a good majority compete at the NPH East Coast Showcase, including players such as Lindell Wigginton, Rowan Power, Gage Sabean, and Andrew Beaulieu to name a few.
At nationals, it provides us a chance to witness these players in a different environment. How will you react to adversity? What does your body language look like toward your team? How will you produce?  All these questions and more, allow us to learn what type of prospects we are watching.
However, this night belonged to Quebec. Jerome Desrosiers (a name you will become familiar with) was a man among boys. The class of 2017 prospect still has not seen high school, yet imposed his will on the interior with very little resistance. Desrosiers is oozing with potential as the 6'6 small forward is developed physically beyond his years, has some handle and is quite mobile.
Desrosiers will likely take the #1 spot in the country for the class of 2017.
While Desrosiers was impressive, he was not the only one for Quebec. The lead guard Ethan Gabert-Doyon was very efficient for his team, running the show scoring as well as getting his teammates involved. Gabert-Dayon proved to have high I.Q and very good in pick-and-roll situations.
After watching this U15 Quebec team, you notice there is good size and talent on this roster; to the point that I was socked they were blown out by Ontario earlier in the week. If they happen to meet again at nationals (which there is a good possibility they will) it will be very interesting to see how the home team responds against the defending national champions, otherwise known as Team Ontario.
 Results
Alberta Defeats New Brunswick 56-50
Saskatchewan Defeats Newfoundland 65-55
Manitoba Defeats PEI 64-51
Quebec Defeats Nova Scotia 86-63