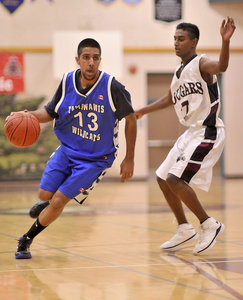 UNBC Timberwolves Add Gagan Sahota as Program Enters CIS
SURREY, BC–The University of Northern British Columbia has added 6'5 SF Gagan Sahota who played in Las Vegas at Impact Basketball Academy for his post-grad year last season.  Originally playing his High School ball at Tamanawis, Sahota was injured in his senior year and was unable to play. As a result, he packed his bags for Vegas in hopes of attracting new post-secondary interest.
"Playing prep in Las Vegas definitely had its ups and downs. It was the first time I had been living that far away from family so I had learn how to do a lot of things on my own normally that my parents would help me with," explained Sahota.
"The training that I went through helped me so much with my game, it made me a better shooter, passer, and just helped almost every part of my game out."
Being injured in his final year of high school hurt Sahota's recruitment but felt Coach Todd Jordan at UNBC did a great job in keeping in touch and helped make the decision easier.
Next season the UNBC Timberwolves will be taking a jump into the CIS and like most schools the transition will be met with some tension.
Sahota is thinking positive about the Timberwolves chances to earn a playoff spot in the tough Canada West division.
"I believe there will be ups and downs but I do believe that UNBC will compete for a playoff spot.  These guys know how to win and they have proven that over the last few years at the college level, (CCAA)."
I know the older guys heading into their fifth and final year of basketball will not just be happy with playing in the CIS.  I definitely think we will be competitive and surprise a few teams."
UNBC president George Iwama expressed his optimism in a press release about entering the CIS, ""I am very excited for our region, our amazing fans, and our student-athletes and coaches as we take this large step forward to bringing the best and brightest to UNBC and our community
The new UNBC recruit is equally excited to begin his journey.  "I am looking forward to playing in front of a great home crowd every game and I'm also looking forward to starting school and my CIS career."
Look out for Sahota this upcoming  season as he will join the Timberwolves with plans of helping the program enter the CIS with a bang.