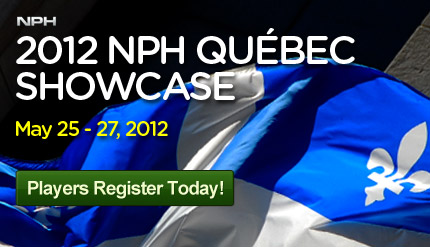 NPH Quebec Showcase Prospect List Released!
MONTREAL, QC–As we approach the FIRST EVER NPH Quebec Showcase this weekend, we are fresh off watching some talented Quebec players at the junior and Cadet National try outs, which included Joseph Chartouny, Joel Tshimanga, Kevin Zabo and Narcisse Kalamba
The NPH team is excited for this Quebec trip to gage the underrated talent that the province has to offer and put it on the map!
The following is a list of registered prospects that will be updated throughout the next three days. Players still have time to register below!
CIS Coaches in attendance: Laval, McGill, Conrcordia, Bishop's
CCAA Coaches in attendance: Vanier, Ahuntsic, Algoma, St Foy, Montmorency, John Abbott
NPH Quebec Showcase Prospect List
Fred Dure | 2013 | 6'4 | SG | Ahuntsic
Max Joseph | 2013 | 6'1 | PG | Ahuntsic
Nolan Woodward | 2013 | 6'5 | SF | Champlain
Alex-Kabaka Rufagari | 2013 | 6'3 | SG | Dawson (pending)
Étienne Boyer-Richard | 2014 | 6'2 | G | Brebeuf
Greiche Clerjuste | 2013 | 6'2 | SG | Vanier
Yanis Amrani | 2016 | 5'10 | G | Cite-des-jeunes
Josue Telfort | 2012 | 6'4 | SG | Monpetit (pending)
Cedric Sanogo | 2014 | 6'2 | SG | Dawson
Brandon Robinson | 2014 | 6'3 | SG | Dawson
Christian Redmond-kannon | 2015 | 6'2 | SG (pending)
Christopher Jean | 2015 | 5'11 | PG | Felix-LeClerc
Tevon Walker | 2014 | 6'1 | SG | Vanier
Jordyson Telfort | 2015 | 6'5 | SG | Demortagne (pending)
Alex Goulet | 2015 | 6'2 | PG | Brebeuf
 Nemanja Zarkovic | 2014 | 6'3 | SG | Brebeuf
Abdul Atta | 2015 | 6'6 | PF | Brebeuf
Schneiders Suffrard | 2014 | 6'4 | SF | GV
Alexandre Lecerc | 2014 | 6'6 | SF | Sainte-Foy (pending)
David Bedard-Roy | 2013 | 6'1 | G | College De Montreal (pending)
Simon Diallo-Blais | 2013 | 6'3 | PG | Brebeuf
Frank-Michael Mpeck | 2013 | 5'8 | PG | Sainte-Foy (pending)
Mamadou Gueye | 2013 | 6'5 | SF | Sainte-Foy
Afi Ahmed | 2013 | 5'10 | PG | Louis-Riel (pending)
Abdul zulkarnaini | 6'3 | SG   | LeBlanc
Linchen Bai | 2013 | 5'8 | PG | Brebeuf
Monsour zulkarnaini | 2013 | 6'3 | W | LeBlanc
Jerome Lavalle | 2016 | 6'0 | F |  Brebeuf
Charles Miller | 2012 | 5'10 | PG | College Bourget
Bradley Laguerre | 2013 | 6'6 | PF | Brebeuf (pending)
Aymeric Gaba-Idiamey | 6'6 | C | Brebeuf
Ryan-andrew Duchoeny 2014 | 5'9 | PG | Dawson (Pending)
Maxence Coulombe | 2016 | 6'3 | SF | Brebeuf
Daniel Fisher  | 2014 | 6'5 | F | Dorval-Jean 23
Keevon Small | 2015 | 6'4 | SF | John Rennie
Zachary Deziel | 2016 | 5'10 | G | Charles-Lemoyne
Alain Bernard | 2015 | 6'3 | SF | PX
Jordan Aquino | 2015 | 6'0 | SG | Brookwood
Richardson Maitre | 2016 | 6'1 | PG | PX
Javon Joseph | 2016 | 6'1 | SG | Dawson
J.J Hamel | 2016 | 6'0 | SG | PX
Kendrick Jolin | 2017 | 6'0 | PG | PX
Justin Owen-Renwick | 2015 | 5'11 | PG | Westmount (Pending)
Charles-Érik Marmen-Harvey | 2015 | 6'1 | PG | Séminaire Saint-Francois
Mitchell Keating | 2016 | 6'1 | SG | Heritage HS
Olivier Gauthier-Farley | 2012 | 6'4 | SF | Durocher
Marwan El-Sayegh | 2012 | 6'3 | SG | College Notre Dame
Mathiew Bouchard | 2016 | 6'0 | G | Séminaire St-François
 REGISTER HERE
[contact-form-7 id="10467″ title="Contact form 1″]