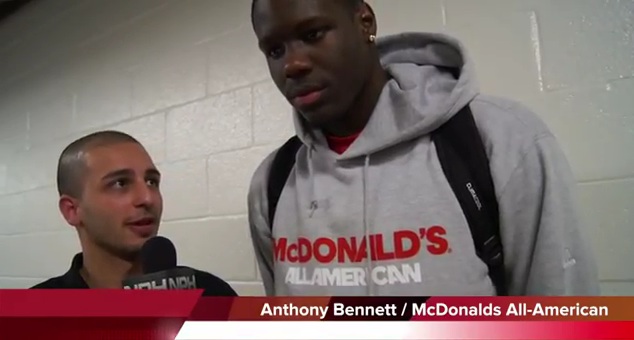 Anthony Bennett Talks McDonald's All-American, Nike Hoop Summit & Canadian Movement!
CHICAGO, ILL–As NPH capped off the March Madness journey with a trip to Chicago, Anthony Bennett  (Brampton, ON) became the sixth male Canadian to be selected as a McDonald's All-American in the last three years!
Bennett follows the same path that previous prominent Canadian ballers took a few years back. Tristan Thompson, Cory Joseph, Myck Kabongo, Kyle Wiltjer, Khem Birch…and now Anthony Bennett.
The 6'8 forward has transformed his game over a year becoming comfortable with the perimeter, however still jamming on the heads of hopeless souls. It has been a joy to watch the evolution and the emergence of the Findlay Prep product.
'ROBO' also chats about other key topics including Thompson and Joseph providing motivation, his selection to the Nike Hoop Summit team, the Canadian movement and much more!
[youtube AuNW-i9OEkI]