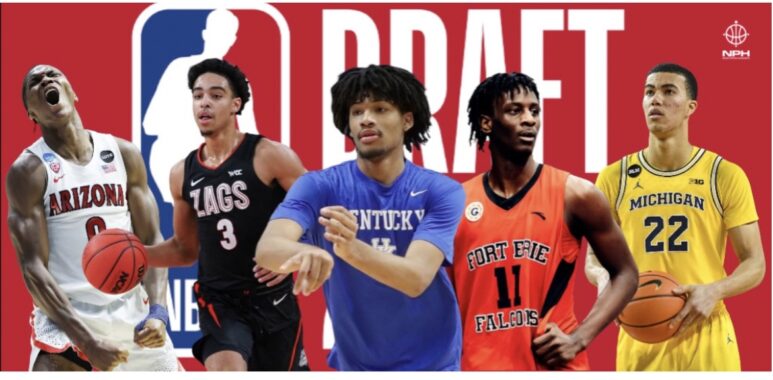 Favourite Landing Spots for 5 Canadian NBA Prospects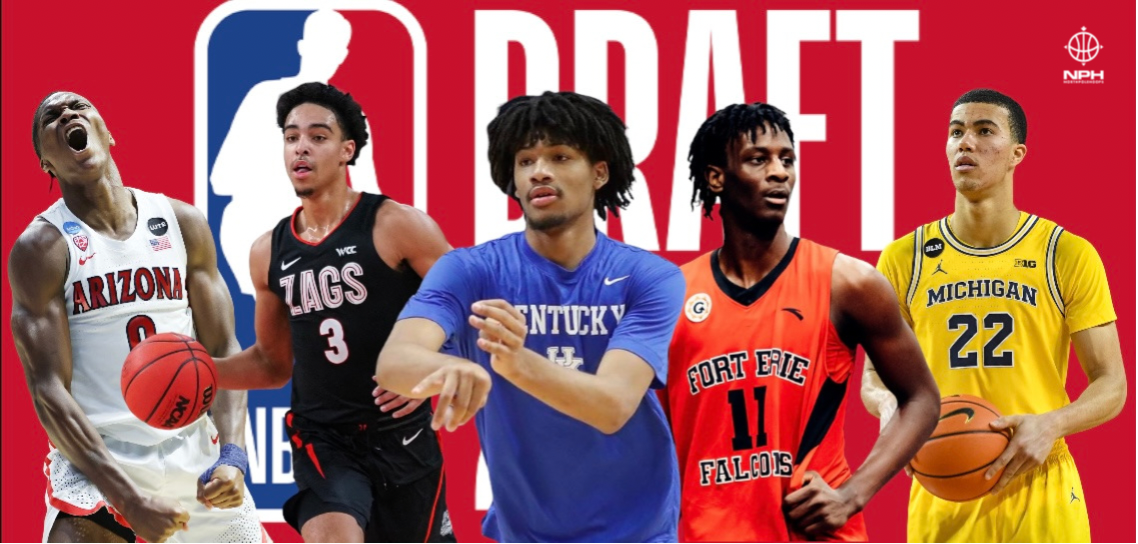 Looking ahead to the NBA Draft later this month, I'd like to discuss five Canadian prospects who I believe are locked in to be drafted this year, players like Shaedon Sharpe (Kentucky) & Bennedict Mathurin (Arizona) who have been invited to sit in the Green Room with their families. As well as Andrew Nembhard (Gonzaga), Leonard Miller (Fort Erie Int'l) & Caleb Houstan (Michigan). There's going to be some chaos in the 2022 NBA Draft & we could see a record number of Canadians go in the 1st round. Let's get right into it!
Bennedict Mathurin – Arizona Wildcats
17.7 PPG 5.6 RPG 2.5 APG 1.0 SPG

Bennedict Mathurin is a 6'6 freak athlete with a dead eye jump shot from Montreal, QC. One of the best players in all of NCAA Division I basketball last season, Mathurin led his team to a #1 seed in March Madness & some could call it a breakout season for the young man out of Quebec. I would personally love to see Mathurin playing with the San Antonio Spurs next season under Head Coach Greg Popovich, which would have him going off the board at pick #9. I believe Mathurin could have an immediate impact on the Spurs as a 3 & D player with the ability to be a true leader in the future. Bennedict Mathurin is currently projected to go from picks 8-11 in most mock draft boards with those teams being the Pelicans, Spurs, Wizards & Knicks in that order. Pairing this elite athlete with their young core of Keldon Johnson, Dejounte Murray & fellow Canadian Joshua Primo could be a playoff competitor in the Western Conference next season.
The next team that would make the most sense for Mathurin would be the Knicks in my opinion. The argument for the New York Knicks would be their aging SG/SF role on their roster. Mathurin could step into this role seamlessly alongside the Mississauga, ON star RJ Barrett. Both of these players are extremely versatile and have that real positionless basketball essence about themselves. Alec Burks, Evan Fournier would be his main competition for minutes if they both were to return to the Knicks but a core of Mathurin, Barrett, Reddish & Toppin is very intriguing, especially in the Eastern Conference.
Caleb Houstan- Michigan Wolverines
10.1 PPG 4.0 RPG 1.4 APG 35.5 3PG%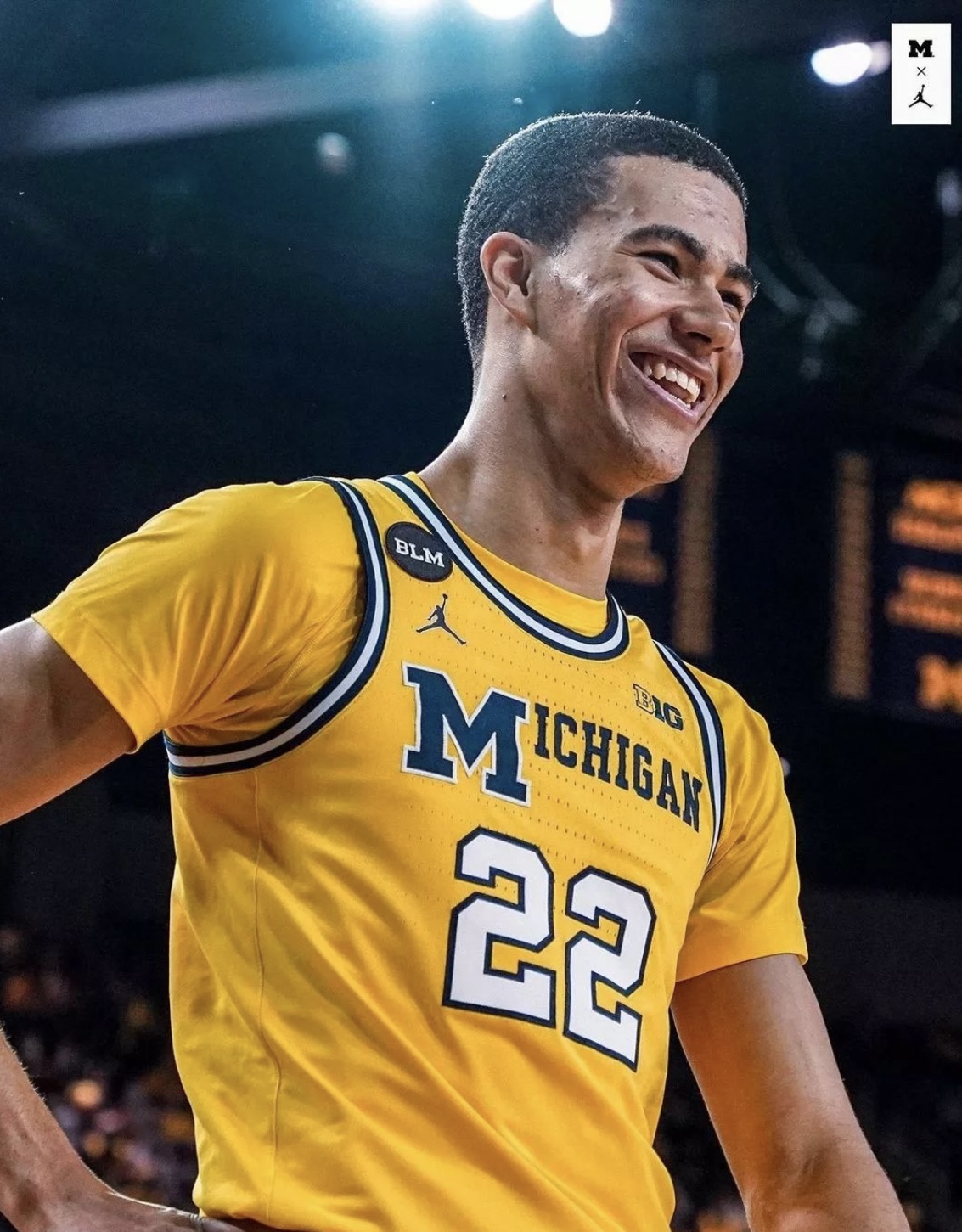 Caleb Houstan the 6'8 knockdown shooter out of Mississauga, with a sky high ceiling. Now here is a guy who was an absolute monster at Montverde Academy two seasons ago. One of the best high school basketball players in the nation without much argument. Caleb Houstan played for Juwan Howard and the Michigan Wolverines last season where he was able to drill shots at a fairly high clip. The perfect fit for Caleb in my opinion would be the Oklahoma City Thunder at pick #30 or #34 or the Orlando Magic at #32 or #35. I have seen Caleb going as high as #30 as per Kyle Boone of CBS in the CBS Mock Draft.
Caleb is very confident and smooth forward with guard skills. Attacks the rim with conviction and can adjust or finish through contact. Great hang time on his lay-ups and an above average touch around the net. I believe Caleb could excel on a team with a young core like Oklahoma City Thunder. With Canadians like, Shai Gilgeous-Alexander & Lugentz Dort already on the roster but also the amount of high draft picks (#2 & #12) OKC has this year, they're sure to be loading up with young talent & could become a force in the West, sooner rather than later. Caleb's length & shooting could be a great rotation piece they need on the wing.
Leonard Miller – Fort Erie International Academy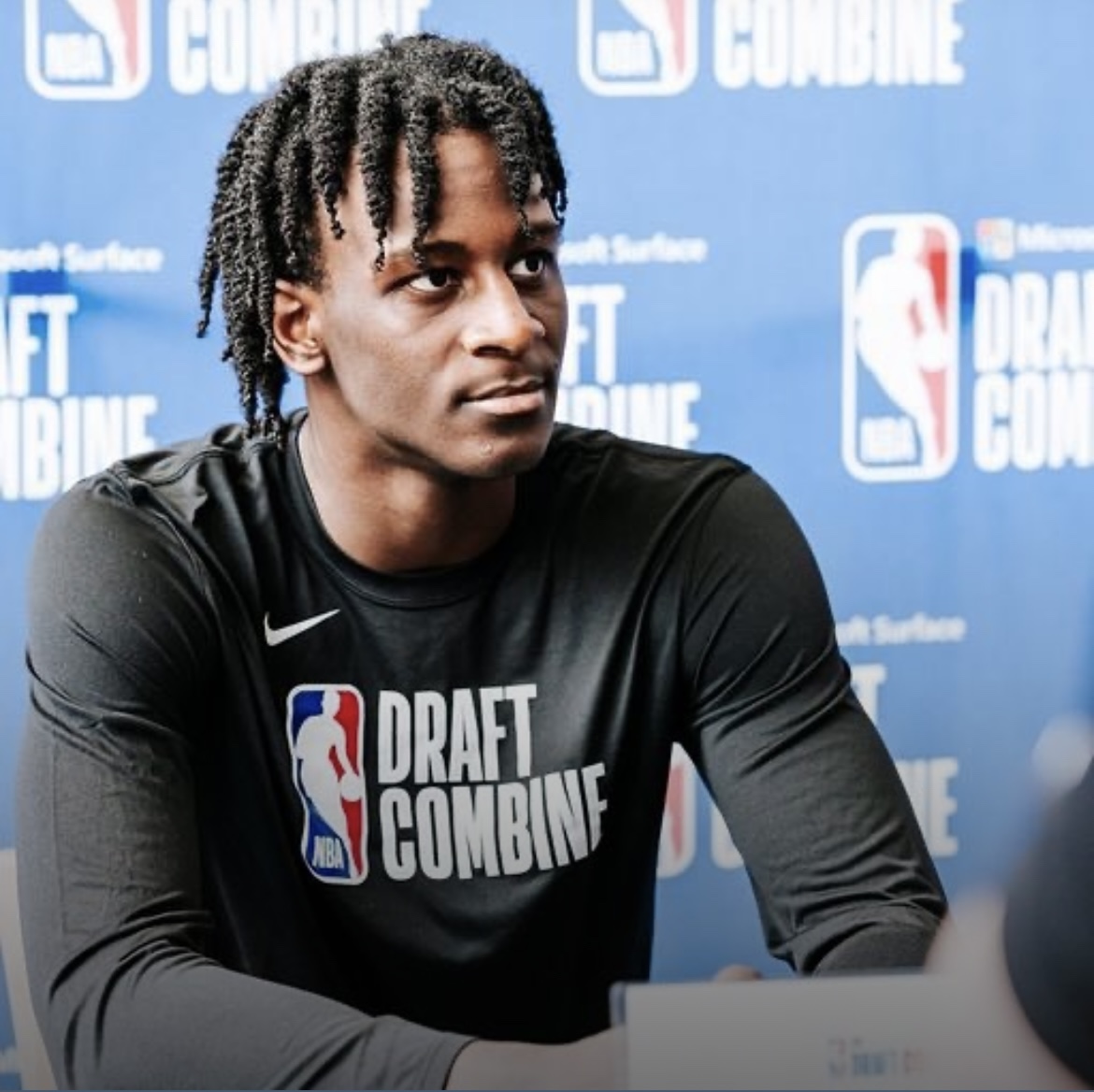 One of the most polarizing players in this years draft class is Scarborough's Leonard Miller. A phenom this year North of the border, taking the OSBA by absolute storm after missing some time due to injury last year. Leonard Miller & the rest of the FEIA program won a championship in their inaugural season. In the Ontario Scholastic Basketball Association playoffs, Miller averaged 31 PPG with 20 triples over the span of 3 games. The 6'10 point forward averaged a double double for the powerhouse program — FEIA, posting 33.3 PPG & 12.5 RPG during the regular season according to OSBA's website.
For those who love to revert to the "oh but that's Canadian competition" argument (which I acknowledge but disagree with), Fort Erie also participated in the Grind Session, the best high school circuit in the United States. Leonard Miller managed to also average a double double with 30 PPG & 10 RPG in the 6 games they played.
The hype is real & Leonard Miller has been ranked as high as #2 in the nation on certain ranking websites, such as On3. At the Nike Hoop Summit the hype train continued to roll with a standout performance, which he then followed up with an invitation to the NBA Draft Combine. If you watch the way Leonard Miller plays the game & controls the tempo it's hard not to fall in love with his potential & upside.
My ideal landing spot for Leonard Miller would be the Chicago Bulls at pick #18. In my eyes Leonard Miller has lottery potential, but according to mock draft boards lately I have seen his draft position vary from late 1st round (25th to the Spurs – Kyle Boone, CBS) to late into the 2nd round. Regardless, I think Chicago is a great fit for the youngest player in the 2022 Draft because it's a team that is competing already & he'll be able to contribute with out the pressure of being depended on. At 18 years old with a young core of players like Patrick Williams, Lonzo Ball, Ayo Dosunmu & veterans like Demar Derozan, I think Leonard Miller could be a missing piece to a Conference title run. There has also been quite a few Zach Lavine rumours swirling around so there could be a bigger opportunity for Miller to step into the spotlight early on in his career. He is a high risk/high upside pick for the Chicago Bulls & with the right opportunity could be an All Star in the NBA eventually.
Shaedon Sharpe – University of Kentucky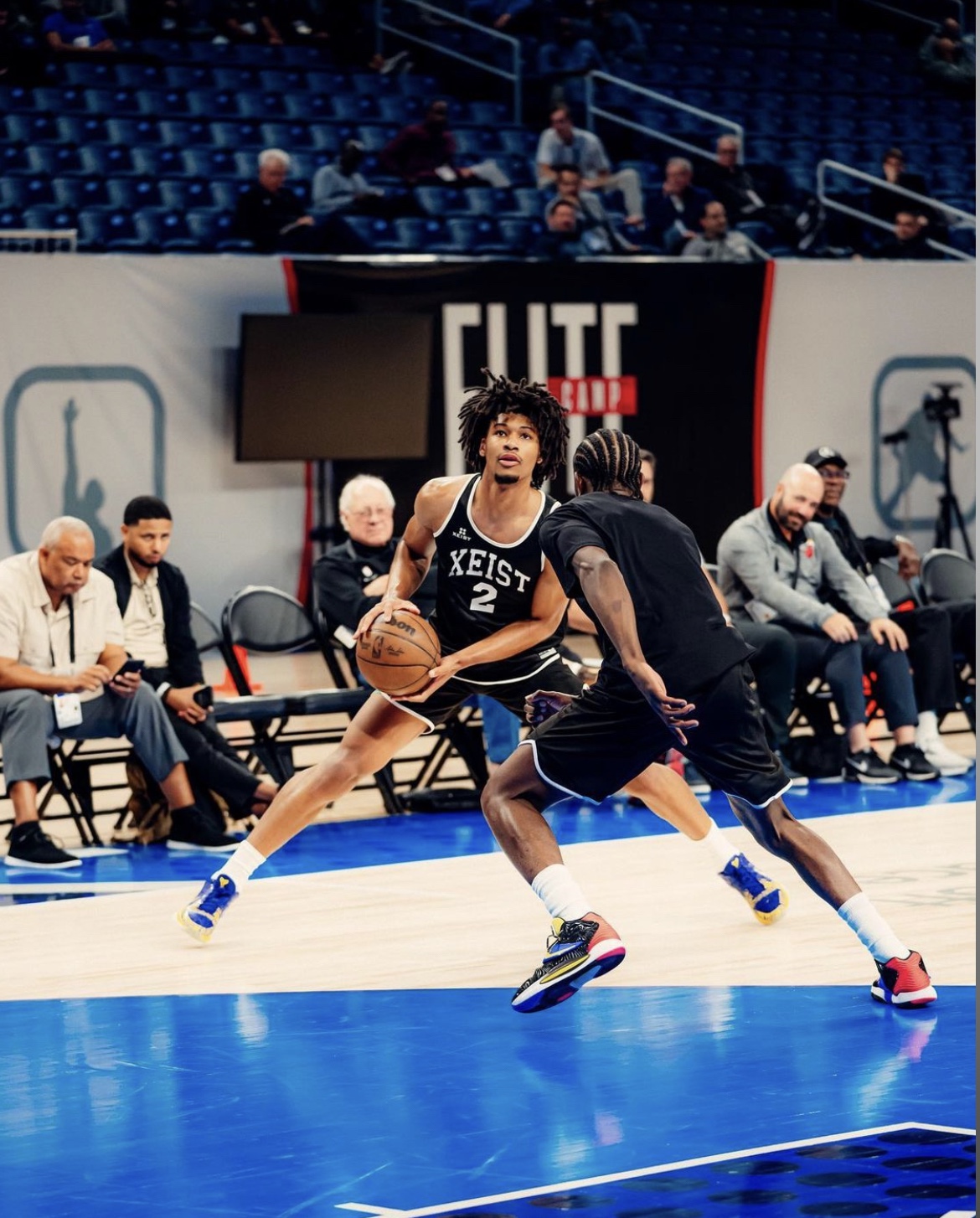 Shaedon Sharpe has been labeled as the mystery man of this year's NBA Draft by most scouts. The London, ON native listed at 6'6 is an unbelievable athlete with incredible burst & a 49-inch vertical. US scouts like to nitpick at the fact he didn't play any games in college after leaving Dream City Christian early to attend the University of Kentucky. I do not subscribe to this narrative whatsoever, because there is no denying the skill and athleticism that Shaedon Sharpe already has. However people like to claim that he has only played against high schoolers therefore he is not proven. He played in the Nike EYBL and the Grind Session which are far from "regular High Schooler". For example, some of the players I watched Sharpe play are other top 20 picks like Jalen Duren & TyTy Washington, these weren't playing on slouch teams by any means.
I really get Houston Rockets Tracy McGrady vibes from Shaedon Sharpe, he has that nonchalant demeanor when he has the ball in his hand, doesn't show much emotion on his face but can blow by a defender with his first step and finish well above the rim in traffic. A chill killer & I picked the Rockets version of Tracy McGrady because that is the destination where I believe Tracy became a real leader, which I also believe Sharpe is going to be. This comparison leads me to my first favourite landing spot for Sharpe which is the Houston Rockets at pick #3, with Jalen Green and Shaedon Sharpe this could be one of the most exciting high flying teams in the Western Conference. I have the feeling John Wall will not be with the team come Free Agency and this move could possibly bring in a young big to pair with Josh Christopher, Tate, Green & Sharpe. A guy like DeAndre Ayton should be looking for a new home this offseason & that would be the recipe for a playoff contender in my opinion.
My second favourite landing spot for Shaedon Sharpe would be the Portland Trailblazers, which I also believe could be the most likely due to the amount of Mock Draft boards I've seen with him going there at #7. Combining Lilliard and Sharpe in the backcourt with Jurkic, Nassir Little & the vet Joe Ingles would be a very balanced starting 5. Would like to think having a mentor like Damian Lilliard would be beneficial for Sharpe and his growth as a player. Don't be surprised to see Sharpe go as high as #3 this year though, we're watching a generational talent before our eyes.
Andrew Nembhard – Gonzaga Bulldogs
11.8 PPG 5.8 APG 3.4 RPG 45% FG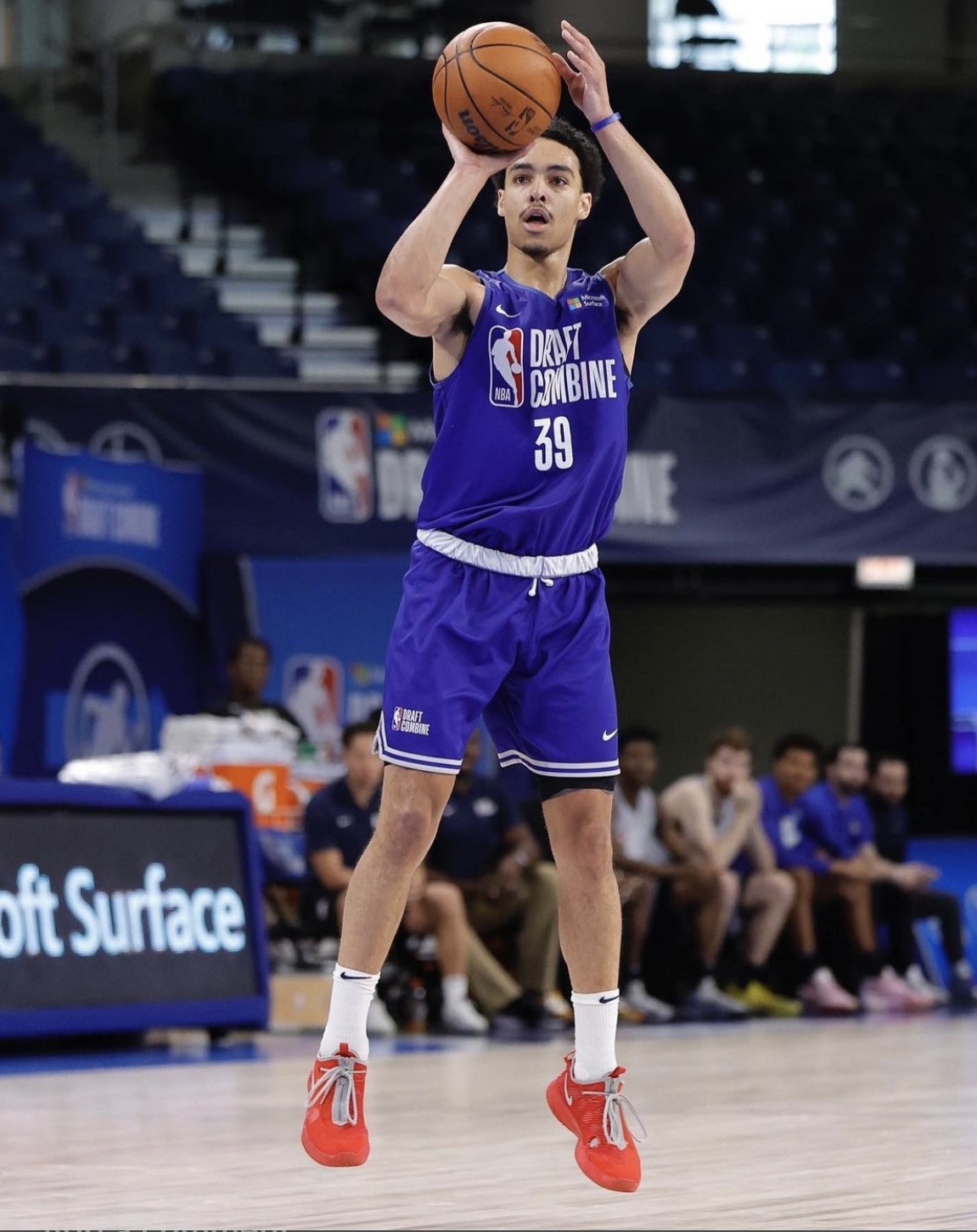 Last but certainly not least we have the most fundamentally sound & polished Canadian player in the draft. Andrew Nembhard of Aurora, ON & former Gonzaga Bulldog is gaining a ton of hype around his name after his 26 point 11 assist performance at the NBA Draft combine earlier this summer. It shouldn't be much of a shock to people that Nembhard is a serious ball player, he was the starting PG for the #1 overall seed in Division 1 basketball last year. If you also look at his track record as a table setter, he has sent players like RJ Barrett, Jalen Suggs and now Chet Holmgren to the NBA. Andrew Nembhard has been an elite facilitator since his days at Vaughan Secondary School, now it's his time to shine. You truly don't find these pass first type PG's anymore, Nembhard's high basketball IQ + court vision are unmatched in this draft in my eyes. At 22 years old Andrew can definitely be a solid addition to any team lacking PG depth.
My favourite landing spot for Andrew Nembhard would be the Toronto Raptors, who he recently had a Pre-Draft workout with. This would have Andrew Nembhard going in the 2nd round at pick #33. Andrew has gained comparisons to Tyus Jones and Greivis Vasquez, and if Raptors fans loved Vasquez like I remember they did, they're going to adore Andrew Nembhard. I sincerely think the Raptors can't go wrong with picking up a Canadian especially where he is being projected to go — this seems like a no brainer.
The next best landing spot for Andrew Nembhard would be the Milwaukee Bucks because of their aging players (George Hill) at the position but not old enough to have to thrust Andrew into a starting role immediately. Being selected to a team that is already a contender like the Bucks can sometimes be the best case scenario for guys, especially a player like Nembhard who could get a year to settle into the offense and take over the reins within 2-3 years. We'll have to wait and see.