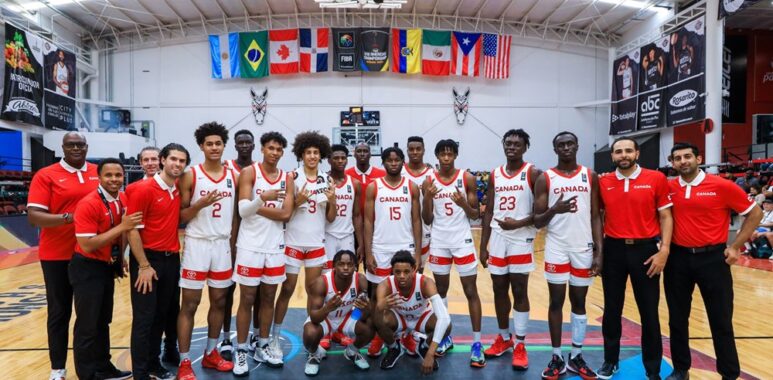 6 Stock Risers after Canada's Bronze Medal at the FIBA U18 Americas Championship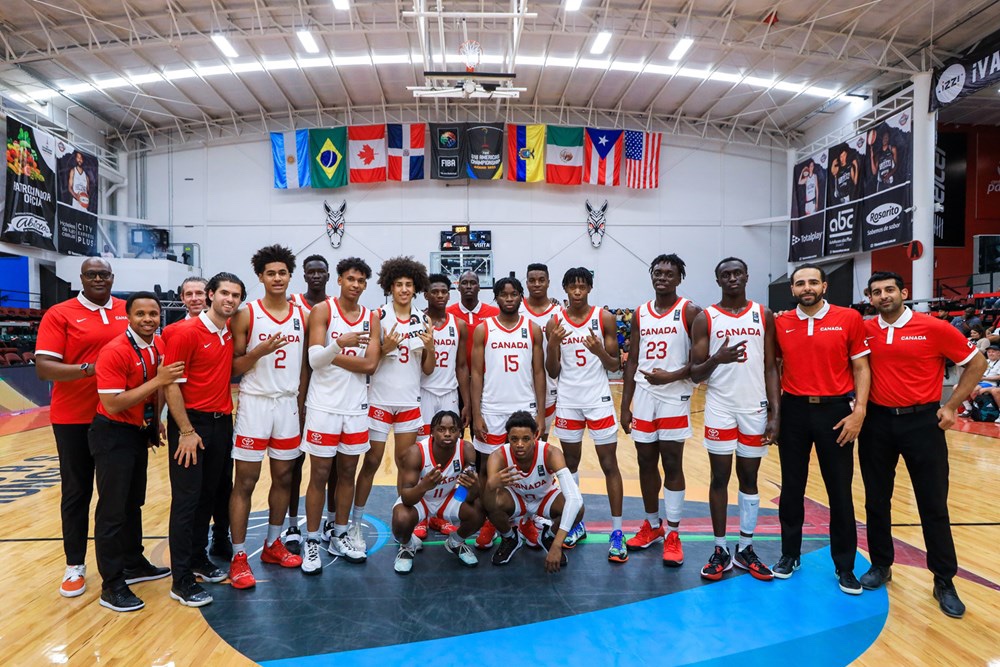 After it's all said & done, 6-FIBA sanctioned games in the books for the U18 Canada team & they're walking away with some hardware. If I were to have been told before the tournament started, we'd be leaving with Bronze, I would have been fairly happy camper. However after watching the Canadian boys plays I am very confident in the fact that we were the second best team in this tournament despite the results.
There were 4 Canadian provinces represented in this FIBA U18 Americas Championship tournament, Ontario, Quebec, Alberta & British Columbia. With that in mind I am willing to bet that this was the first time playing together for a majority of these players, maybe aside from some of the Ontario boys. I bring this up because I believe the lack of knowing each other played a role in developing chemistry amongst the team. I also thought on top of the lack of togetherness Canada's shooting could have been much better. All in all I believe this can go down as a successful trip to Mexico for this young group with room to improve as a whole.
I'd like to take deeper dive into 6 of the 12 players from the U18 Canadian national team that I believe will see their recruitment go through the roof in the next coming months.
Vasean Allette
6'3 • Point Guard • United Scholastic Academy/ Canada Elite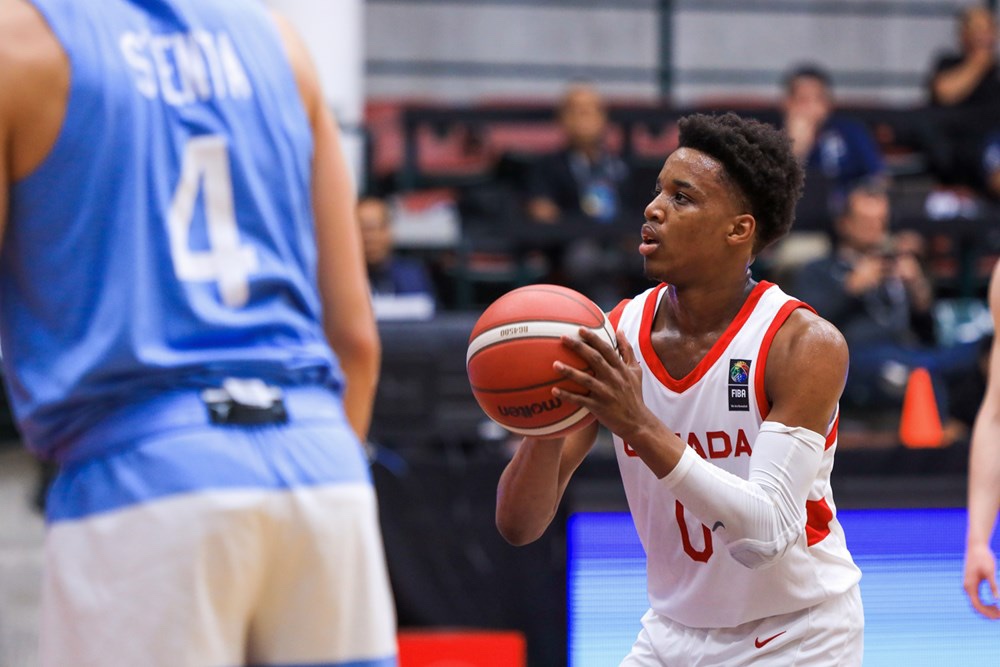 Vasean Allette has to be the number one stock riser after the FIBA U18 Americas tournament for team Canada. Vasean was named an All-Tournament All-Star after leading the entire field in scoring with 18.8 PPG. Vasean played a leadership role for the U18's this past week, and I was very impressed with his performance throughout. Not only did he lead everyone in scoring, he also led Canada in assists (3.8 APG), steals (1.2 SPG), efficiency (18.2) & was second in rebounding. These are Jason Kidd type stats from the 6'3 floor general out of Scarborough, ON.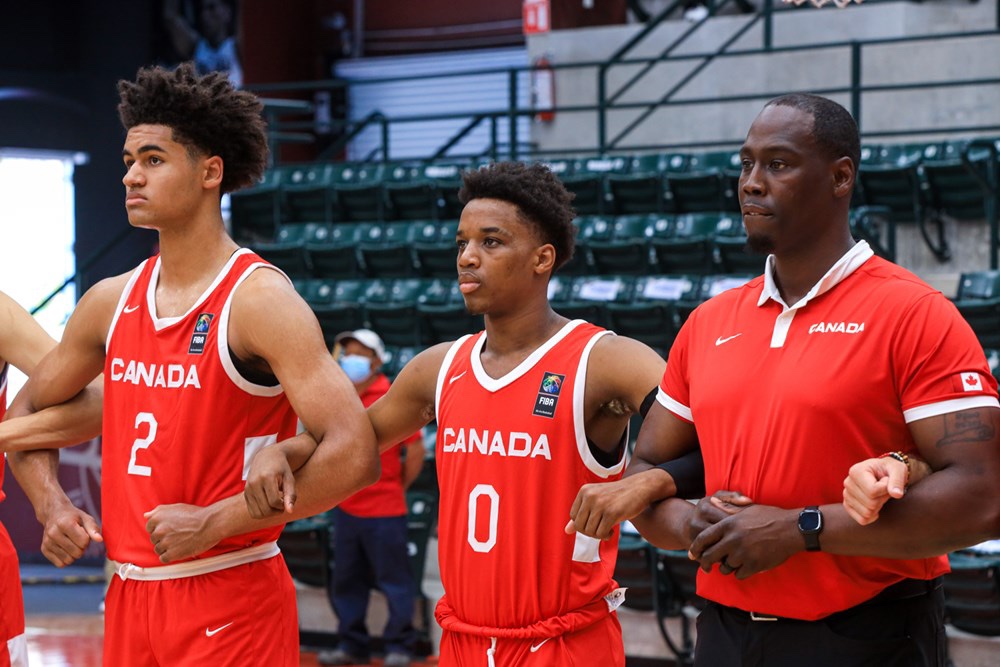 During the tournament, Allette picked up his third Division I offer from the University of Santa Barbara. He added this offer to his previous two offers from Rhode Island and Long Island. I believe his recruitment will be heating up like a microwave as the summer rolls on and it should skyrocket by the time Prep season starts.
A shifty, playmaking, lead guard who can get his own shot from just about anywhere on the court. On top of leading the team in the majority of the statistical categories, Vasean brought a lot to the team that wasn't marked down on the stat sheet. When he was on the court the tempo picked up, the other four players seemed to gain momentum and the entire unit was elevated as a whole. This didn't happen with any other player as consistently as it did for Vasean. His energy level and the way he leads both by example & vocally is really important for the overall chemistry of this unit. I like what the United Scholastic Academy PG did for both the team, but also his own recruitment.
Micheal Nwoko
6'10 • Center • The Burlington School / Team Loaded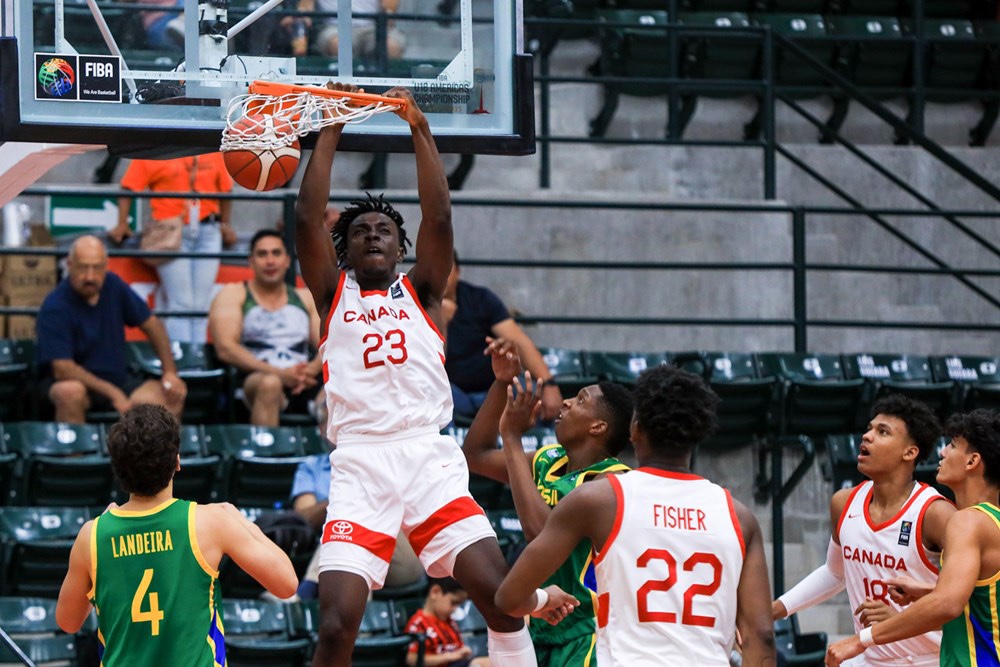 Michael Nwoko was vital for Canada in their Bronze medal run this past week at the FIBA U18 Americas Championship. What he brought to the table was simply irreplaceable, if he wasn't on the roster I think the team could have been a serious pickle. The sheer size and power of Nwoko was unmatched throughout the 6 games. The only player who may have come close to matching his strength would have been Brazil's 6'9 Vitor Farias Cardoso who averaged nearly 7 boards per game. Nwoko was cleaning the glass all week long for Team Canada & he finished second overall in rebounding (8.3 RPG). Nwoko did a great job showcasing his post package as well, he is a sturdy, confident and fundamentally sound big man. The Milton, ON native was third in scoring on the Team Canada roster with 12.2 PPG and finished the tournament with two double doubles.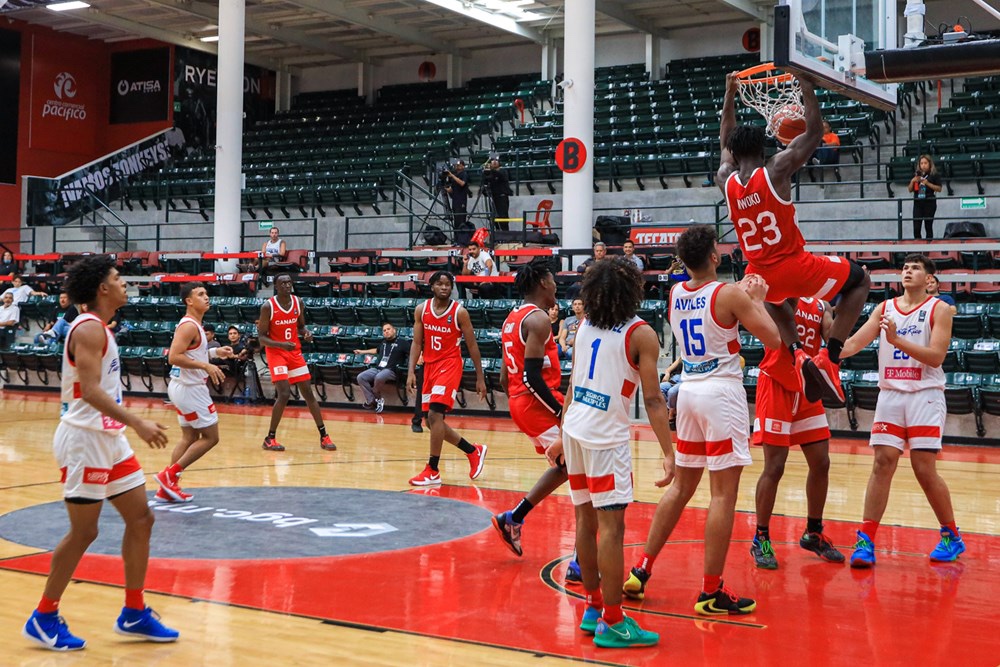 One thing that I noticed time after time, was Nwoko getting an unbelievable position in the post but getting looked off or just not given the ball. One of my personal pet peeves as a scout is seeing big men work down low to seal their man only to get overlooked. I think he has the potential to be a 20 point & 15 rebound type of player in this FIBA setting. The only knock on his game from this week would be his 3PT shooting percentages, however watching his touch from the free throw line extended and the way he shoots his free throws, I'm under the impression he simply wasn't needed to launch it from beyond the arc. With the construction of this years U18 roster I believe Mike Nwoko exceeded expectations.
Nwoko currently holds 14 NCAA Division I offers from the following schools: Boston College, Creighton, East Carolina, Georgetown, Harvard, High Point, Houston, North Carolina A&T, Northwestern, Providence, Siena, USF, Virginia Tech & Wake Forest (according to 247sports.com). During the week of the tournament Nwoko picked up his 15th offer from the Tennessee Volunteers. The level of play he brings game in and game out proves why he is one of the most heavily recruited Canadians in his class.
Elijah Fisher
6'7 • Guard • Crestwood Prep / Grassroots Elite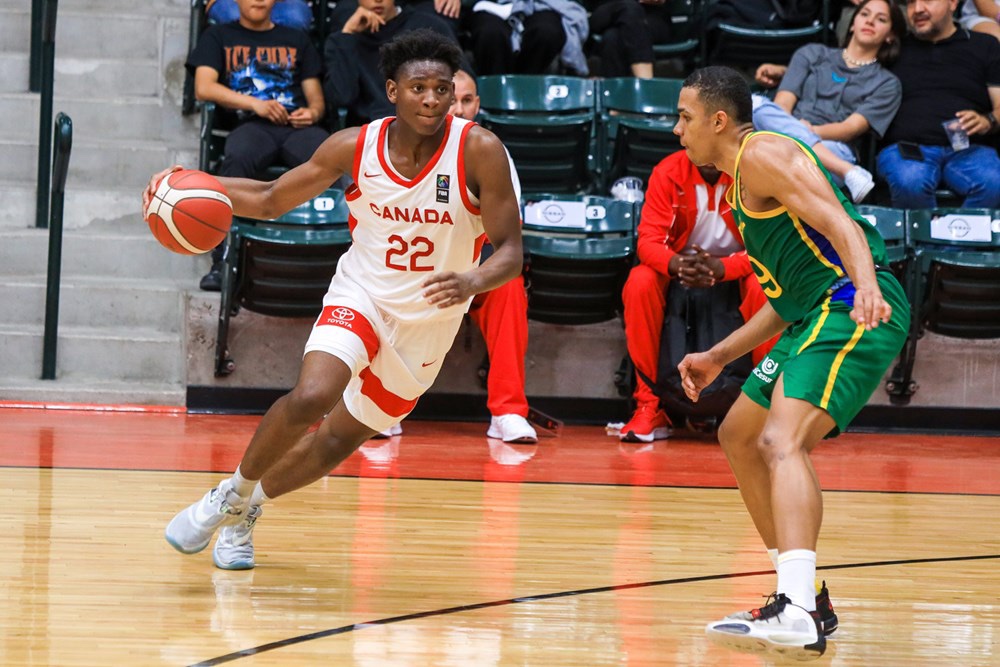 The man, the myth, the legend — Elijah Fisher. Fresh off his commitment to the Texas Tech & the Red Raiders basketball program, Elijah brought his talents to the Zonkey's Stadium in Tijuana, Mexico for the FIBA U18 Americas Championship. One of the brightest young stars in the entire country, wound up finishing 2nd in points per game with 13.3 over 6 games. Saying that, I'm not sure if the FIBA gameplay effected how Elijah played this past week but he did not seem like the same guy who physically imposes his will on a nightly basis in the OSBA. Earlier this season Elijah Fisher scored an OSBA record 75 points in one game. Over the course of these 6 games Fisher had a total of 80 points. Now you can definitely argue that Elijah wasn't asked to do as much because he was playing beside not only Allette & Nwoko, but the entire roster of Team Canada which is a lot deeper than he is used to at Crestwood.
I think people hear the name Elijah Fisher and have high expectations for his production, I too have come to find myself assuming that Elijah should be the leading scorer in any given game. I feel as if this past week Canadian simply didn't play to Elijah's strengths, the coaching staff had assembled a highly skilled roster and they chose to use Elijah how they wanted to use him. If it were up to me I'd have Elijah leaking down the court on almost every shot in hopes of a defensive rebound from either Nwoko, Ndong, Simon or KC which would turn into an outlet pass resulting in a highlight reel slam on the other end. Elijah looked very confident shooting the ball off both the catch and shoot as well as off the dribble. Now they weren't falling as much as I would have like to see (1/14 from 3PT range) but the fact that he was confident enough to pull up and let it fly says a lot.
I was a big fan of what I saw from Fisher defensively, often times he looked like Jalen Ramsey out there picking off passes & clogging up the passing lanes. His agility & wingspan were very crucial for Canada's defense through the entire week. I think once Elijah finds a rhythm in his jumper & keeps it consistent, we could be looking at the next one & done out of Canada.
---
The following three Canadian players on this list that I believe will see their stock rise were relatively unknown commodities in my eyes heading into the tournament. Of course I had seen a handful of highlights and mixtapes from these players but I had yet to sit down and take in their full game film. These three guys were clutch additions for Team Canada over the last week of basketball & I can only imagine their stock will be elevating after this Bronze medal run.
Jordann Dumont
6'8 • Forward • Hamilton Heights / Boo Williams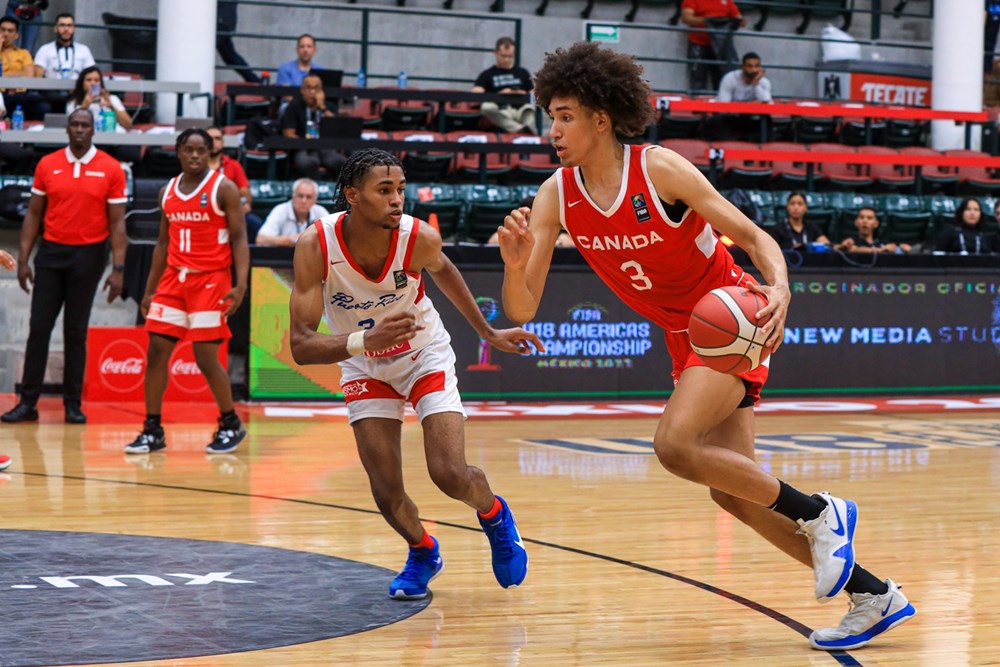 Jordan Dumont will go down as the most efficient 3-point shooter of the tournament. Dumont hit a team high 3 triples in the matchup vs. Puerto Rico, on his way to 16 points in only 18 minutes. Jordann finished the tournament with a 37.5% 3PT percentage over 6 games. His shooting ability earned him a spot in top 10 3PT shooter over the course of the week. Aside from being a long range specialist, Jordann demonstrated his ability to get buckets from all over the court, averaging 8.5 PPG he was definitely one of Canada's bright spots in the rotation.
Jordann Dumont of Hamilton Heights resembles two other former Hamilton Heights players — Shai Gilgeous- Alexander & Nickeil Alexander-Walker, in a sense that all three of them are long, bouncy, Canadian bucket getters. Dumont is just another example of how elite the talent level is getting in the province of Quebec. Currently Jordann holds Division I offers from Oklahoma State, Radford & Jacksonville. I can't wait to watch him compete this season & at the collegiate level in a couple years.
David Simon
6'10 • Forward • Kennedy Collegiate / Downtown's Finest
Next up we have the big man out of Windsor, ON — 6'10 David Simon. David was acting like a stop sign at the rim in the FIBA U18 Americas Championship. Simon swatted a total of 7 shots over the series of games, and 4h of those blocks game in one singular matchup. David also shot 60% from the field during the tournament & was active on the glass especially vs. Puerto Rico where he logged a personal tournament high, 8 rebounds.
As a prospect there really isn't much not like about David Simon. Currently at Kennedy Collegiate the wiry framed power forward can run like a gazelle, great feel for the game & his body, he has impeccable timing on defense & he has above average court awareness. I think any program in search of coachable & dependable big man shouldn't look any further, he is that piece. David Simon is going to be a hot commodity for Prep teams if he continues to grow as a player and he will be ascending up my 2023 player rankings at a very high rate after this week.
Dylan Grant
6'7 • Wing • Michigan Collegiate / The Family
Now we take a look at one of my favourite players to watch this past week aside from the Big 3, it's 6'7 Dylan Grant from Mississauga, ON. When you sat down to watch the U18's play this week, it felt like you couldn't get up and go to the fridge without missing a dunk from Dylan Grant. These weren't just fast break finishes either, Dylan would rise above the competition & absolutely punish the rim with his dunks. From chest to chest posters off the dribble, to finishing in traffic after a low post dump off pass, Dylan was finishing everything well above the rim. Grant ended up averaging a very respectable 4.7 PPG & 3.8 RPG on roughly 16 minutes per contest. Possibly one of the best sheer athletes on the roster, Dylan was getting active all tournament long. Look for Dylan to make some noise this season at Michigan Collegiate & watch his recruitment heat up even more.
---
Next up, the U18 Women's national team is in Argentina for their America's Championship tournament. Here's wishing them all the best in their FIBA tournament.