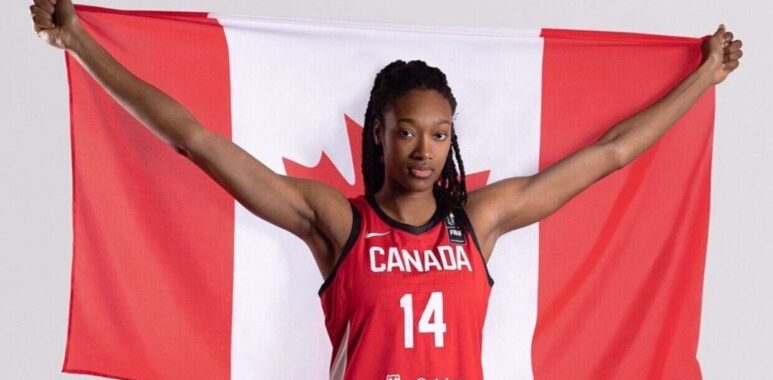 Kayla Alexander Headlines Girls' Basketball Exposure Camp Supported By Olympic Teammates Carleton and Ayim
A Standing Room Only Entertainment Property Powered by North Pole Hoops
TORONTO, ON (June 2, 2022) Canadian Olympic and professional basketball player Kayla Alexander is launching a unique Girls Exposure Camp that will serve to empower female athletes and provide them with the environment and guidance to prepare them for the next level on the court and in life.
"As the Founder of a female-led agency and a mother of a daughter, this initiative at its core is about inspiring of female empowerment," said Kelly Gianopoulos, President of Standing Room Only Entertainment Group (SRO). "I am a firm believer that playing sports is critical for youth development, providing invaluable life skills to build caring, collaborative, successful adults that can adapt to this ever-changing world. In Canada, gender equality in sports does not exist, with high school girls dropping off at an alarming rate. This camp aims to interrupt this pattern and help fill the gap for girls in advancing their student athlete careers. We are also prioritizing coaching about empowerment, entrepreneurship and leadership to become active community citizens."
Working with dedicated basketball community builders North Pole Hoops (NPH), top basketball prospects will come together in a highly competitive environment to showcase their skills in front of scouts, college coaches, and media to maximize scholarship opportunities.
"We are very excited to take things to new heights with respect to maximum exposure for our Canadian girls basketball prospects." NPH CEO Tariq Sbiet on the collaboration. "We are working alongside an amazing basketball community composed of leaders in the space that have been contributing to women's basketball for decades."
The camp will run from August 13 – 14, 2022 inclusive, and registration is now live for girls in Grades 7 – 12, click here to register. In addition to Alexander, fellow Canadian Basketball Olympians and professional athletes Miranda Ayim (3x Olympian and Team Canada flag bearer for Tokyo 2020) and Bridget Carleton (WNBA Minnesota Lynx and Olympian) will bring their support to the next generation. All three athletes are also represented by SRO.
"SRO is intentional about championing women, so it is a great honour to represent these three talented athletes who are helping to drive gender equity in Canadian basketball across the entire development pathway," added Gianopoulos.
"North Pole Hoops is honoured to be working alongside with Kayla Alexander, Kelly Gianopoulos & Standing Room Only Entertainment Group to execute this event & bring a unique experience that the space has never seen before," added Sbiet "Our unified mission is much bigger than basketball; utilizing this beautiful game for empowering the next generation of talent and creating job opportunities for women in basketball."
North Pole Hoops provides a pathway to the next level through a multi-layered system, beginning with student-athletes in elementary school (fifth grade) all the way to the professional arenas, and every level in between. Aspiring student-athletes from coast-to-coast maximize exposure opportunities through the NPH Leagues, Camps and Tournaments alongside scouting, marketing, media, and live broadcasting.
Having been in the sports industry since 1995 as part of the original Toronto Raptors front office staff, Kelly Gianopoulos and her SRO team will lean on her deeply rooted network of corporate and sports industry leaders to teach these high school prospects about the diverse array of career possibilities from the courts to the boardrooms, encouraging the youth to optimize their strengths, gifts, and passions.
Together SRO, NPH and Kayla Alexander are striving to create access and opportunities for girls each year and truly change the game for women in sport in Canada. For more information on the Kayla Alexander Girls Basketball Exposure Camp please visit northpolehoops.com
About Standing Room Only Entertainment Group:
Standing Room Only Entertainment Group (SRO) is a female-led boutique sport + entertainment agency that champions athletes, music artists and personalities in developing brand partnerships, growing community and connecting people through the power of sport, music and live experiences. We believe in the power of doing good, bringing people together and building legacy-defining partnerships. For more information visit SRO. @sro_entertainment
About Kayla Alexander:
Kayla Alexander is a true multi-hyphenate basketball player, Olympian, author, business owner, and global citizen advocating for gender equity in sports. She is a proud Canadian having represented the women's national basketball teams since 2008, competing on the world stage across four continents. In 2018, Kayla was named to the Senior National Team and helped Team Canada to go 3-0 at the FIBA Olympic Qualifiers, earning a berth to the Tokyo 2020 Olympics. Kayla has played in the WNBA for eight seasons. Off the court, Kayla is the author and illustrator of a children's book "The Magic of Basketball" to inspire the next generation of kids to continue to dream big. Kayla has also recently launched a new business venture with her sister, Kesia and childhood friend Nicole Murphy, entering the fashion world with (@tallsize) Tall Size, an online clothing marketplace for Tall Women. @kjalexan40
About North Pole Hoops:
North Pole Hoops provides a pathway to the next level through a multi-layered system, beginning with student-athletes in elementary school (fifth grade) all the way to the professional leagues, and every level in between. Founded in 2011 by brothers Tariq and Elias Sbiet, North Pole Hoops has evolved into a leading resource for Canadian basketball prospects from coast-to-coast, based on a foundation of passion and persistence, while striving to always maintaining the best interest of youth and the game. For more information visit NPH. @northpolehoops