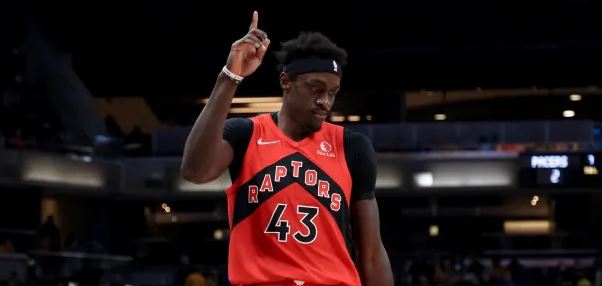 Heating up – The Raptors play together to earn a pair of wins in a bounce back week
The High 5 – Week in Review – Week 7
The High 5 is where I review the last week of Toronto Raptors basketball including how the team did, who were the impact players as well as some news and notes from around the league.
The Thumb – How was the week?
Toronto entered the second quarter of the season on the upswing. The Siakam/Barnes experiment is showing promise, VanVleet continues his All-Star campaign, and the bench is finally showing some signs of life. Though it is the furthest thing from perfect, the team has been better as of late, and they are competing each night.
They were unprepared for a vengeful Grizzlies squad and rightfully ate a loss at the hands of a team that wanted it more. But they bounced back with wins against the shorthanded Bucks and the overachieving Wizards. Toronto kept each of their opponents under 100 points which reflects well on their defense, and they are still missing their best defensive player in OG Anunoby.
Just as the rising tide lifts all boats, the Raptors are better when everyone is contributing. Their wins can be directly credited to their team effort and in those wins, the stat sheets are filled with crooked numbers.
Toronto may be down in the standings the but the teams above them are closer than they look. With a little bit of health, the Raps could make some noise.
Week Record (2 – 1) Season Record (11 – 13)
Memphis Grizzlies v Toronto Raptors L 98 – 91
The Raptors had an air of confidence about them heading into the game. Maybe it was home court, maybe it was knowing that they recently beat the Grizzlies before, either way, Memphis had other ideas. The Grizzlies are among the worst defensive teams in the league and were missing their star, Ja Morant, but it did not matter. Canadian Dillon Brooks was a defensive nightmare for VanVleet, he kept Fred on a short leash. The Raps never had a lead and dropped their 5th game in a row at home. This loss hurt.
Milwaukee Bucks v Toronto Raptors W 97 – 93
The Raptors were blessed with a gift when they welcomed a depleted Bucks team on the second half of a back-to-back. They got more good news when it was announced that the leagues MVP, Giannis Antetokounmpo, was also out. This shifted Toronto's focus to Middleton and Holiday. The latter who got into an entertaining, one on one battle against VanVleet. Never one to back down, Fred elevated his game to meet the competition and then some. The bench showed up which gave the starters a boost and Siakam continued to do a little bit of everything in his return to form.
Washington Wizards v Toronto Raptors W 102 – 90
Toronto and Washington traded wins earlier in the year setting up a rubber match in the 6 on Sunday. The Wizards have come back to Earth since their hot start and Toronto sensed blood in the water. They kept the Wizards to only 12 points after the 1st quarter. Washington missed a ton of shots; they couldn't throw a rock into the ocean. Toronto laid in the hurt, ballooning their lead to over 20 points before half. Washington tried to make a run, but Toronto always had an answer. Feel good win.
The Index – The Leader – Player of the Week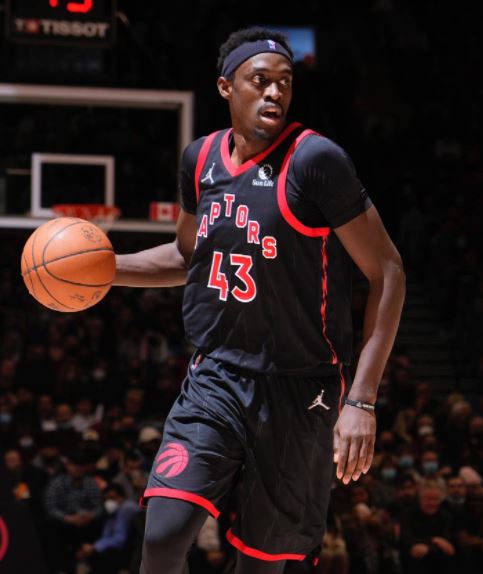 Pascal Siakam
Although foul trouble has been plaguing him, Pascal has been one of Toronto's most consistent contributors since his return. His footspeed on defense is still a step slow and he needs to keep his arms up on shooters, however, he made up for it with his offensive ability. Pascal has a deep bag and is one of Toronto's better isolation players. He can be counted on for 20 plus points, a high contribution of boards and a handful of dimes a night. Most importantly, he has shown a blossoming synergy with rookie Scottie Barnes. The two have played off each other well and have found some magic.
| | | | | | | | | |
| --- | --- | --- | --- | --- | --- | --- | --- | --- |
| | Points | Rebounds | Assists | Steals | Blocks | FG | 3PT | FT |
| v MEM | 20 | 6 | 5 | 1 | 3 | 9/19 | 1/6 | 1/1 |
| v MIL | 20 | 8 | 4 | 0 | 1 | 9/18 | 1/4 | 1/2 |
| v WASH | 31 | 6 | 3 | 0 | 0 | 10/21 | 1/1 | 10/12 |
| | | | | | | | | |
| Weekly Avg | 23.6 | 6.6 | 4 | 0.3 | 1.6 | 28/58 | 3/11 | 12/15 |
| 3 Games | | | | | | 48% | 27% | 80% |
| Season Avg | 18.1 | 7.2 | 3.8 | 0.8 | 0.9 | 47% | 32% | 75% |
| | | | | | | | | |
Honourable Mention: F. VanVleet
The Middle – The Enemy – Best Opposing Player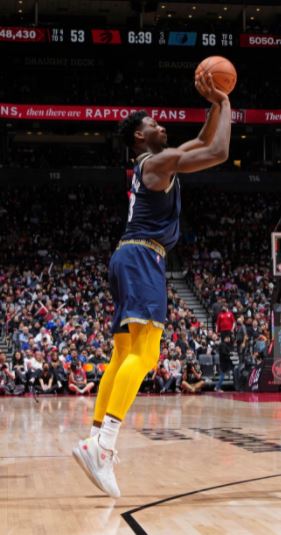 Jaren Jackson Jr. – Memphis Grizzlies
Milwaukee's Jrue Holiday nearly took this honour after a truly inspired performance as the number one option. However, his game came in a loss, and along with leading his team in points and assist, he also led them in turnovers with 5. Therefore, the nod goes to Memphis forward Jaren Jackson Jr. JJJ has been warming up as of late and showed off his impressive toolbox in a win. Not only did he lead his team in scoring, but he also had as many blocks as the rest of his team combined. Toss in 4 triples to spread the floor and you have the recipe for a winning player.
| | | | | | | | | |
| --- | --- | --- | --- | --- | --- | --- | --- | --- |
| | Points | Rebounds | Assists | Steals | Blocks | FG | 3PT | FT |
| v TOR | 25 | 6 | 1 | 0 | 5 | 8/14 | 4/7 | 5/6 |
Honourable Mention: D. Bane (MEM), J. Holiday (MIL), K. Caldwell- Pope (WASH)
The Ring – The X Factor – Standout Performance
Fred VanVleet v Milwaukee Bucks
Toronto is asking the smallest man on their roster to do the most. Fred has so much responsibility that it truly is impressive that he hasn't faltered. Against the Bucks, Fred was an offensive terror in the 4th quarter where he ripped off 13 of his game high 29 points. He kept his teammates involved, nailed 5 triples, and outdueled Holiday in a magnificent performance. Somewhere Kyle Lowry is out there smiling.
| | | | | | | | | |
| --- | --- | --- | --- | --- | --- | --- | --- | --- |
| | Points | Rebounds | Assists | Steals | Blocks | FG | 3PT | FT |
| v MIL | 29 | 5 | 4 | 0 | 1 | 9/17 | 5/10 | 6/6 |
Honourable Mention: S. Barnes v MEM, P. Siakam v WASH
The Pinky – The Unsung Hero – Key Contributor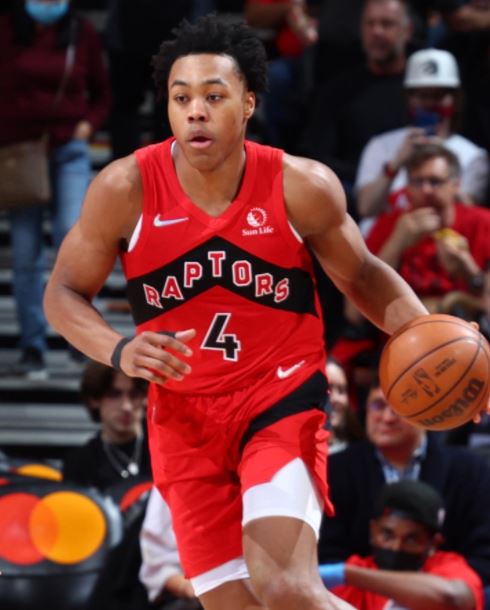 Scottie Barnes
The rook has been relatively quiet as of late, but even quiet games from Barnes means points in the high teens, near double digits in boards and more dimes than you would expect. He is 2nd on the team in rebounds, 2nd in field goal percentage, 3rd in assists, and 1st in blocks. Scottie rarely makes bad decisions; his IQ is evident in his poise and composure. Barnes always finds a way to make an impact even without having plays called for him. He was robbed of the NBA Rookie of the Month award but still holds the inside lane in the Rookie of the Year Race.
Honourable Mention: P. Achiuwa, Y. Watanabe, C. Boucher
News and Notes
Superfan – Actor Kal Penn announced that he will produce and star in a biopic about the Raptors own superfan, Nav Bhatia. Nothing but support and praise for the project. It will be incredible to see his story on the big screen.
Land of Giants – Toronto honoured the legacy of Nelson Mandela in the 8th annual Giants of Africa Celebration. NBA commissioner Adam Silver was in attendance for the event.
Around the League
Health and Safety – The pandemic is not over, and its influence still lingers throughout the league. We have seen an uptick of players entering safety protocols including LeBron James.
Needed – In a previous High 5, it was discussed that the Portland organization was conducting and internal investigation with respect to concerns around their workplace environment. This week, the team announced that they were terminating the services of GM and president of Basketball operations, Neil Olshey, due to a violation of the team's code of conduct. This will send a major shock wave throughout the organization. One which appears to have been sorely needed. Considering that the team has seemed to hit a ceiling of success on the court, it's time for a change.
Legendary Stories – A movie has gone into production which will chronicle the life of Croatian legend and basketball icon, Drazen Petrovic. His life was cut short before his time, but his impact still resonates in the league decades later.
Hate it or love it – Memphis Forward Dillon Brooks has a knack at getting under the skin of opponents. He certainly rubbed the Toronto faithful wrong when he shouted that the Scotiabank Arena was "His House" during the game on Tuesday. However, Brooks is also a proud Canadian and a favourite around these parts, so I had to give some love for his post game look after he punked the Raptors.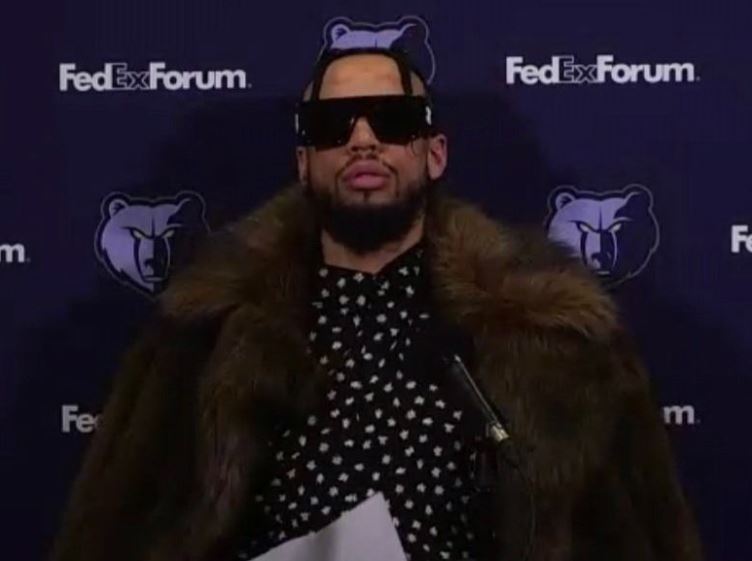 Up Next
In a bizarre scheduling anomaly, the Raptors only play 2 games this week. A Wednesday night game against the embarrassing Oklahoma City Thunder and a Friday night matchup against the Knicks. Both games are at home and spaced out enough that the team should have ample time to properly prepare. This week should help Toronto get a few bodies back and allow them some always beneficial practice time.