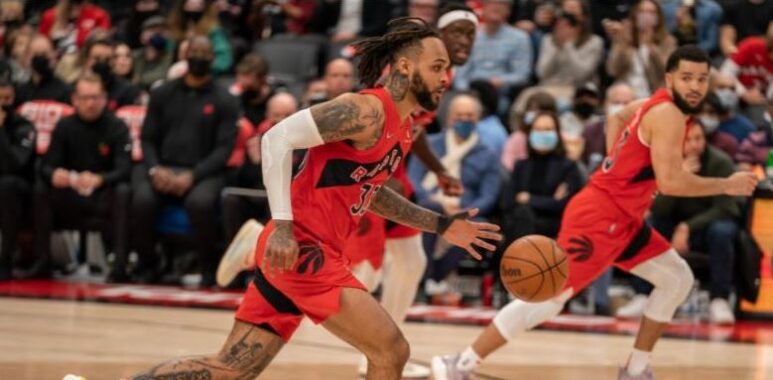 Full Time – Toronto breaks even for the week but learns a lesson in effort
The High 5 – Week in Review – Week 8
The High 5 is where I review the last week of Toronto Raptors basketball including how the team did, who were the impact players as well as some news and notes from around the league.
The Thumb – How was the week?
Toronto entered the week with days to spare and time to prepare. However, a sudden influx of COVID may have derailed their energy as they had to cancel practice out of an abundance of caution. This week was a missed opportunity, it was truly disappointing to see the Raptors drop a close game to OKC and even their win against the Knicks was not all that impressive.
However, when looking at the positives, there remains optimism. The team is improving, they are syncing up, it's evident, where they are lacking is in the effort department. Failing to take the Thunder seriously backfired in disheartening fashion, they lost the game when they only scored 12 points in the 3rd. They also took their foot off the gas after building a 20-point lead against NY. The Knicks quickly erased the deficit and turned the game into a dogfight the rest of the way.
This team is not good enough to take even the worst opponents lightly. They need to learn this lesson quick, or wins will continue to slip through their fingers.
Only a full 48 will get it done.
Week Record (1 – 1) Season Record (12 – 14)
Oklahoma City Thunder v Toronto Raptors L 110 – 109
OKC has leaned all the way into rebuild mode. Granted they field two of the most dynamic and easy to cheer for Canadians in Lu Dort and Shai Gilgeous-Alexander but, aside from a bunch of rookies with flashes of potential, that is literally it. With injuries being a factor, Nurse rolled the dice and started Boucher at Center. The OKCanadians stepped up huge for the Thunder with Shai slicing through the defense and Lu outmuscling Toronto's frontcourt. Toronto had to make a comeback to make it interesting down the stretch. Rarely used Raptor, Justin Champagnie, inexplicably had a shot to win it off a desperation tip but he was a fraction of a second late.
New York Knicks v Toronto Raptors W 90 – 87
Toronto let one slip away against OKC and had a few days to stew in the loss. On Friday night they looked much sharper as they blitzed the visiting Knicks in the opening frame. They showed excellent scrambling defense and team rebounding which kept the Knicks to 1 and done on many offensive possessions. Within the first 10 minutes, Toronto had built a 20-point advantage. But this is the NBA, and no lead is safe, New York went on a massive run to tie it up before half. The teams traded runs until the final seconds of the game, but this time Toronto was at the end of a fortunate bounce.
The Index – The Leader – Player of the Week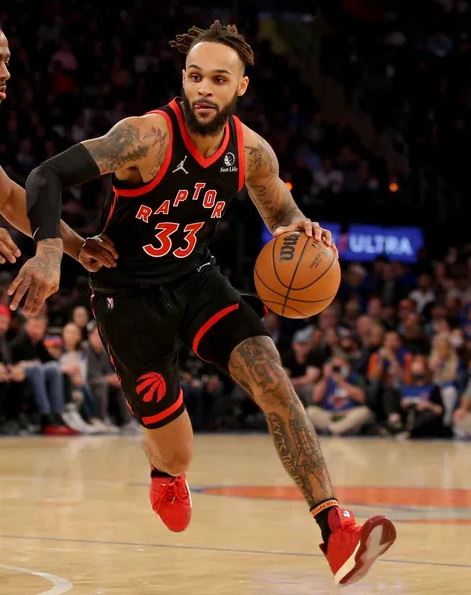 Gary Trent Jr.
It was very difficult to pick a player of the week with only 2 games. Siakam racked up a pair of double doubles, VanVleet was as good as advertised, but with scoring at a premium, and the Raptors propensity to lapse into droughts, Trent Jr. gets the nod for leading the way in both games. The young guard is one of the most underrated shooters in the league. He doesn't need much room to let his jumper fly and his confidence makes every shot look like its going in. Fred will get All Star consideration (rightly so), but Gary is proving himself to be a capable Robin to VanVleet's Batman.
| | | | | | | | | |
| --- | --- | --- | --- | --- | --- | --- | --- | --- |
| | Points | Rebounds | Assists | Steals | Blocks | FG | 3PT | FT |
| v OKC | 24 | 4 | 3 | 2 | 0 | 10/17 | 4/8 | 0/0 |
| v NYN | 24 | 1 | 1 | 3 | 0 | 9/16 | 5/7 | 1/2 |
| | | | | | | | | |
| Weekly Avg | 24 | 2.5 | 2 | 2.5 | 0 | 19/33 | 9/15 | 1/2 |
| Games | | | | | | 58% | 60% | 50% |
| Season Avg | 17 | 3.3 | 1.8 | 2.0 | 0.3 | 43% | 38% | 91% |
| | | | | | | | | |
Honourable Mention: F. VanVleet, P. Siakam, S. Barnes
The Middle – The Enemy – Best Opposing Player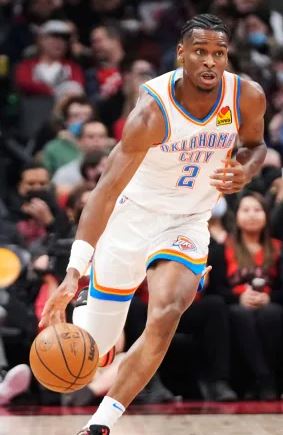 Shai Gilgeous – Alexander – Oklahoma City Thunder
The pride of Ontario did a number on the Raptors on Wednesday night. Toronto could not stay in front of the slithery guard, most times he either stuck the jumper or earned free points at the stripe. He scored more free throws than the entire Raptors team and scorched 16 of his game high 26 points in the 3rd quarter. He showed excellent poise in the clutch where he selflessly manufactured an opportunity by attracting a double in the paint before kicking it out for the game winning 3. It's a crime that Shai hasn't made an All-Star team yet.
| | | | | | | | | |
| --- | --- | --- | --- | --- | --- | --- | --- | --- |
| | Points | Rebounds | Assists | Steals | Blocks | FG | 3PT | FT |
| v TOR | 26 | 2 | 9 | 1 | 0 | 6/17 | 2/6 | 12/12 |
Honourable Mention: O. Toppin (NYK), RJ Barrett (NYK)
The Ring – The X Factor – Standout Performance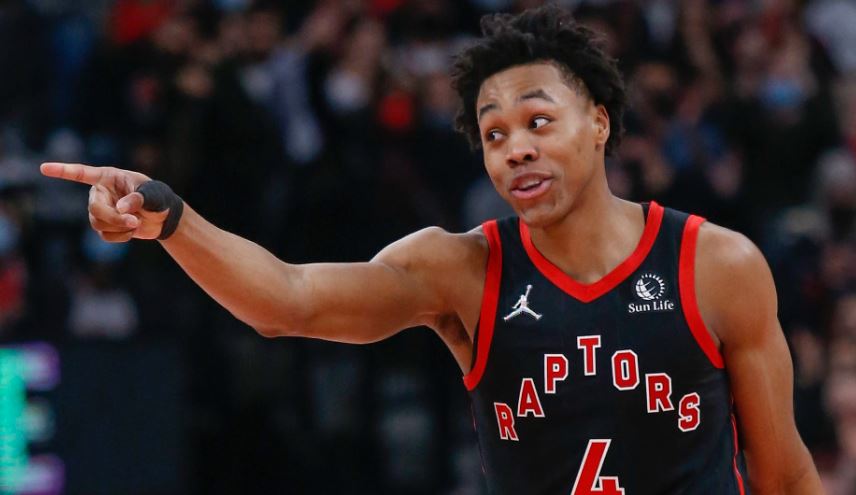 Scottie Barnes v NY Knicks
Barnes had an excellent week as he continues to be a reliable source of points and rebounds. He played perhaps his best defensive game ever against the Knicks. His defense was outstanding, he had no problem covering 1 – 5. Barnes showed off his post game, his deep range, quick outlet passes, and full court attacks. He had a beautiful pass to VanVleet through a sea of limbs from under the basket for a triple. He also came up with a monster offensive rebound with just over a minute to play which led to a Trent Jr. game sealing 3. He also notched a new career high in boards and gave more fuel to the idea that he and Siakam can forge a dangerous 1 – 2 front court punch.
| | | | | | | | | |
| --- | --- | --- | --- | --- | --- | --- | --- | --- |
| | Points | Rebounds | Assists | Steals | Blocks | FG | 3PT | FT |
| v NY | 12 | 15 | 3 | 2 | 2 | 6/12 | 0/1 | 0/0 |
Shoutout to Svi Mykhailiuk who climbed Everest for an enormous block on NY's Mitchell Robinson. That moment is going into his career highlight reel.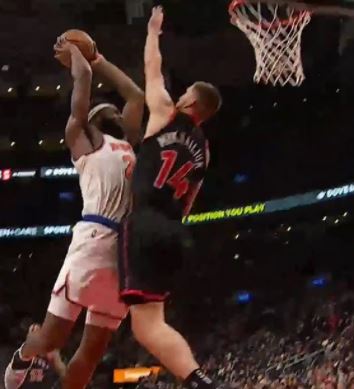 Honourable Mention: J. Champagnie v OKC, C. Boucher v OKC, F. VanVleet v NY
The Pinky – The Unsung Hero – Key Contributor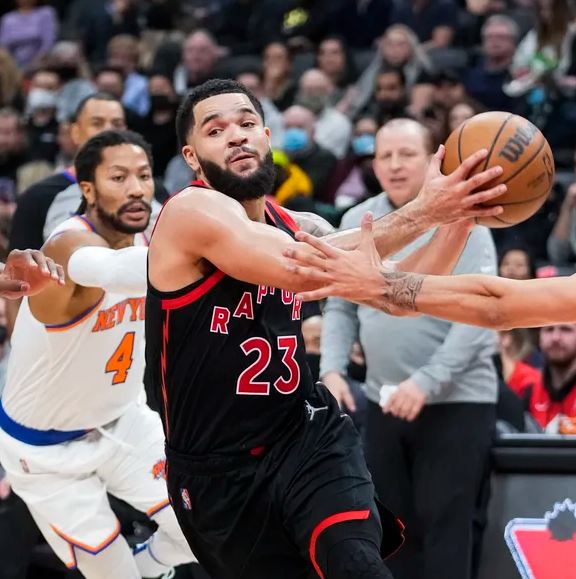 Fred VanVleet
It honestly feels like a disservice to leave Pascal off this week's High 5. Boucher even had his moments that in any other week may have gotten consideration. But how could I not include VanVleet in this week's edition. The man has made it a staple to appear on these lists. Fred's leadership has grown by leaps and bounds. It was always understood that he would be the natural successor to Lowry, but no one could have imagined how close their games would resemble to each other. VanVleet plays like men twice his size and with more determination than most of the league. Just like Toronto's former point god, VanVleet comes across more as a player/coach that just a player.
Honourable Mention: J. Champagnie, C. Boucher, P. Siakam
News and Notes
Not Over – In last weeks High 5, it was discussed how COVID's influence has risen significantly. It seems that trend has continued as players and team executives from all over the NBA are entering Health and Safety protocols. This included Toronto's own Masai Ujiri and Superfan Nav Bhatia. As a result, the Raps were forced to cancel practice and Nav missed his first home game ever, which ended a truly remarkable iron man streak.
Salt in the Wound – Not only did Nav miss his first game, but it was also one where he was to attend with actor Kal Penn. As noted before, Kal will be playing Nav in his biopic and this was a perfect opportunity to capture both together at a game. A picture was still taken to commemorate the moment.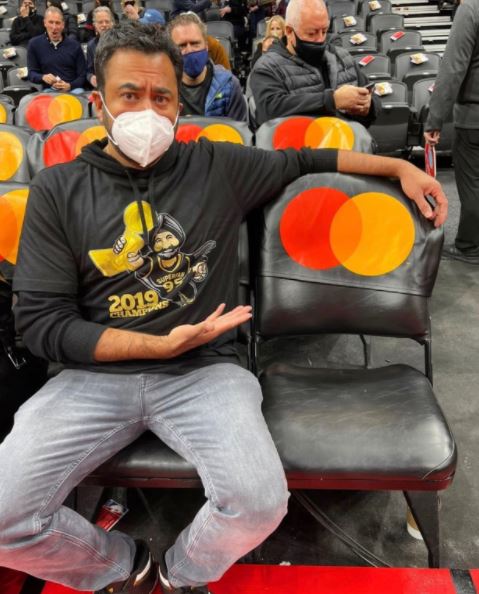 Around the League
Air Ball – Somehow, Portland's CJ McCollum has suffered a collapsed lung (pneumothorax). It is unclear if this is somehow COVID related, however it must not have been that severe as he stated that he intended to suit up for his game on Sunday.
Boiling Over – NBA officiating has always been called into question and it happened again when High 5 favourite (and Canadian) Dillon Brooks went off on officials after the Grizzlies lost against the Dallas Mavericks on Wednesday. His rant cost him a cool $ 25000.
Flipping Birds – Washington's Kyle Kuzma flipped off the fans after sinking a corner triple in Detroit. This lack of class cost Kuz $ 15000.
No Ball for You! – As of January 15, 2022, unvaccinated players will be unable to play games in Toronto. This will only affect a handful of players as most of the league has been vaccinated at this point.
New King on the Horizon – There is a good chance that by Monday, Steph Curry will have passed the great Ray Allen as the NBA's all-time leader in 3 pointers made. The countdown is on as Curry rewrites the history books once again.
Face of the Future – USA Basketball will announce Steve Kerr as their next head coach. He will be flanked by a few notable names including Monty Williams and Erik Spoelstra. USA basketball is undoubtably in good hands.
Showtime – Former LA Laker and G league legend, Andre Ingram, the man who made his first trip to the league at 32, unlocked another career achievement when he won on Wheel of Fortune. Ingram may only have had a cup of coffee in the league, but he earned the hearts of fans everywhere. He took home $31750 when he correctly spelled "I really like the look of this". I bet he does!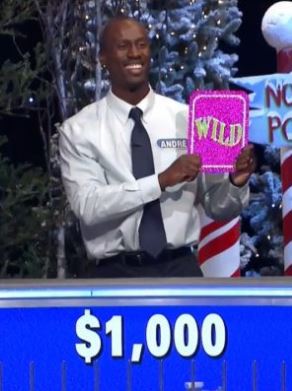 Up Next
The Raptors welcome the hapless Sacramento Kings on Monday to start their week. This is looking like a trap game as Toronto faces the Nets on the road the very next night. They need to keep their attention to one game at a time or else they risk losing both. On Thursday, Toronto will host DeRozan and the raging Bulls. They will wrap up their week with a Saturday night contest with the always dangerous Golden State Warriors. A soft one and then a murderer's row of opponents in a stacked 7 days. This is a 'show me' week for the Raptors.