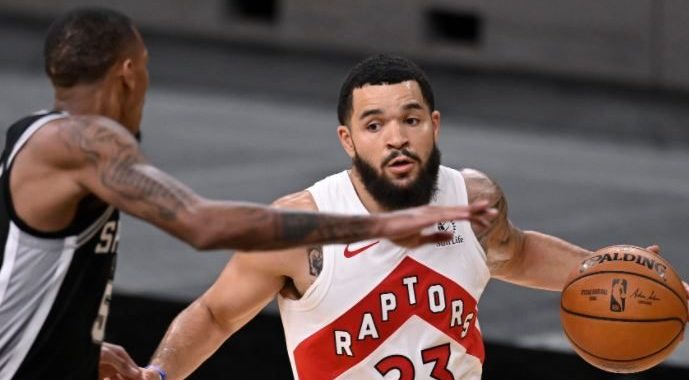 The Raptors are in unfamiliar territory after back-to-back losses to start the year
The High 5 – Week in Review – Week 1
The High 5 is where I review the last week of Toronto Raptors basketball including how the team did, who were the impact players as well as some news and notes from around the league.
The Thumb – How was the game?
We're back!
In a world where time holds no meaning, the off-season passed by in what felt like a matter of days. The image of the Lakers raising the Larry O'B trophy remains fresh in my mind, yet here we are again, about to begin another campaign in a much different looking league. Toronto may have lost two crucial pieces in Gasol and Ibaka, but they solidified a future of competitiveness by locking up Fred VanVleet and OG Anunoby to multi year deals. They join an already signed Pascal Siakam as Toronto's core.
The Raptors were also the only team displaced from their home floor due to the Corona virus. Although this is somewhat of a raw deal for supporters in Toronto, it offers a unique opportunity to build a new fanbase in Tampa, in one of the few arenas that will admit fans.
There are some new faces, but the essence of the team remains the same. The Raptors are still built on discipline and basketball IQ. Kyle is still the general at arms, Coach Nurse remains the master strategist, and the roster is loaded with hungry talent.
A new era of Toronto basketball is upon us. The Raptors have a chip on their shoulder and something to prove. It's time to silence the doubters.
Week Record (0 – 2) Overall Record (0 – 2)
New Orleans Pelicans v Toronto Raptors – L 113 – 99
Toronto started their season against New Orleans on Wednesday night. The Pelicans made some noise in the off season and earned a measure of hype whereas the Raptors, on the other hand, find themselves overlooked and underrated once again. It was a feeling out process early as players adjusted to the pace but, by halftime, the Raptors held a modest lead. In the second half, New Orleans responded. Already showing improvements under Coach Van Gundy, they used surprising maturity and composure to take control of the game. The Raptors were like fish swimming against the current, they struggled to convert while the Pelicans caught fire from the field. New Orleans methodically extended their lead and never looked back. Tough loss against a beatable opponent.
Toronto Raptors v San Antonio Spurs – L 119-114
The Raptors donned their new white jerseys when they visited San Antonio to take on the Spurs on Saturday night. The Spurs are made up of young players and expiring contracts, chiefly among them, Toronto's adopted son, DeMar DeRozan. The Raptors started with excellent energy. They showed flashes of offensive brilliance with everyone chipping in. However, the shine wore off quick as their defense became inconsistent allowing the Spurs to take the lead behind DeMar's improved playmaking. Neither team could gain any separation which made for a close second half. VanVleet, Lowry and Siakam led the way, but it was Chris Boucher who made the biggest impact. This was a back and forth contest that went down to the wire. The Raptors had their chances, but instead they drop another winnable game.
The Index – The Leader – Player of the Week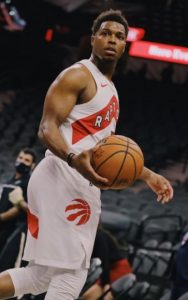 Kyle Lowry
It was hard to pick a player of the week, but Kyle's consecutive double doubles pushed him just ahead of VanVleet's big night against the Spurs and Siakam's underrated efforts. As expected, Kyle looks sturdy and as competitive as ever. He did all that could be asked of him and showed no sign of slippage. Kyle needed a bit more help to change the narrative of the week to a winning one.
| | | | | | | | | |
| --- | --- | --- | --- | --- | --- | --- | --- | --- |
|   | Points | Rebounds | Assists | Steals | Blocks | FG | 3PT | FT |
| v Pelicans | 18 | 1 | 10 | 1 | 0 | 7/15 | 4/9 | 0/0 |
| v Spurs | 16 | 0 | 10 | 2 | 0 | 6/15 | 2/6 | 2/2 |
| | | | | | | | | |
| Weekly Avg | 17 | 0.5 | 10 | 1.5 | 0 | 13/30 | 6/15 | 2/2 |
| 2 Games |   |   |   |   |   | 43% | 40% | 100% |
| Season Avg | 17 | 0.5 | 10 | 1.5 | 0 | 13/30 | 6/15 | 2/2 |
| | | | | | | 43% | 40% | 100% |
Honourable Mention: P. Siakam
The Middle – The Enemy – Best Opposing Player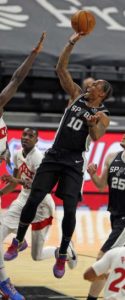 DeMar DeRozan – San Antonio Spurs
DeMar was an unquestionable star when he left Toronto and since his time away, he has only gotten better. Now over a decade in the league, DeMar continues to add to his game showing that one can never stop improving. DeMar's scoring bag runs deep, his drives are silky smooth, but it's his playmaking skills that has taken him to another level.
| | | | | | | | | |
| --- | --- | --- | --- | --- | --- | --- | --- | --- |
|   | Points | Rebounds | Assists | Steals | Blocks | FG | 3PT | FT |
| v TOR | 27 | 5 | 8 | 2 | 0 | 10/17 | 3/4 | 4/5 |
Honourable Mention: B. Ingram (NO)
The Ring – The X Factor – Standout Performance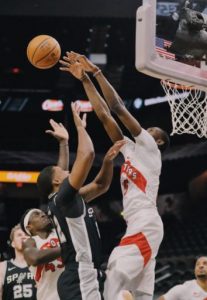 Chris Boucher v Spurs
Boucher turned some heads with an inspired performance against the Spurs. His 3-point shot and glasswork were essential in keeping the game tight. He gave great second and third efforts and kept plays alive with infectious energy. Boucher's arms were a factor, he blocked everything that entered his defensive radius.
| | | | | | | | | |
| --- | --- | --- | --- | --- | --- | --- | --- | --- |
|   | Points | Rebounds | Assists | Steals | Blocks | FG | 3PT | FT |
| v Spurs | 22 | 10 | 1 | 0 | 7 | 9/13 | 3/4 | 1/2 |
Honourable Mention: F. VanVleet v. Spurs
The Pinky – The Unsung Hero – Key Contributor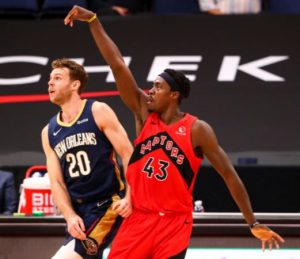 Pascal Siakam
Pascal has faced some heat as his leadership has come under fire. He has not been bad to start, certainly not all-star status, but respectable, nonetheless. The problem is that the Raptors need a superstar, not a support player. Siakam's rebound and assist numbers were nice but his scoring needs to improve.
Honourable Mention: M. Thomas
News and Notes
Relationships matter – Because of his "cooperation with media and fans as well as excellence on the court" Coach Nurse was honoured with the PBWA's Rudy Tomjanovich Award.
Ferme ta Boucher – Chris Boucher held a one-man block party on Saturday night, swatting away a career high 7 shots and deterring countless others.
Around the League
Rocket Launchers – After a series of questionable decisions from up and down the franchise, the Rockets may have become the most dysfunctional team in the league. From former GM Daryl Morey's controversial tweets, to Eddie House breaking bubble protocol, to having to suspend their season opener due to haircut related contact tracing, to the most recent antics of superstar James Harden, it has not been a great 2020.
Beard Extended – Speaking of James Harden, although he avoided suspension, his exploits at the club earned him a $50 000 fine. Considering how well he is paid; this is a merely a drop in the bucket.
Familiar Faces – It was all love in San Antonio when the Raptors reunited with former teammate DeMar DeRozan. Shout out to Jakob Poeltl, Rudy Gay and Aaron Baynes who were also visiting their former clubs.
Big Moves – The Detroit Pistons made one of the best moves in the offseason when they announced that Big Sean would be their new creative director of innovation. If there ever was a franchise in need of innovation, it's the Pistons.
Leave a Legacy – The Lakers championship ring is full of easter eggs. Every detail has a meaning, like the number of stones in the "L" representing the number of titles (17) or the removable top to reveal the "rafters". Of all the details, my favourite is the tribute to Kobe Bryant. Each player's number is wrapped by a snake to represent the spirit of the Black Mamba.

Photo Courtesy: @Jasonofbeverlyhills/ Twitter
Up Next
The Raptors bigs will be tested when they face off against Embiid and the Sixers on Tuesday. The Raps will then take on Canadian star RJ Barrett and the lowly Knicks on Thursday. Finally, they will end their week with a Saturday night revenge game against the Pelicans in New Orleans.