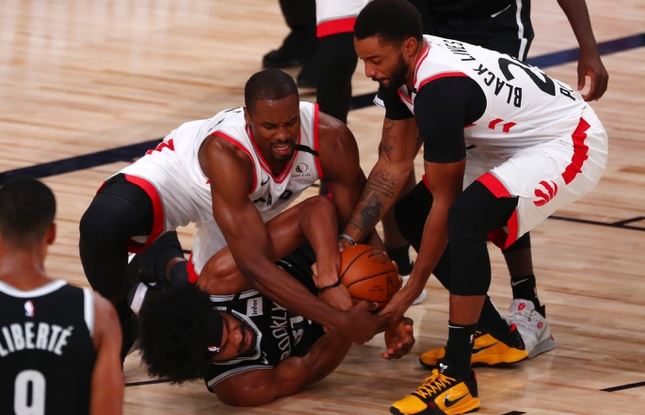 Bubble Raps: The scrappy Nets fight valiantly but fall to the defending champs
The High 5 – Round 1 – Game 2
The High 5 is where I review the last week of Toronto Raptors basketball including how the team did, who were the impact players as well as some news and notes from around the league.
The Thumb – How was the game?
For the most part, the Raptors looked impressive in their Game 1 win against the Nets. Though they scuffled a bit in the third quarter, they played hard when it mattered most resulting in a blow out victory. Brooklyn went back to the drawing board to figure out a way to slow Fred VanVleet and Toronto's litany of weapons, but alas, its pick your poison when going against a team as good as the Raptors.
Series record (2-0)
Toronto Raptors v Brooklyn Nets –W 104 -99
Between games, the Nets realized that to increase their scoring, they would need to play aggressively and prevent Toronto's stingy defense from getting organized. Their strategy was immediately effective as the Nets jumped out to an early lead off the playmaking of LeVert and a rim running Jared Allen. The Raptors long rage shooting was suspect, their rotations were a step behind, and Brooklyn did an excellent job keeping them at arms length for most of the game. It wasn't until midway through the fourth that the Raptors clamped down their defense and changed the momentum. Down the stretch the Raptors proven performers, Powell, Lowry, VanVleet and Siakam stepped up with big moments to seal the victory.
The Index – The Leader – Player of the Game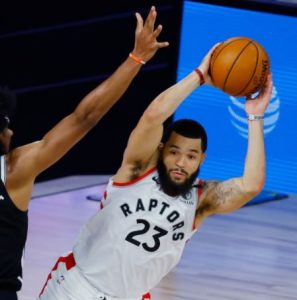 Fred VanVleet
After Game 1, Fred VanVleet joined rare company as one of only 7 players in the history of the NBA to score 30 points with 10 assists on 15 or fewer shots. The Nets were aware of this coming into todays game, they keyed in on VanVleet, using the length of Jared Allen to keep Fred away from the rim. However, in the third quarter, VanVleet went on a personal 10-0 run to cut into Brooklyn's lead which gave him confidence. Fred played heavy minutes (43), and though it was not the easiest performance, he still produced. That's was superstars do.
| | | | | | | | | |
| --- | --- | --- | --- | --- | --- | --- | --- | --- |
|   | Points | Rebounds | Assists | Steals | Blocks | FG | 3PT | FT |
| v Nets | 24 | 5 | 10 | 1 | 0 | 8/22 | 3/11 | 5/5 |
| | | | | | | | | |
| Series Avg | 27 | 4.5 | 10.5 | 1 | 1 | 19/37 | 11/21 | 5/6 |
| |   |   |   |   |   | 51% | 52% | 83% |
| Season Avg | 17.6 | 3.8 | 6.6 | 1.9 | 0.3 | 41.3% | 39% | 85% |
| | | | | | | | | |
Honourable Mention: N. Powell
The Middle – The Enemy – Best Opposing Player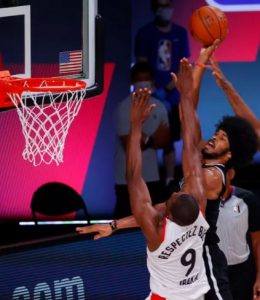 Jared Allen
Jared Allen's hyperactivity was a thorn in the Raptors side all game. His quickness helped bottle Toronto's guards on switches and his length deterred and deflected many of Toronto's drives. Allen is a limited player, but his athleticism made up for it and his effort earned him additional floor time. Jared was outmatched against the tandem of Gasol and Ibaka, but he did an admirable job holding his own. The Nets desperately needed someone to step up aside from LeVert, and Allen responded.
| | | | | | | | | |
| --- | --- | --- | --- | --- | --- | --- | --- | --- |
|   | Points | Rebounds | Assists | Steals | Blocks | FG | 3PT | FT |
| v TOR | 14 | 15 | 5 | 0 | 3 | 5/9 | 0/0 | 4/6 |
Honourable Mention: J. Harris, C. LeVert
The Ring – The X Factor – Standout Performance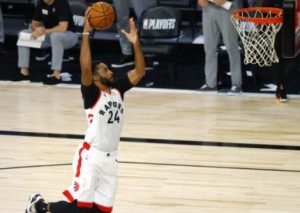 Norm Powell
Playoff Norm made his first appearance of this year's post season with an impressive second half shooting performance. As the Nets focused their defense around Toronto's heavy hitters, Powell was able to sneak under their radar and strike at opportune times. He did most of his damage from the midrange which included a devastating one-handed slam early in the contest. His 24 points matched VanVleet for team high honours and he threw in 6 rebounds and 2 dimes for good measure.
Honourable Mention: O. Anunoby
The Pinky – The Unsung Hero – Key Contributor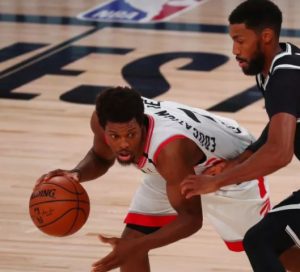 Kyle Lowry
With all the talk surrounding the hot shooting of VanVleet, the growth of Siakam, and the defensive emergence of Anunoby, it is easy to forget that the Raptors still have a 6 time All star patrolling their perimeter. Lowry was quietly effective, he joined VanVleet and Powell as 20 plus point performers and his 9 rebounds was surprisingly, a team high. As always, Kyle brought the tenacity with tough drives and stubborn defense. Lowry somehow always finds a way to make his presence felt.
Honourable Mention: P. Siakam
News and Notes
Smile, you're on Camera – When the Raptors won the championship last season, team President Masai Ujiri was denied access to the court by California Sheriff Deputy Alan Strickland, leading to a tense altercation. However, additional footage was recently released revealing clear evidence showing that Strickland, not Ujiri, was the aggressor. In fact, it doesn't look very good for Strickland at all. Ujiri, with support from the Raptors, MLSE and the NBA has filed a counter lawsuit in response.
Bruised Brissett – Raptors forward and Mississauga native, Oshae Brissett, had to leave the NBA Bubble for a surgery to remove damage to his right knee. Although it isn't likely that he would have seen any game action, it would have been a nice experience for Oshae to be part of the playoff push. He attended the game as a virtual fan.
Raising Expectations – For additional motivation, head Coach Nick Nurse gave his staff bracelets which read, "Expect to Win". On the flip side, the letters "ASO" are written which stands for "August, September, October".

Photo Courtesy: @SNMIchaud/Twitter
Around the League
Bad Bounce – Boston Celtics forward Gordon Hayward will be out at least a month due to an ankle sprain. Considering he was already set to leave the Bubble for the birth of his child in September, it may be a long time before we see Gordon back on the floor.
Tune Up – LeBron James gave us a glimpse of the Tune Squad jersey for the upcoming Space Jam sequel. I can't wait to see what the Monstars jerseys look like.

Photo Courtesy: Space Jam: A New Legacy/IMDB
Up Next
The Raptors are sitting in the driver seat and can put even more pressure on Brooklyn with a Game 3 victory on Friday. The Nets have a lot of work to do to climb back into this series, but they played hard and showed heart in defeat.