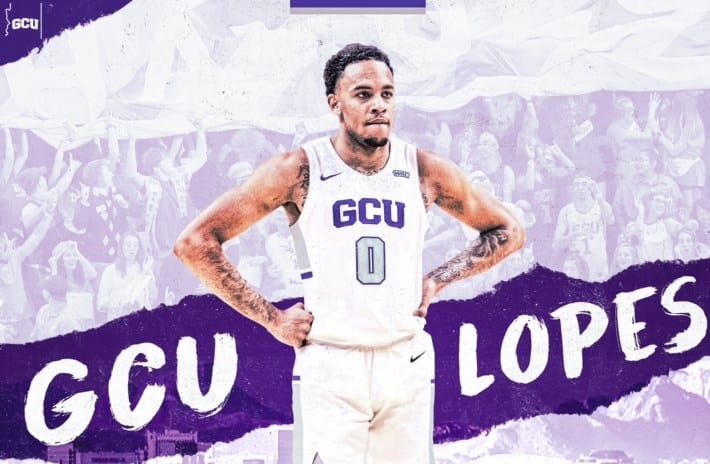 Sean Miller-Moore Commits to Grand Canyon For Senior Year
Tabula rasa
Grand Canyon University has decided to restart from a blank slate. Sean Miller-Moore who joins the Antelopes and new staff under Coach Bryce Drew, also gets a chance to start fresh in his final year of college hoops. The 6'5 wing brings a tool box that allows him to score from all over the floor and lock up defensively.
After a celebrated JUCO career in two years at Moberly, there was a short stint at Oregon State before deciding to transfer to GCU.
During a conversation with Miller-Moore he reflected on some of the lessons he's learned through his years.
"One important thing I learned so far in my life, is that things don't always go as planned. Some things are unpredictable, and when change happens, I'll find ways to adapt and land on my feet. I'm just grateful that Coach Drew and the staff see what I'm capable of."
As soon as Miller-Moore's name entered the portal, the phone began to ring with questions on what he was looking for in a school. Most who had recruited him since his sophomore year, and his big performances at Hutch in JUCO Nationals were back in the mix. The list of schools was up to 20 before filtering through the most serious situations.
"I was hearing from Coach Drew more than the assistants at times and that, in my experience, is how you recruit. That's how I knew I'm needed and wanted, when the Head Coach is that serious about having someone. We talked everyday since I entered the portal and he watched all the film he could to get to know my game. The opportunity there is real."
It's been a rocky road to say the least, for Miller-Moore. Stability and a nurturing environment were at the forefront of his decision, along with opportunity of course. A newly hired staff with a Head Coach who has had Canadians on his previous rosters made sense.
"I need more than basketball, I need a family and that's the vibe I got.  They reached out on mothers day even knowing that's always a hard day for me," explained the Canadian wing.
The NCAA Division I level has not yet got too familiar with Miller-Moore's game as a whole. In many ways, senior year will be a breakout season.
His best games of the year this past season were highly efficient. He was told throughout the year by many of his confidants to make the most of his year.
Key Games
Dec 12, 2019 OSU vs UTSA: 18 minutes | 10 pts (4-5) | 6 reb
Dec 21, 2019 OSU vs Texas A&M: 14 minutes | 8 pts (4-5) | 5 reb | 2 stl
Jan 8, 2020 OSU vs Washington St: 19 minutes | 10 pts (5-5) | 2 reb | 2 ast
There's a high sense of motivation in his voice. Miller-Moore feels poised more than ever to unleash in the upcoming season.
"Newcomer of the year, defensive player of the year, all of it. I want it all. Most importantly, I want to win and get this team to the tournament. Based on what I've learned about our current roster I feel like we're a top 3 team in the WAC. On top of that I'm a senior now so I'm all in, this is my last dance."