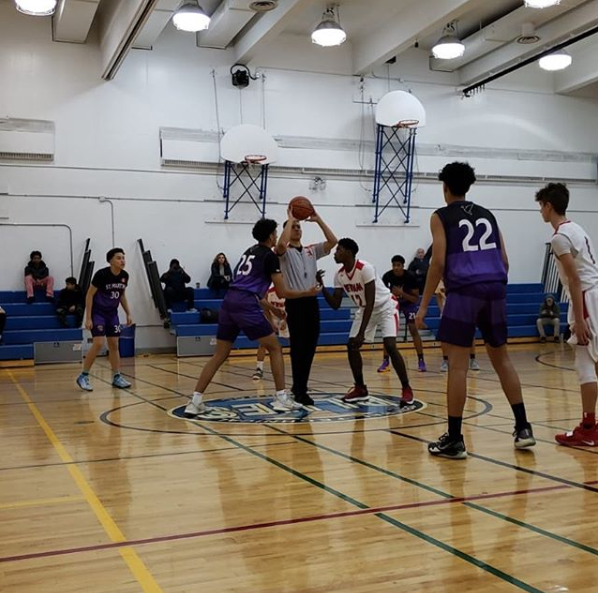 National Junior Circuit Recap: Top Teams After Session One
The National Junior Circuit kicked off its second season this past weekend. Thirty teams from across Ontario and Quebec came out to host-venues Crestwood and Central Tech to begin the battle for national supremacy at the junior level. When Session One came to a close we were left with five undefeated teams. Here's a look at those squads and some of their standout players from each after the first few games.
TRC Academy
TRC Academy had a dominate Session One finishing the weekend with a 4-0 record and +169 plus/minus. This squad overwhelmed its opponents with a combination of size and athleticism that is tough to match. Their starting lineup features three players 6'5″ or taller in Vytas Nausedas, Roland Okeugo and Kennedy Charles – each bringing a different set of skills to the table. Nausedas is a skilled forward who is almost always the strongest guy on the court. Okeugo will do the little things, grabbing offensive rebounds and bringing a high activity level to the defensive end. Charles is a mobile 6'8 rim protector who can be a handful inside on the offensive end.
Marquese Josephs and Keenan Emmanuel run the show on the offensive end almost sharing lead guard duties. Emmanuel is a speedy lead guard with a dangerous three-point shot and Josephs brings a high level of explosiveness and shot-creation to the backcourt.
With transition-nightmare Adrian Uchidiuno and three-point sniper Max Arnott coming off the bench, TRC has a number of weapons that can take down their opponents in so many different ways.
https://www.instagram.com/p/B5RT0eFhKQP/
Crestwood Prep
Crestwood Prep was one of the host schools for the NJC Session and came to play even though they were undermanned. They were missing a number of top players for a majority of the session including top-ranked 2024 prospect Mikkel Tyne but still won all four of their games by a combined 64 points. With Tyne out Kailon Nicholls was tasked with leading the offence and he was incredibly effective doing so. The speedy point guard took his playmaking ability to a whole new level this weekend, dropping dime after dime all over the court. A good number of those assists went to big man Matai Baptiste who showed a soft touch from everywhere inside the arc throughout the session.
These two were supported by a barrage of three-point shots from Christian Gheoculet and Elias Papaconstantinos on the wings – including a 30 point eight-3's outburst by Papaconstantinos in game one.
Father Henry Carr
The FHC squad presents a matchup nightmare against almost any team at the junior level. Their roster is loaded with long, versatile wings that impact the game on both sides of the court. Between Nicholas White, Javade Marne, Emmanuel Okunkwo and Deshawn Blair, FHC has four wings that can knock down the 3, score inside and play suffocating full-court defence.
Point guard Markus Pastorcic stood out as one of the top prospects in the entire session. He brings a great combination of size, skill and smarts at the point guard position and can score in a number of different ways. He can get into the paint in isolation, using a screen or with a simply blowby. You give him too much space and he'll make you pay with the jumper. He's almost as good of a passer as he is a scorer, so be careful bringing too much help his way as well.
Excel Hoops
Excel Hoops was another team that ended the session shorthanded but with an undefeated record. They went 3-0 and were down to five healthy bodies at one point during the weekend. Excel was led by top-5 class of 2023 prospect Bronson Chambers. The athletic lead guard ran the offence for his squad and did a good job of balancing looking for his own shot and making plays for others. He runs a clean pick and roll and makes good decisions when he gets into the teeth of the defence. His speed and leaping advantages don't hurt his ability to make plays either.
Dylan Grant flashed his defensive upside throughout the session, blocking every shot he could get a fingertip on. The 6'6 forward has great defensive instincts and quick feet which help him rack up rejections on ball our out of the help while rarely fouling. Tarik Sodhi brings great energy off the bench for Excel Hoops and get catch fire in a hurry. When his three point shot is on this team becomes almost impossible to defend.
St. Martin's Secondary
St. Martin's earned an undefeated record over the weekend off the strength of a balanced effort from the squad. They played four games and had four different players earn player of the game honours in the process – Xavier Howard, Gabriel Obusan, Adrian Morra and Ahmed Dawoud.
Obusan was the most consistent scorer of the bunch, making it rain from inside and out throughout the weekend. In a nail-biter victory over Campion, Obusan scored 11 straight points over a stretch in the fourth quarter to secure the win. Dawoud did a lot of the dirty work inside, including an 18-rebound effort in a win over London Basketball Academy. Adrian Morra can create his own shot in the half-court while Howard works within the offence to get his.