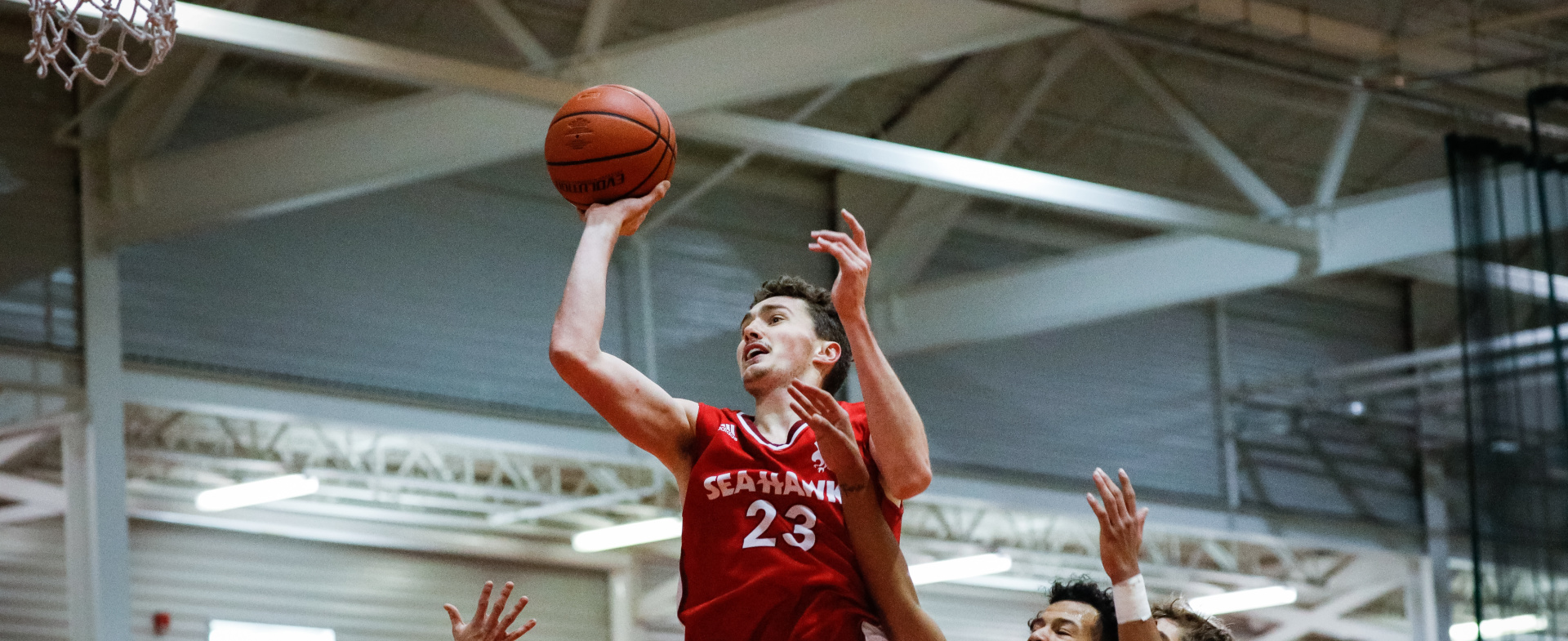 Cole Long dominating, Calvin Epistola rolling and Concordia and Calgary show championship experience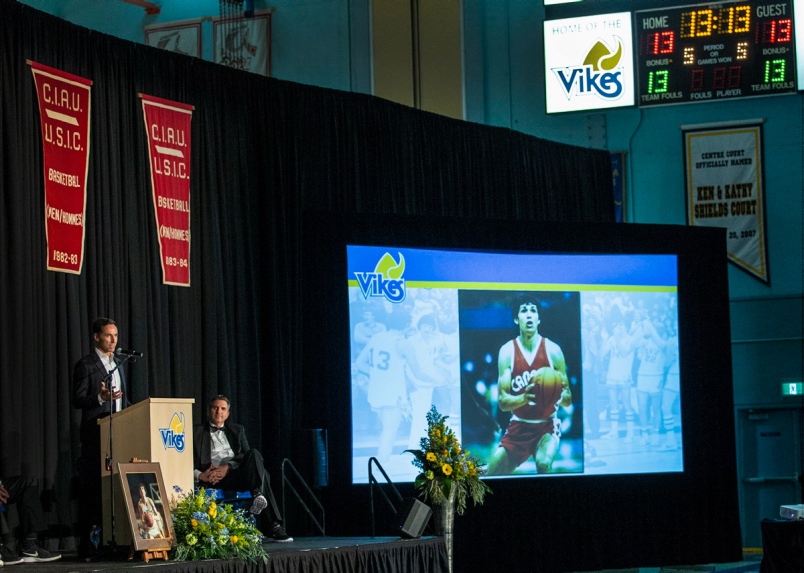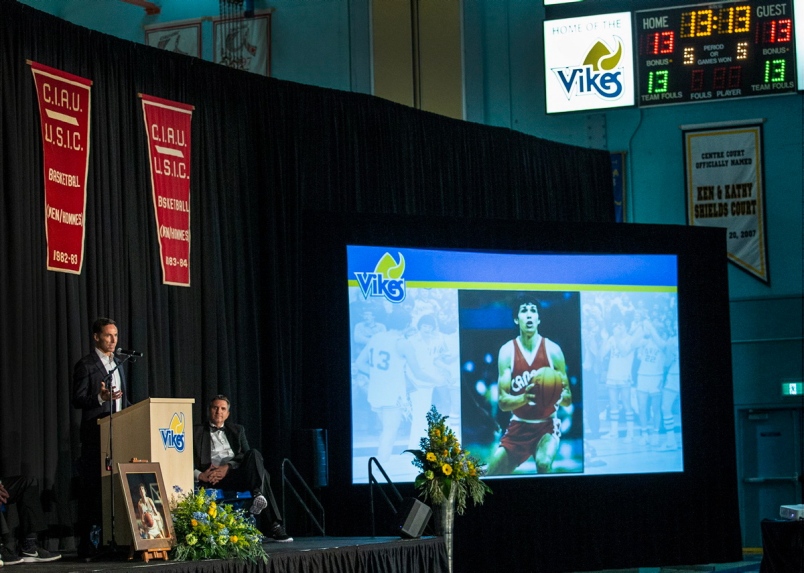 Steve Nash speaks at a ceremony honouring University of Victoria legend Eli Pasquale this weekend
This week will be remembered as the one where Calgary and Concordia showed the country why they have championship level programs and where Calvin Epistola and Cole Long truly started their campaigns for Conference Player of the Year. 
Canada West- James Wagner impresses and the Dinos survive a scare
Video Courtesy: University of Calgary Dinos Athletics
Behind a great weekend offensively from Anton Bilous, the Thompson Rivers WolfPack are now 5-1 and sit tied for first place in Canada West! The WolfPack face UNBC next weekend in an important home series that will tell us a lot about how good they really are. In terms of teams that we know are good, the Calgary Dinos were able to lock down a weekend sweep of Brandon, helped by a game-winning last second steal and layup by Mason Foreman (above). On the island, in an emotional weekend that saw Victoria honour Eli Pasquale, the Vikes were able to hand their first loss of the season to Alberta in a weekend split with the Golden Bears. The Vikes win was highlighted by Dominick Oliveri and Hayden Lejeune combining for 34 points and 28 rebounds! Meanwhile the individual performance of the weekend came in Lethbridge as James Wagner was dominant in a weekend series draw for Manitoba, as the big man averaged over 23 points and 10 rebounds. Manitoba is off to a strong 3-1 start and will take on rival Winnipeg next weekend. 
OUA- Epistola has Ottawa rolling, Western Bounces back and Laurentian is for real
Video Courtesy: Wilfrid Laurier Golden Hawks Athletics
In Ontario, Calvin Epistola may be the most improved player in the country. The Ottawa Gee Gees star has nearly doubled his points per game compared to last season and has his team firmly entrenched as the second-best team in the OUA after their 6-0 start. Speaking of stars off to hot starts, McMaster's Jordan Henry had another solid outing against Toronto on route to the team's fifth win in six games to start the season. Over in St. Catharines, Brock was able to earn a split against nationally ranked Lakehead, handing the Thunderwolves their second loss of the season. In the OUA West, the Western Mustangs found their stride once again after an 0-2 weekend last week, picking up two huge home wins. Arguably the Mustangs biggest competition for first in the division is Laurier who suffered a tough loss on Saturday night to Laurentian. A huge shout out to Joseph Hlady who had 23 points off the bench for Laurentian as the Voyageurs are now quietly 6-1 to start the season. 
AUS- Cole Long Shines while Saint Mary's gets back on track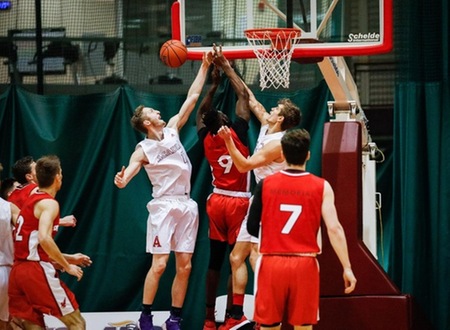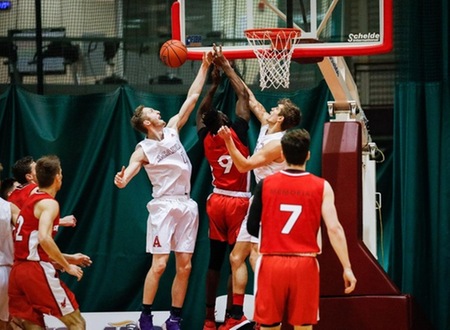 Photo Courtesy: Atlantic University Sports
Cole Long is making his case for conference player of the year. After three seasons in Detroit playing NCAA Division 1 for the University of Detroit-Mercy, Long has been absolutely dominant so far in USPORTS. This weekend was no exception as the hometown St. John's kid averaged 28 points in two big wins against Acadia to help the Seahawks sit firmly in second place in the conference with a 4-2 record. Just behind the Seahawks is the Saint Mary's Huskies who finally found their stride this weekend picking up a huge sweep against StFX after starting the season 1-3. The Huskies were led by Qyemah Gibson and will look to continue their momentum into next weekend against UNB. The Varsity Reds will be looking to rebound off a tough overtime loss at the hands of Cape Breton. 
Quebec- Concordia is still the class of Quebec while Frantson Demosthene shows out for new school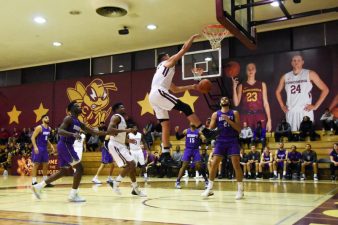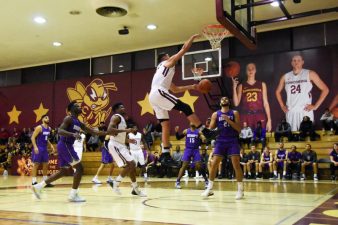 Photo Courtesy: Cecilia Piga/ The Concordian
Don't tell Concordia that Bishop's is the best team in Quebec this season. Despite the Gaiters national ranking heading into Thursday's contest, the defending champion Stingers, lead by Cedric Bryan Coriolan, handled Quebec's preseason favourite at home. The Gaiters rebounded two nights later in their home opener against UQAM. Bishop's was able to get the win despite Frantson Demosthene's 27 points. Demosthene was the star of the show all weekend for UQAM as the Laval transfer averaged 24 points and helped the Citadins to an important home win against McGill on Thursday night. Next weekend UQAM will welcome Demosthene's former team as the Rouge-Et-Ore are searching for their first win after an 0-2 start to the season. 
Upset Special- Vikes hand Alberta their first loss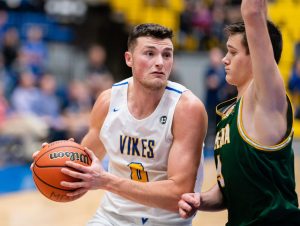 Photo Courtesy: Armando Tura/ University of Victoria Vikes Athletics
 In a game that will surely be remembered for its defence, the Victoria Vikes handed the University of Alberta their first loss of the season by a final score off 64-55. In a game that was won down low, the Vikes out rebounded the Golden Bears by 13 and forced the #5 team in the country to shoot just 27% from the field. Alberta is without Brody Clarke still but even factoring in his injury, it is a disappointing loss to a team that was 1-2 coming in.  
Player of the Week- Cole Long (Memorial)
Averaged 28 points, 8.5 rebounds, 2.5 assists, and 1.5 steals per game this weekend.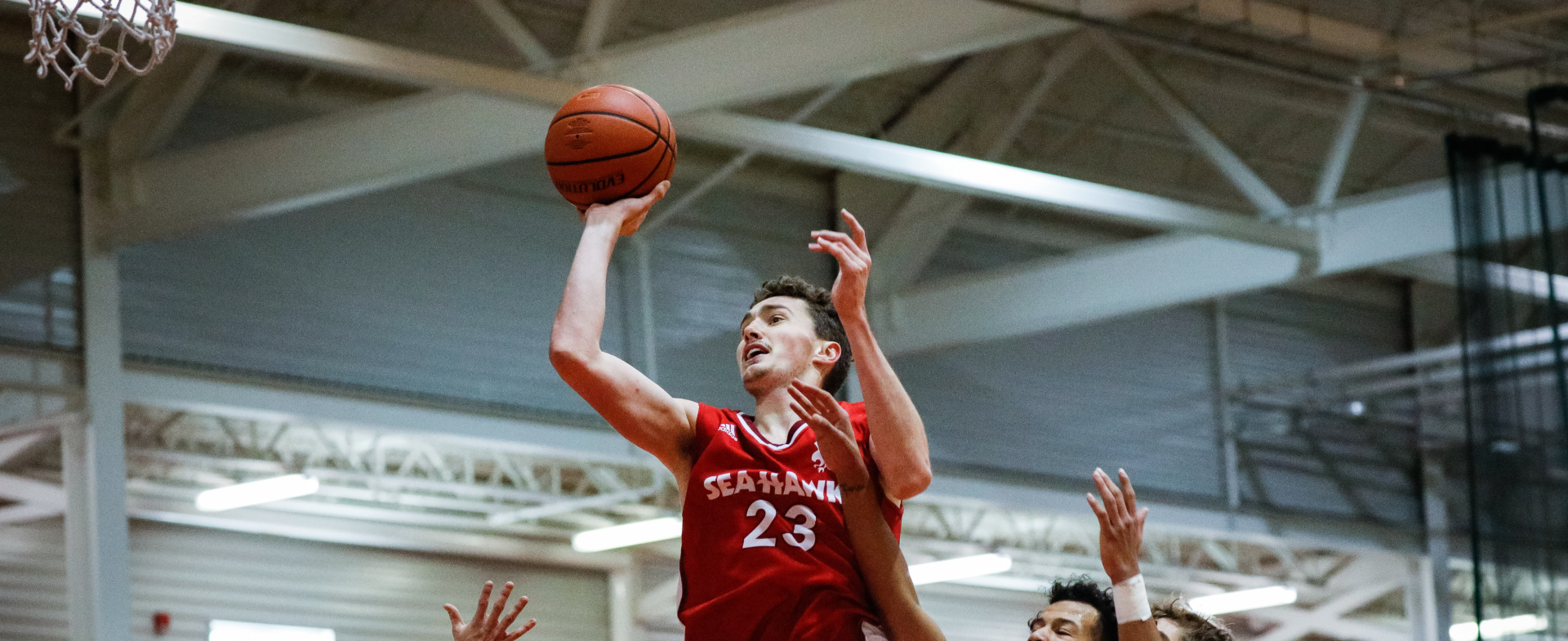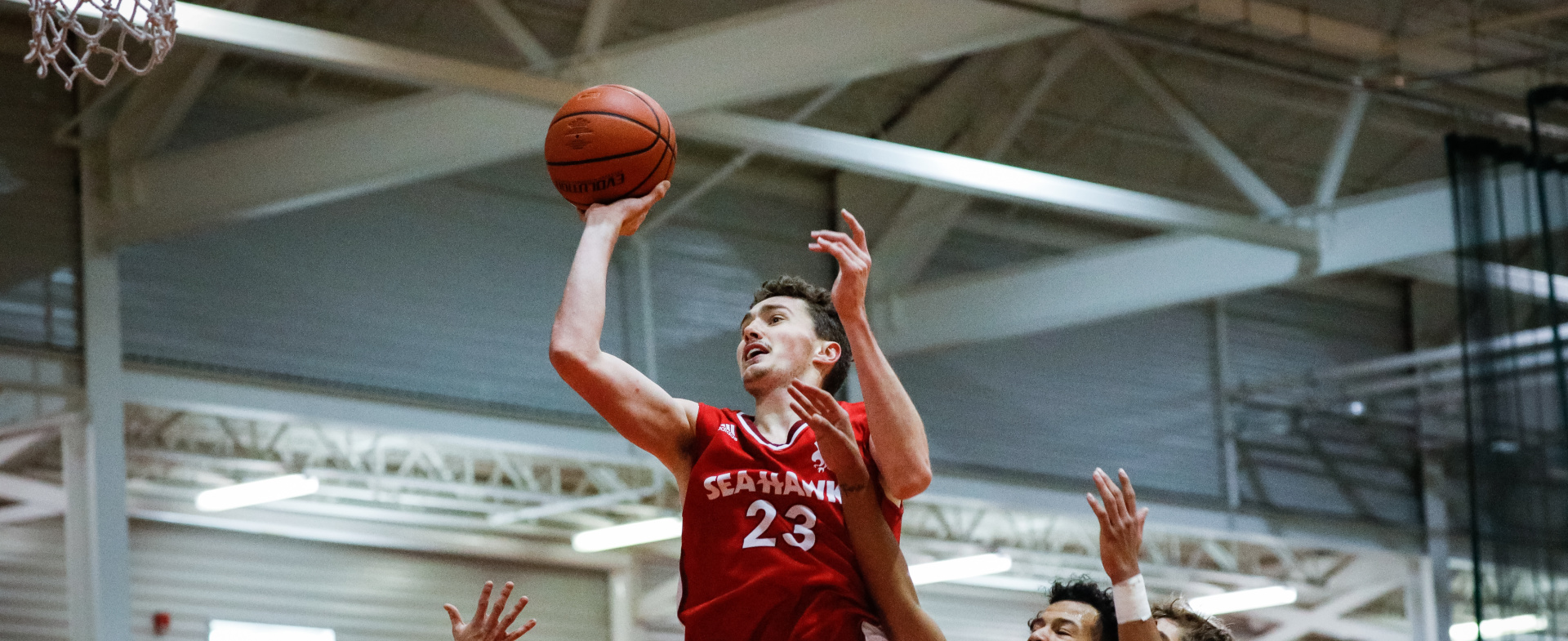 Photo Courtesy: Memorial University of Newfoundland Seahawks Athletics
Cole Long has been nothing short of spectacular this season after coming home as a D1 transfer. The St. John's native averaged 28 points, 8.5 rebounds, 2.5 assists, and 1.5 steals per game in a huge sweep of Acadia this weekend.
Runners up: Calvin Epistola (Ottawa) / RSEQ- Frantson Demosthene (UQAM) / Canada West- James Wagner (Manitoba)
Why we love USPORTS
Video Courtesy: University of Regina Cougars Athletics
There is simply nothing better than a buzzer beater. In the sporting event I'm sure Regina fans wanted to win the most this weekend against Winnipeg, the Cougars swept the Wesmen, culminating in this bucket courtesy Matt Barnard. 
Game of the week- Lakehead heads to the Nation's Capital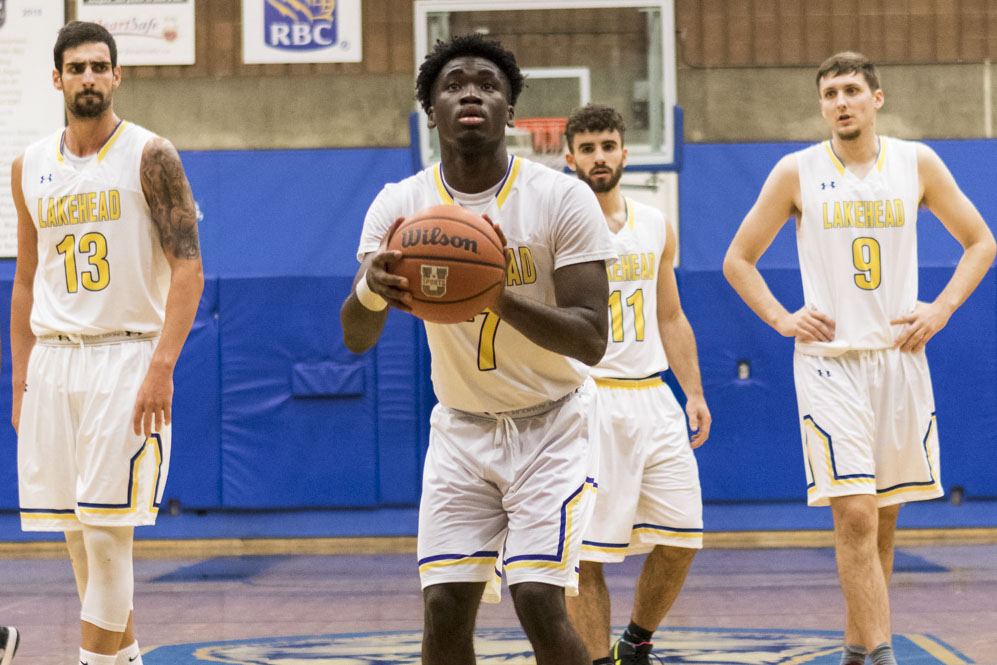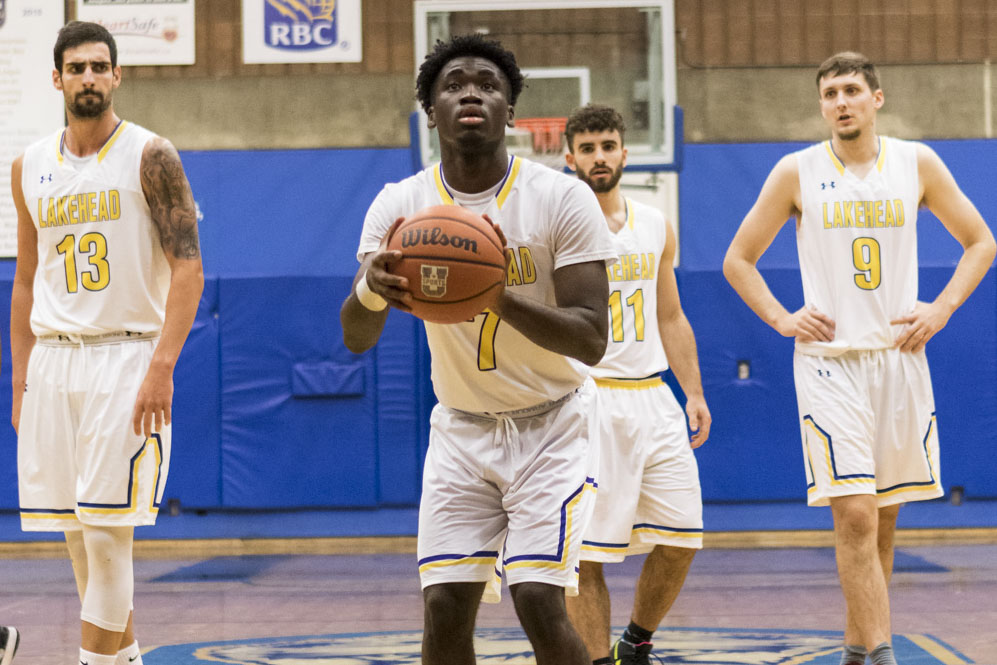 Photo Courtesy: Jarron Childs/http://www.superiorimages.ca
In what has arguably been one of the best stories of the OUA season so far, the Lakehead Thunderwolves are off to a fantastic, nationally ranked, start. This weekend though, they will face their toughest slate yet as they head to Ottawa for the dreaded OttawaU/Carleton back-to-back. How they show this weekend will be a huge indicator of their viability amongst the conference's elite moving forward and their place in the national conversation. 
USPORTS Top Ten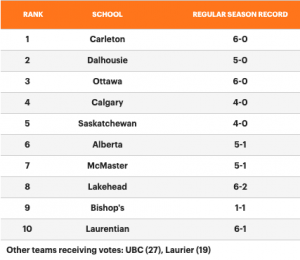 After a strong 6-1 start, Laurentian finds itself nationally ranked. The Voyageurs have racked up multiple impressive wins and appear to be a legitimate threat in the OUA. Meanwhile, despite a loss against undefeated Concordia, Bishop's is still the lone Quebec representative. The Gaiters were passed by McMaster and Lakehead though who continue their strong starts to the season. Alberta's loss to Victoria barely affected them as the Golden Bears only dropped behind conference foe Saskatchewan. UBC and Laurier are both receiving votes after disappointing starts to the season, it will be interesting to see how the two veteran teams respond moving forward.