Quebec NPH Showcase Prospect List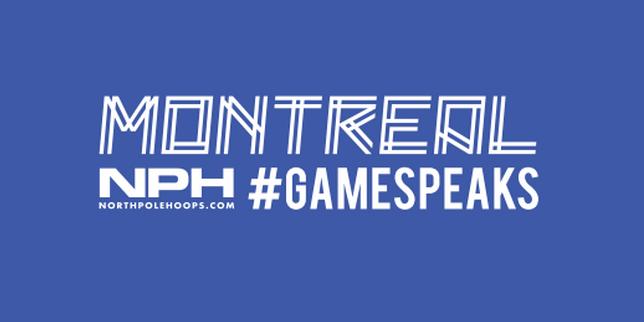 After travelling across Canada (Nova Scotia, Toronto, Hamilton, Alberta) this weekend (Sept 11-13) the Quebec NPH Showcase camp will take place in Montreal at William Hingston Complex (Parc Ex).
Canadian basketball prospects from Grade 8-CEGEP 3 will be receiving high end skill development, character development & NATIONAL exposure from professionals in their respective field which includes former national team members, CIS All-Canadians and NCAA student-athletes.
In other words, campers will receive instruction and direction from people that have been in the position that they are trying to go–post-secondary basketball and beyond.
Talent will be in attendance from regions across the province and beyond, including Montreal, Quebec City, Gatineau, and Ottawa.
North Pole Hoops is excited to be back in Quebec to evaluate talent, as this camp is shaping up to be arguably the most talented field in camp history!
Headliners include recently featured 6'9 Arnaud Boyer-Cillis of Vanier College, former national team member 6'9 Biniam Ghebrekidan, and Joshua koulamallah of L'outaouais. Nikita Kasongo and Kasheem Thomas of Champlain, the Georges Twins (Nudy & Judy) & Joseph-Jerry Lapaix of Dawson College–prospects that we discovered last high school season with Henri Bourassa.
Not Registered Yet?
If you have a desire to play post-secondary basketball and looking for opportunities to elevate your game, this camp is for you…you won't want to miss it!
Register today by clicking here!
Quebec NPH Showcase Prospect List
| | | | | |
| --- | --- | --- | --- | --- |
| Name | Year | Position | School | Club Team |
| Bradley Fils-Aimé | 2020 | PG | Dorval-Jean-XXlll | Brookwood Bullets |
| Bendito Blanco | 2020 | PG | Dorval-Jean-XXlll | |
| Jason Diasivi | 2020 | PG | Saint-laurent | |
| Mory Diallo | 2020 | SF | Dorval-Jean-XXlll | |
| Bruno Kayiranga | 2018 | PG | Saint-laurent | Express |
| Mark Jraiche | 2019 | PG | Cardinal Carter | Tecumseh Saints |
| Benjamin Datro | 2019 | SG | Emile Legaut | Express |
| Shane Smith-Bromfield | 2018 | SF | John Abbott | Dawson Community Blues |
| Lenny Jumet | 2019 | SF | Dorval Jean XXIII | |
| | | | | |
| Jagbir Singh | 2019 | PG | Saint-laurent | Wilba |
| Amaud Boyer-Cillis | 2017 | PF/C | Vanier College | |
| Godsman Kwakwah | 2017 | SG/SF | Vanier College | |
| Cedrick Bryan Coriolan | 2016 | PG | Edouard-Monpetit | |
| Moktar Toukaleh | 2020 | PG | John McCrae | Nepean Blue Devils |
| Anthony Sanogo | 2017 | SG | Edouard-Monpetit | Lynx |
| Joshua koulamallah | 2017 | SG | L'outaouais | Ottawa Guardsmen |
| Kasheem Thomas | 2016 | PG | Champlain St-Lambert | Brookwood Elite |
| Kim Joshua Massela | 2018 | PG/SG | Lisgar Collegiate | Ottawa Elite |
| Allan Sebastien Maxi | 2016 | | | |
| RJ Edwards | 2018 | PG | Riverdale Highschool | Brookwood |
| Alex Tran | 2020 | PG | Jean de Brebeuf | |
| Krcic Eldan | 2018 | PG | De Lile | |
| Olivier Simon | 2016 | PF | Cégep Édouard-Montpetit | |
| Nemanja Elez | 2018 | SF | Thetford | G Men |
| Esaïe Maurancy | 2017 | SF | Henri-Bourassa | |
| Tymal Simpson | 2016 | PG | Champlain College Lennoxville | |
| Haris Elezovic | 2019 | PF | Triolet | Team QC |
| Judy Georges | 2018 | PG/SG | Dawson College | Brookwood |
| Nudy Georges | 2018 | PG/SG | Dawson College | Brookwood |
| Zakaria Askar | 2018 | PG | St. Peters | Ottawa Next Level |
| Lineus Sabrina | 2017 | PG | Cégep Édouard-Monpetit | Red Rush |
| Yusuf Suleiman | 2019 | PG | École secondaire Grande-Riviere | Gatineau Dragons |
| khalifa koulamallah | 2019 | PG/SG | ecole secondaire mont-bleu | Ottawa Elite |
| Biniam Ghebrekidan | 2016 | PF | Cégep de l'Outaouais | Ottawa Guardsmen |
| Sean Herscovitch | 2020 | PG | Bialik high school | Brookwood |
| Javon Joseph | 2017 | PG/SG | Dawson College | Sun Youth |
| nicolas dutervil | 2016 | PG/SG | LaSalle | Red Rush |
| Randy N. Mukengeshayi | 2016 | PG/SG | College Saint-Alexandre | Ottawa Elite |
| Avery Bourassa | 2016 | PG | Evelyn Mack Stateline | |
| Michael Masozera | 2019 | SG | Collège Saint-Alexandre | Gatineau Dragons |
| Dhandre Weekes | 2017 | PG | Champlain College Lennoxville | |
| Nikita Kasongo | 2016 | SG | Champlain College Lennoxville | Brookwood |
| Brandon Ramsay | 2018 | PG | Cegep De l'outaouais | Gatineau Dragons |
| Alfa Umar Barri | 2018 | PF | College Saint-Alexandre | Gatineau Dragons |
| wadjas michel | 2017 | PG | Gabrielle Roy | Gatineau Dragons |
| Thomas Philippon | 2016 | SG | Cegep Sainte-Foy | |
| Jamall Fisher | | | | |
| Mauricio Rivera | 2017 | SG | École secondaire de l'ile | |
| Mitchell Keating | 2016 | SG | Champlain College | Brookwood Elite |
| Alessandro Simeone | 2020 | SG | West Island | West Island Lakers |
| Joseph-jerry Lapaix | 2017 | PG/SG | Dawson College | Brookwood Elite |
| Markus Roper | 2017 | SF | Lisgar Collegiate Institute | |
| Cyiza-Steve Murere | 2019 | PG | Collège Saint-Alexandre | Gatineau Dragons |
| Alexis Laflamme | 2018 | SG | Ste-foy | |
| Christophe Parent | 2016 | SF | Ste-Foy | |
| Jérémie Bellot-Hébert | 2016 | SG | Ste-Foy | |
| sean herscovitch | 2020 | PG | Bialik | Dawson Blues |
| Joseph Sanduku | 2021 | PG | Lucien-Pagé | |
MVP Status on 2015 NPH Showcase National Circuit
Toronto – Koby McEwen (Utah State Commit)
Hamilton – Jaelin Llewellyn 
Alberta – Aher Uguak