THE HIGH 5 – WEEK IN REVIEW – PROVE 'EM – WEEK 4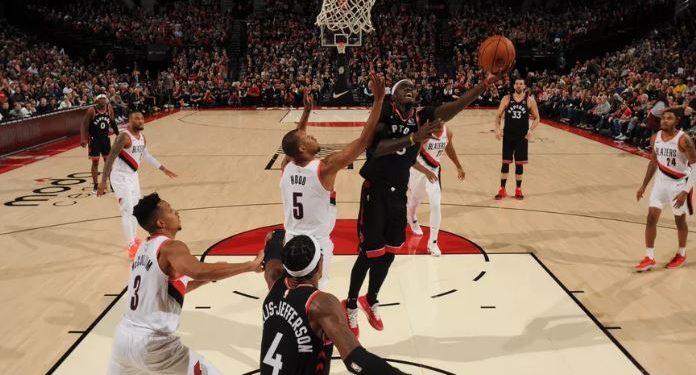 The High 5 – Week in Review – Prove 'Em – Week 4
Week record (1-2) Overall Record (8-4)
The Thumb – How was the week?
The basketball gods have not been kind to our beloved Raptors. A wave of injuries has crashed upon them over these last few days, testing their resolve, poise and medical staff. With a difficult stretch of road games still ahead, no one would be surprised if Toronto went on a losing streak. But must I remind you? This is still a roster loaded with championship pedigree, coached by a staff that has proven time and time again to be able to maximize the potential of their players. Pascal Siakam is still cooking like a Michelin star chef and Fred VanVleet has evolved to another level, but Coach Nurse was still looking for the next man to step up. This week, there were more than a few players ready to answer his call. The battle of attrition continues.
Toronto Raptors @ LA Clippers – L 98 – 88
There was a lot of love to go around as the Raptors took on Kawhi Leonard and the deadly LA Clippers on the second night of their back to back. Tribute videos littered the pregame reminding Raptor fans how magical last season was. The Clippers are loaded, the fact that they will be adding Paul George to that lineup is a scary thought. When the ball was tipped, the Raptors played tenacious defense against their old running mate, keeping Leonard to only 12 points while forcing him into a career high 9 turnovers. However, within the first few minutes of the game, the injury bug struck again when Kawhi took his nickname literally and 'Klawed' OG Anunoby's right eye. OG was immediately taken out of the lineup with a towel on his face and did not return. Toronto fought courageously but their legs appeared heavy as the game wore on. Rondae Hollis-Jefferson made the most of his time and played Kawhi as well as anyone. He showed inspired effort on the defensive end, surely earning himself more minutes. Though the Raptors take the loss, their effort should be commended as they fought valiantly until the final whistle sounded.
Toronto Raptors @ Portland Trail Blazers – W 114 – 106
It wasn't looking good coming into Wednesday's game against Portland. The Raptors were limping while Damian Lillard and the Trail Blazers were hungry for a win. But what became apparent throughout the game was the poise and the 'never say die' attitude that this year's version of the Raptors have embodied. Fred VanVleet led Toronto like a seasoned general. He is starting to show the same gritty determination that must have rubbed off from Kyle Lowry after years of playing together. Rondae Hollis-Jefferson also continued his strong play, proving to be a valuable bench contributor on both sides of the floor. Coach Nurse broke out his infamous Box and 1 defensive scheme to completely smother Damian Lillard, effectively taking the dynamic guard out of the game. The game was over once Pascal had Mario Herzonia spinning like a top for three consecutive plays. The Raptors carried themselves with a champions demeanor to earn an impressive win.
Toronto Raptors @ Dallas Mavericks – L 110 -102
It was the last game of a long and difficult Western road trip for Toronto with their final stop coming against the ever-improving Dallas Mavericks. The Mavericks are led by two of the most unique talents in the league, the mesmerizing Luka Doncic and the unicorn of basketball, Kristaps Porzingis. Luka and Kristaps were impressive, each putting up 20 plus points and stuffing the stat sheet. On the Raptors side, Fred continued his torrent play with Norman Powell finally putting up a game worth writing about scoring 26 points as the starting 2 guard. The Mavericks played desperate basketball, they took Pascal out of his flow, keeping the spicy one at a mild temperature. The Mavericks were awarded with 18 more free throws than Toronto, in fact Luka single handedly shot more free throws (19) than the Raptors (15). This is an unusual discrepancy and one difficult to overcome. It was a game of runs, both teams taking control at different points like a swinging pendulum. But in the end, it looked like the Raptors simply ran out of gas as the Mavericks slowly pulled away.
The Index – The Leader – Player of the Week
Fred VanVleet
Steady Freddy is playing elite basketball in the absence of Lowry. Fred has always been a capable scorer, but what I enjoy most from him this week is his consistent assist totals. Granted, that comes with playing as the primary ball handler, but it is good to see him share the rock while still increasing his already solid scoring numbers. He has been racking up the minutes while still maintaining an incredibly high compete level. Fred is quietly climbing the point guard rankings.
| | | | | | | | | |
| --- | --- | --- | --- | --- | --- | --- | --- | --- |
|   | Points | Rebounds | Assists | Steals | Blocks | FG | 3PT | FT |
| @ LA | 14 | 2 | 8 | 3 | 0 | 6-20 | 1-6 | 1-2 |
| @ POR | 30 | 4 | 7 | 2 | 1 | 10-16 | 4-6 | 6-6 |
| @ DAL | 24 | 5 | 7 | 1 | 0 | 8-18 | 4-11 | 4-4 |
| | | | | | | | | |
| Week Avg | 22.6 | 3.6 | 7.3 | 2 | .3 | 24-54 | 9-23 | 11-12 |
|   |   |   |   |   |   | 44% | 39% | 91% |
| Season Avg | 17.7 | 4.3 | 7.6 | 1.6 | .2 | 39% | 40% | 92% |
| | | | | | | | | |
Honourable Mention: Pascal Siakam
The Middle – The Enemy – Best Opposing Player
Luka Doncic
Luka is on the verge of averaging a triple double for the season, an incredible feat for a player so young. Against Toronto, his full repertoire of skills were on display. He showed off his tight handles and excellent court vision and he was strong enough to take a bump while keeping his balance on his jumper. He stayed aggressive throughout the game, keeping the pressure on Toronto's tired defense and doing much of his damage from the free throw line. Luka is a dazzling player, who plays with a joy that can be read all over his face. He should give Dallas fans hope for a prosperous future.
| | | | | | | | | |
| --- | --- | --- | --- | --- | --- | --- | --- | --- |
|   | Points | Rebounds | Assists | Steals | Blocks | FG | 3PT | FT |
| v TOR | 26 | 15 | 7 | 2 | 0 | 5-14 | 1-5 | 15-19 |
Honourable Mention: Kristaps Porzingis
The Ring – The X Factor – Standout Performance
Pascal Siakam v Portland Trail Blazers
Pascal Siakam has been asked to carry much of the front court responsibilities in this early part of the season. He showed signs of fatigue during the Clippers game but bounced back with a strong performance against the Blazers. He went off against Portland's suspect front court for 36, 6 and 3 including 4-7 from deep. He roasted Mario Herzonja like a rotisserie chicken so bad, that it forced the Blazers to immediately sign much maligned free agent Carmelo Anthony.
Honourable Mention: Fred VanVleet v Portland Trail Blazers
The Pinky – The Unsung Hero – Key Contributor
Rondae Hollis-Jefferson
Rondae Hollis-Jefferson was called out before the season by Coach Nurse for his lackadaisical defense. It seemed that Nurse was not happy enough with Rondae's play to give him a spot in the rotation. His early season minutes were all but non existent with a handful of DNP-CD's. However, when injuries struck, his number was called, and he has been excellent ever since. His minutes have shot up over 20 per game and he is asked to be a primary defensive option. He should be credited, at least in part, to keeping Kawhi quiet and he earned a solid double double (16, 11) against Portland. Rondae has produced in every one of his minutes and, if he continues at this pace, he will find a place in the rotation even when everyone is back healthy.
Honourable Mention: Chris Boucher
News and Notes
POW – Pascal Siakam was honoured with the Eastern Conference Player of the Week award after leading the Raptors to victories over the Kings, Pelicans and Lakers.
6/13 – Kyle Lowry debuted a new pair of Adidas commemorative Raptors shoes to honour the 2019 season. They are covered with the playoff scores of each game with 'World Champs' scrolled across the front in gold font. The Raptors won the championship on June 13, which is why there are only 613 of these shoes in production.
And 1 – Fred VanVleet has signed a sneaker deal to be the face of And-1. This is a huge accolade for the young guard. He joins a list of other notable guards that once wore the brand like Chauncy Billups, Latrell Sprewell, Stephon Marbury and Monta Ellis.
Hold 'em down – Coach Nurse and the Raptors need to get some love for their suffocating defensive schemes. In recent games, they held Lebron James to 13, Kawhi to 12, and Damian Lillard to 9 points respectively.
Around the League
Streak Over! – Damian Lillard went 230 games in a row with double digit scoring. All that came to an end after facing Toronto.
Melo, is it me your looking for? – As noted above, the Portland Trail Blazers have signed Carmelo Anthony to a non guaranteed contract. I honestly don't know how much Carmelo has left in the tank, but he can still score with the best of them. Right now, Portland needs all the help they can get.
Up Next
The Raptors are back home on Monday night to take on the Charlotte Hornets. The Hornets feel like they are simply treading water (again), but they do have a nice piece in Devonte' Graham who is currently beating out Terry Rozier as Charlottes primary option. From there the Raptors will welcome the Magic on Wednesday for a revenge game. Their week ends with a stop in Atlanta on Saturday night to take on Trae Young and the surging Hawks. Toronto should do well this week as these are three very winnable games.