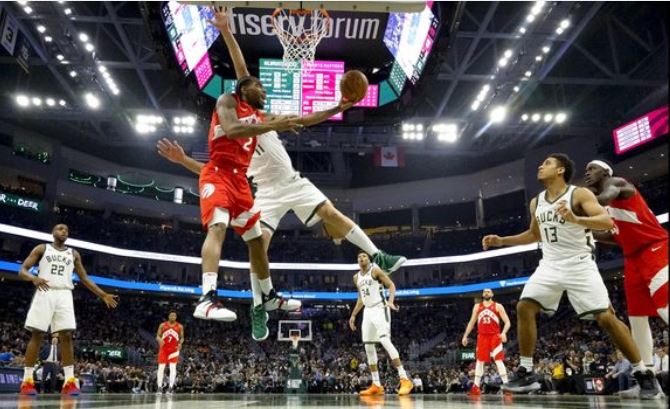 Raptors Recap – Round 3 – Game 5 – The High 5 – TOR 105 @ MIL 99
The High 5 is where I give my reaction to the night's games. This includes a look at the players who made a difference in the outcome and some unique details that caught my attention.
The Thumb (Story of the Game)
The Toronto Raptors had all the momentum of their series against the Milwaukee Bucks after back to back wins at home. They tied up the Conference finals 2 games apiece and took their hot play into the Fiserv Forum to battle the vengeful Bucks for a pivotal Game 5 on Thursday night. Toronto has only come within 2 games of the NBA finals once before and with one more victory, they would break new ground and usher in a golden era of Raptors basketball. With both teams winning at home, the pressure was back on the Bucks to make adjustments and protect their floor. Lifted by the energy of their crowd, Milwaukee immediately put Toronto on their heels. The Raptors were able to stem the tide and stay within striking distance off the durability of their half-court defense. Toronto's D was absolutely suffocating, the Raptors built their wall and forced the Bucks to shoot over the top. Milwaukee labored to manufacture clean looks, while the Raptors got open shots but were unable to connect for most of the first half. However, they were playing solid basketball and it was only a matter of time until those shot started to drop. In the second half, Toronto's reserves, led by Fred VanVleet, came alive, planting a seed of doubt in the back of the minds of Coach Bud's players. Down the stretch Toronto's poise and experience shined through and elevated the Raptors past the despondent Bucks. Kawhi was ever present and, flanked by deadly shooters, he methodically broke down Milwaukee's defense (and spirits). With this win, Toronto takes a stranglehold on the series and have a chance to close out at home on Saturday night. The Toronto Raptors have never been this far before. This is history folks; I hope you are all enjoying the ride.
Toronto 105 Milwaukee 99.
The Index (The Leader)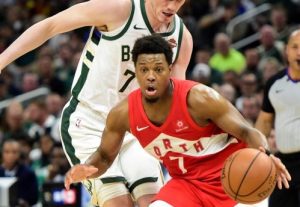 Kyle Lowry has been a spectacular leader for Toronto this post season. He hit a cold blooded three pointer over Lopez late in the first half letting everyone know what kind of game it was going to be. He looked confident and healthy. He stuck timely jumpers, found cutters in stride and got up into the Bucks perimeter players. His ability to probe the paint and pull defenders created so many opportunities for his teammates to attack. KLOE went off for 17 points, 7 rebounds, 6 assists and a steal. Lowry was locked in a battle against Milwaukee's deep collection of guards at the start of the series but after 5 games, he is leaving them in the dust. Throw in an explosion from VanVleet and the Raptors are now dominating that matchup.
The Middle (The Enemy)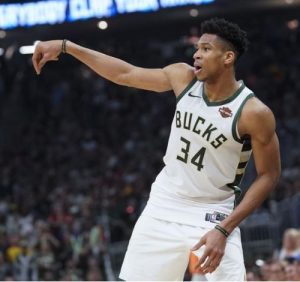 Giannis is well on his way to challenging Dirk Nowitzki as the best player to come out of Europe. He is an athletic dynamo who is a nightmare in the open floor where he uses the Euro step to full effect. Even if it looks like he is getting away with a few travels, Giannis is among the league's best at attacking the rim with impunity. Toronto did a fantastic job keeping a body in front of him, but he still managed to sift his way to the rim. He did everything for the Bucks, at times appearing everywhere at once. He even knocked down a couple of unexpected 3's when his team desperately needed a bucket. The Greek Freak finished the game with a team high 24 points to go with 6 rebounds, 6 assists and 2 blocks. Giannis struggled through bumps, bruises and scrapes but was let down by his teammates as no other Buck could match his intensity.
The Ring (The X Factor)
After being absent for weeks, Fred VanVleet reemerged from obscurity to make a massive impact on the game and the series. Perhaps he had been distracted, as an expecting father one can understand if his focus was elsewhere. But now that Fred Jr. has been welcomed to the world, Fred Sr. was free to celebrate by netting himself a new playoff career high. VanVleet was clutch, erasing all doubt about his role in this series. He was a +/- monster going for a gaudy +28 for the game (no other Raptor was over +9). VanVleet had 21 points off 7 3's to go with a rebound, an assist and a steal. He played with a chip on his shoulder and carried his new dad swag to a historic victory.
The Pinky (The Unsung Hero)
It may have taken an entire season, but Norm Powell suddenly looks like a well-established role player. His propensity to attack when the game slows down takes so much pressure off Kyle and Kawhi from having to create. Powell's athleticism was on full display as he brought fantastic energy on both sides of the ball. As a shooter that hits from straight away, Norm is the perfect foil to Milwaukee's defensive set. He scored 8 points with 4 rebounds and an assist. Don't let the stat line fool you, Powell was excellent as Toronto's tertiary playmaker and he is proving his worth.
Player of the Game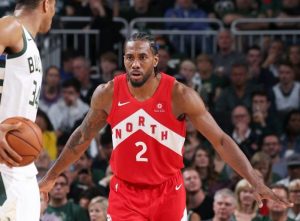 The entire Raptors franchise held its collective breath when they saw Kawhi Leonard limping around after Game 4. Tonight, he looked much fresher showing no ill effects of the injury. Leonard demonstrated excellent trust in his teammates as he slowly shifted from primary scorer to primary playmaker. He facilitated for his team, picking apart Milwaukee's infamous D. When he was not raining jumpers, Leonard would take it strong to the hoop, overpowering anyone who stood in his way. Kawhi started cooking in the 4th quarter with a clinical display of offensive moves and, when the game matter most, he took over like only a superstar can. He maimed Milwaukee with a series of devastating daggers, breaking the hearts of Bucks fans all over Wisconsin. In 40 minutes, Leonard had 35 points (5 for 8 from deep), 7 rebounds, 2 steals and a career high 9 assists. Kawhi was an unrelenting, unstoppable machine; resistance was futile.
Game Notes:
Ultimate Motivation – Fred VanVleet welcomed a new baby boy the night before Game 4. Talk about inspiration.
Drake Effect – Drake's sideline antics have gone viral and have played a large part in this series. My take is that if you don't like his behavior, don't give him anything to cheer about.
Forever Cheesehead – Green Bay Packers quarterback, and die-hard Game of Thrones fan, Aaron Rodgers, brought his championship pedigree to the game.
Music Man – Gucci Mane is doing his best Drake impression as Milwaukee's resident Hip Hop mogul.
Double Duty – NFL hall of famer Terrell Owens was in Toronto for Game 4 and courtside in Milwaukee for tonight's action.
What about the Spice? – I would be remiss if I didn't mention Pascal's stat stuffing game. Although he didn't have too many highlights, he put up a solid line with 14 points, 13 rebounds, 2 assists, 3 blocks and a steal.
Live by the 3 – The Raptors were snipers from deep nailing 18 of their 43 attempts.
Have you seen this player? – What is going on with Danny Green? He is putting up enough bricks to build a house. If not for his defense, Green would be fighting Jeremy Lin for prime seating at the end of the bench.
The Toronto Raptors have a chance to continue their Cinderella run to the finals with a win at home on Saturday night. This will be Toronto's toughest challenge to date as the Milwaukee Bucks will be fighting for their playoff lives. It is going to be an incredible game.