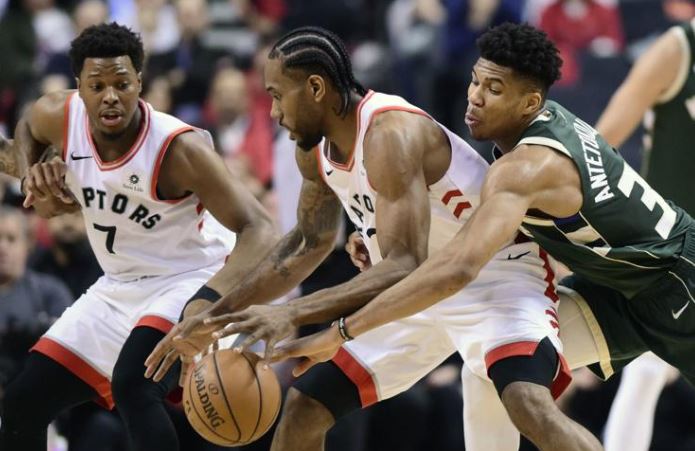 Raptors Recap – Round 3 – Game 4 – The High 5 – MIL 102 @ TOR 120
The High 5 is where I give my reaction to the night's games. This includes a look at the players who made a difference in the outcome and some unique details that caught my attention.
The Thumb (Story of the Game)
Down 2-1 in their best of 7 series, the Toronto Raptors welcomed the Milwaukee Bucks for Game 4 on Tuesday night. With the Golden State Warriors making quick work of the Portland Trailblazers, all eyes now focus on the Eastern Conference finals. Even though the Raptors are climbing themselves out of a hole coming into tonight's action, some are starting to think that Coach Nurse may have stumbled onto a flaw in the Bucks seemingly impenetrable armour. He has figured out that the Bucks are considerably less efficient in the half court. Now the Raptors defense is predicated on slowing Milwaukee down with an increased attention to transition D and some savvy adjustments with key coverages. Most impressively, Nurse has found a way to make Toronto's bench relevant again as Fred VanVleet, Serge Ibaka and especially Norm Powell are starting to put together moments of exceptional play. On the other side of the floor, the Bucks did not want to go home in a tied series after giving up momentum. Milwaukee was hot off the tip, but Toronto was able to regain a fair amount of control off their steadily improving D. Their positive play continued into the second half where they firmly asserted their defensive dominance and stretched their lead to double digits. Their defense was impenetrable; a gauntlet of gangly limbs, lightning quick hands and explosive athleticism. On offense, Toronto finally got big performances from their bench players who stepped up to help lift their exhausted starters. Make no mistake, this was not a chance victory, the Raptors did not get the luck of the bounce or have a player go supernova. They outworked the Bucks in every area of the game and seized this victory with authority. Toronto evens up the series 2-2 and will now take momentum into the hornet's nest known as the Fiserv forum on Thursday night.
Toronto 120 Milwaukee 102.
The Index (The Leader)
Kawhi Lenard continues to be a magnet, attracting multiple defenders everywhere he goes. It looked like he picked up a leg injury after a dunk as he carried a limp for most of the second half. He was limited on the scoreboard, but he played suffocating D, eviscerating any Buck that came within range of his lengthy wingspan. His reach earned him 4 steals and 2 blocks. Leonard got bodied on his drives and mugged under the basket, but he persevered through obvious pain; it's incredible that he only shot 8 free throws (making 6). He finished with 19 points, 7 rebounds and an assist. Though Kawhi looked fatigued, the Bucks still doubled him on every catch. This allowed him to find the open man with a series of swing passes which left Milwaukee in scramble mode. Leonard's single-minded focus permeated to his teammates, they took a cue from their leader and played a great game.
The Middle (The Enemy)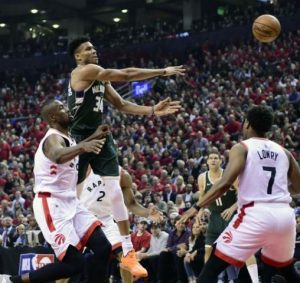 Giannis Antetokounmpo came out like a house on fire to start the game. He refused to be held to another low scoring night. He has not been as effective on the scoreboard since Leonard switched on him, but he is still putting up incredible numbers. Giannis finished with 25 points, 10 rebounds, 5 assists, 3 blocks and a steal.
Shout outs to Khris Middleton who, despite the loss, looks to be finding his range. Khris led the Bucks with 30 points (4 threes), 6 rebounds and 7 assists. The Bucks will need someone to consistently play the Robin to Giannis' Batman and they are looking straight at Khris. Middleton played his part tonight and will need to do so in every game going forward to give his team a chance.
The Ring (The DOUBLE – X Factor)
Serge Ibaka was limited to 14 minutes in Game 3 and he seemed to take it personal. Tonight, he made Coach Nurse think twice about taking him off the floor. He played with unbridled energy, erupting on the glass for rebounds and thunderous slams. In 24 minutes, Serge had a massive double-double with 17 points and 13 rebounds while throwing in 2 assists and a steal for good measure. Ibaka rallied the Raptors faithful with primal screams after every big play.
Shout outs to Fred VanVleet who desperately needed this game. He has been toiling away in the land that basketball forgot for much of this playoff run. His shot has either been blocked into the ether or fallen flatter than a pancake but tonight, he found some of the magic that once had him in the 6th man of the year conversation. Fred had 13 points (3 for 3 from deep!) with a rebound, a steal and 6 assists.
The Pinky (The Unsung Hero)
A few years ago, when Toronto was in a tough series against Paul George and the Indiana Pacers, the Raptors turned to a relatively unknown undersized forward for a miracle. Powell stepped up and played incredible defense while adding some unforgettable highlights and thus, Playoff Norm was born. Tonight, Norm recaptured some of that spirit and produced his best game of the series. I have been praising his half-court abilities for weeks and tonight Powell once again showed it off to thrilling results. He had 18 points, 5 rebounds, 3 assists and a steal. Most importantly, he played 32 minutes which meant that he was carrying some of the load of Toronto's workhorses. Powell is proving to be a dangerous threat that the Bucks have yet to figure out.
Player of the Game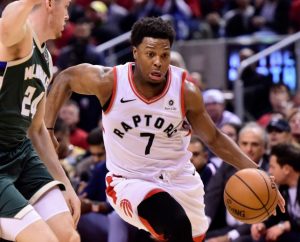 Kyle Lowry was in business mode tonight. Just like Game 3, Kyle came out aggressive but this time he stayed away from the ticky-tac fouls that cut his night short in the previous contest. He hunted his shot and knocked down a series of triples and midrange jumpers to keep the defense honest. He attacked the rim and hit every one of his 10 shots from the line. Kyle's basketball IQ is off the charts, he plays the angles so well and knows exactly how to attack the seams of Milwaukee's defense. He made each one of his fouls count, stood in for charges and he ignited Toronto's offensive battle plans like a seasoned war general. Kyle looks comfortable out there and is playing near elite basketball. He has been an absolute lion for Toronto. KLOE isn't going anywhere.
Game Notes:
Musical Notes – Drake and Timberland represented the music industry at tonight's contest.
Canadian Content – Arguably Canada's best active professional basketball talent Jamal Murray and Olympic legend Donovan Bailey sat courtside.
Silverware – NBA Commissioner Adam Silver was also in the house.
Hall of fame company – Terrell Owens accompanied Nav Bhatia to his usual rallying spot.
Glasswork – The Raptors won the rebounding battle for the first time this series 44-40.
Plus performers – Toronto's bench were +/- monsters. Ibaka (+24), VanVleet (+25) and Powell (+29) were spectacular.
Jinxed – Khris Middleton gave the Raptors blackboard material after he guaranteed a Game 4 win. The Basketball Gods do not look favourably on those that presume the outcome.
The series is tied setting up a pivotal Game 5 in Milwaukee on Thursday night.