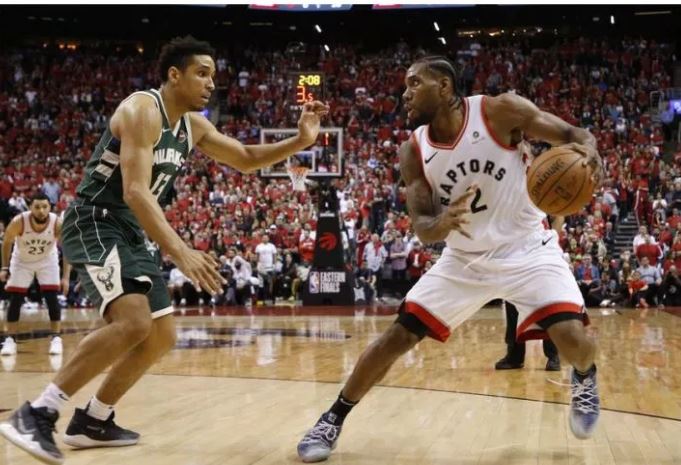 Raptors Recap – Round 3 – Game 3 – The High 5 – MIL 112 @ TOR 118 – 2OT
The High 5 is where I give my reaction to the night's games. This includes a look at the players who made a difference in the outcome and some unique details that caught my attention.
The Thumb (The Story of the Game)
After two games, the Toronto Raptors found themselves in dire straits against the Milwaukee Bucks. The Bucks have been able to roll out a diverse group of dangerous players with no obvious weaknesses while, aside from Kawhi, the Raptors have struggled to find any real consistency. The pressure was on Coach Nurse to consider his roster options and come up with an improved game plan. Many thought this meant that this would lead to a change in the starting lineup but ultimately, Nurse decided to stand pat and ride with the starters that won him two rounds. He made some minor adjustments, including switching up the coverages by putting Leonard on Giannis and Lowry on Middleton. Tonight's version of the Raptors looked much better than the YMCA team that they have been fielding so far this series. They were hungrier to start the game, quicker to loose balls and active on the glass which led to offensive rebounds and second chance opportunities. This newfound energy pushed Toronto to a 7-point lead going into the break. The two teams battled vigorously throughout the second half. Milwaukee slowly chipped away at the deficit with solid work on the glass and defensive discipline. The Raptors were picking up fouls and injuries down the stretch while barely holding onto a slim lead. Toronto took a huge blow when Kyle Lowry picked up his 6th foul with over 6 minutes to play. However, they stayed poised and composed, they absorb Milwaukee's punches and dodged bullets until the final minute. With the game on the line Siakam missed two crucial free throws, opening the door for Milwaukee to force overtime. The Bucks would not die, forcing a second overtime with their tenacious physicality. In double OT, The Raptors were able to do just enough to eek out a lead which they rode until the game clock finally read zeros. It took a Herculean effort from Coach Nurse's squad to earn their first win of the series.
Toronto 118 Milwaukee 112 – double overtime.
The Index (The Leader)
Marc Gasol shouldered much of the blame of Toronto's Game 2 loss but after the first 6 minutes of action, he looked like a completely different player. Gasol bounced back for a great night, especially on the defensive end where he swatted 5 shots and influenced many others. He also put the ball on the floor to attack and caught his teammates with slick passes. The Big Orca wanted this one bad, not only did he shoot with confidence, he also elevated his teammates by leading them in assists. Gasol scored 16 points (4/8 from deep), grabbed 12 rebounds, dished out 7 dimes and secured a steal. Marc carried his emotions on his sleeve as he was fist pumping and yelling more in this game than he had all season.
The Middle (The Enemy)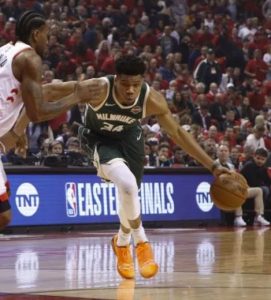 Like the first two games, Giannis Antetokounmpo dined on rebounds and drives to the basket. He played excellent D, he stayed low in his defensive stance like a panther looking to pounce on wounded pray. There have been whispers that Giannis has been getting away with extra steps on his drives which may explain some of his omnipotence, but he has been incredible nonetheless. Kawhi put the clamps on and helped to keep Giannis in check with his lowest scoring output in a long time. Despite that, he was still able to stay effective by being a threat on the glass, instigating the offense and remaining in the game with 5 fouls for most of the second half. Antetokounmpo finished with 12 points, 7 assists, 4 blocks and a mind boggling 23 rebounds. Giannis was humbled a little in this loss and will use it as motivation for the next game.
The Ring (The X Factor)
Pascal Siakam gutted his way to an excellent night. It took Pascal a while to get going but when he finally found his touch, he drove the lane with confidence and authority. He knocked down a couple of corner 3's which must have been a welcomed sight for Raptor fans. The most impressive part of his game was the way he attacked Giannis head on, putting pressure and forcing fouls on the Greek Freak. Pascal finished the game with 25 points, 11 rebounds, an assist, 3 steals and a block. With Ibaka glued to the bench, Siakam carried a heavier load in extended minutes (51) and he responded with his best game of the series.
The Pinky (The Unsung Hero)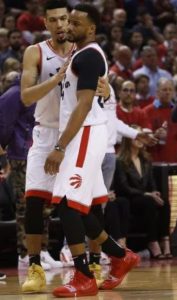 Norman Powell earned some more minutes after his Game 2 performance. He was called on early by Coach Nurse and he responded with excellent action. Norm was effective with his jumper; he nailed a quick release three in front of the Milwaukee bench and let them know about it. He also attacked the close out and stayed aggressive throughout the entire game. Powell chipped in with 19 points (3/5 from deep), 4 rebounds, 3 assists and a steal. Surprisingly, Norm is becoming a pretty effective secondary release valve in the half court. The only thing that slowed Powell down was the whistle.
Player of the Game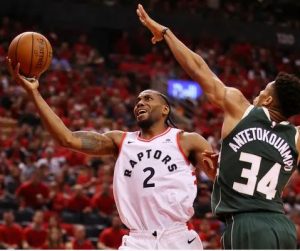 Kawhi Leonard was quietly magnificent for Toronto and unlike other nights, he finally received some help from players not named Kyle Lowry. The Bucks have done a great job checking him with a combination of Bledsoe, Middleton and Brogdon, but to his credit, Leonard has been able to muscle his way through them. Not only did he pace Toronto's scoring, he also contained Antetokounmpo with an impressive defensive effort. Being able to hold Giannis to 12 points in a double overtime game is an accomplishment unto itself. He attracted second and third defenders and had to work hard to get his shots but when he connected, he would send the Scotiabank Arena into a frenzy. In the extra frame, fatigue started to set in, but he still did enough to stick a few jumpers, including one that seemed to have the Kawhi roll. Late in the second OT, Leonard came up with big steals and transition points to push the game just out of Milwaukee's reach. Leonard had 36 points, 9 rebounds, 5 assists, 2 steals and a block in a massive 52 minutes. This was a heroic night for the silent assassin. The legend of Kawhi continues to grow in this incredible post season run.
Game Notes:
Classic T's – Instead of the team concept shirts that the Raptors gave to fans in the previous series, this round Toronto went back to a more traditional look. Red shirts with black font reading 'WE THE NORTH'.
6 God/Mane man – Drake was in attendance to support his squad. Gucci Mane was also there, but his loyalty resides with the Bucks.
Yeah Baby – Comedy legend, and proud Canadian Mike Myers sat courtside.
The Stars are out – Other notable names in attendance included Hannibal Buress, George St-Pierre, P.K. Subban and Jaleel White.
Glass Kickers – One indication that this is a matchup of two defensive juggernauts is the number of rebounds available. The Bucks finished with 63 to the Raptors 55.
Block Party – The Raptors blocked 10 shots showing off formidable rim protection.
Bumps and Bruises – Lowry's wrist was taped for his thumb injury, VanVleet took a shot and was bleeding from the eye and Kawhi may have tweaked his knee after an extension dunk.
The Raptors look to even the series at home on Tuesday night.