Raptors Recap – Round 3 – Game 2 – The High 5 – TOR 103 @ MIL 125
The High 5 is where I give my reaction to the night's games. This includes a look at the players who made a difference in the outcome and some unique details that caught my attention.
The Thumb (Story of the Game)
The Toronto Raptors visited the Milwaukee Bucks for Game 2 of the Conference finals on Friday night. Toronto was on the verge of stealing Game 1 until Milwaukee mounted a furious comeback off an unexpected performance from Robin Lopez. It was a fantastic game that included a career night from Kyle Lowry, but his efforts were in vain as the Raptors couldn't keep pace with Milwaukee's relentless shooters. Toronto had the opportunity to salvage a split in the series, but the Bucks were not going to make it easy and they were looking to remind everyone why they are the number 1 seed in the East. Saying that Milwaukee played well to start the game would be a severe understatement. The Bucks were offensive mammoths, they lit up the Raptors from deep and dented the rim on multiple occasions with thunderous slams. The Raptors were all out of sorts, like a prize fighter trying to shake off a flurry of head shots. Coach Nurse was so flummoxed that he even inserted notable bench warmer, Jodie Meeks, in a desperate attempt for some offensive production. Whatever response that Toronto gave was short lived because by that time, the levy had broken, and the flood gates were open allowing Milwaukee to massacre Toronto with a constant stream of jumpers. It felt that the Bucks could execute plays and get clean looks whenever they wanted whereas Toronto had to fight incredibly hard for every bucket. The Raptors finally got a strong performance from their bench, but they were let down by a poor night from the starters who were thoroughly outplayed by Milwaukee's deep roster. As much as Matt Devlin tried to feign excitement, Toronto was never in this game. Coach Nurse waved the white flag with almost 4 minutes left to play. The Raptors suffered a major blow to their confidence with this loss. They will need to play much better to comeback in this series.
Milwaukee 125 Toronto 103.
The Index (The Leader)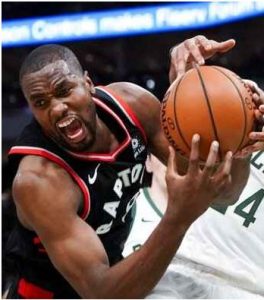 Marc Gasol was exposed by Milwaukee's rangy forwards, limiting him to only 19 minutes of action. Gasol played tentatively, seemingly unable to hit an open jumper which forced Coach Nurse to turn to Serge Ibaka for an extended run. Ibaka did a much better job hedging and getting out to shooters on switches. His athleticism was a better matchup to check Milwaukee's mobile forwards, his midrange game was modestly effective, and he was Toronto's best rebounder. Ibaka had 8 points, 10 rebounds and 3 assists but also an ugly 4 turnovers. As Siakam and Gasol struggled, Serge persevered. The Raptors found their only real offensive rhythm when he was on the floor. Look for his role to increase as the series shifts back to Toronto.
The Middle (The Enemy)
Ersan Ilyasova came out of nowhere to surprise everyone with a spectacular night. The lanky power forward used every inch of his 6'8" frame to lean back for unguardable fadeaways. At times it looked like he was just flinging the ball at the rim but more often than not his shots would fall leaving Raptor defenders shaking their heads in disbelief. Ersan was a game high +22 and was effective in his time scoring 17 points to go with 3 rebounds, 2 assists and 2 steals. Toronto was unprepared for Ersan's onslaught and suffered considerably as a result of his scorching play.
The Ring (The X Factor)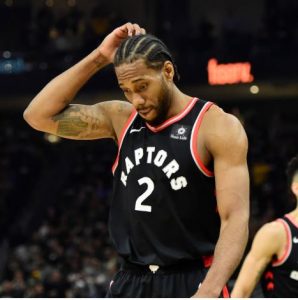 Amongst the decimation, Kawhi Leonard quietly had a superb game. This was the 9th time in the playoffs that Kawhi scored over 30 points, continuing his amazing post season run. Kawhi paced the Raptors with consistent scoring, but it never felt as if he made any real impact. He differed to his teammates at the start of the game in a failed attempt to get them going and when he finally found his groove, Toronto was already facing an uphill battle. Leonard finished the night with 31 points on 10/18 shooting with 8 rebounds, 2 assists and a block. It's a shame that the Raptors will have to ask more from the man who already delivers so much but it's now apparent that if Toronto has any chance of stealing this series, it will be off Kawhi's efforts. The Raptors should give him the ball and get out the way.
The Pinky (The Unsung Hero)
Norman Powell was able to channel some post season magic to dust off Playoff Norm for a brief appearance in the third quarter. In that time, he was able to help the Raptors ignite a moderate comeback to give Toronto a glimmer of hope. Powell played excellent defense and is still one of Toronto's best players at attacking in the half court. Norm gave up a lot of size, especially when playing alongside Lowry and VanVleet, but he made up the difference with stubborn resiliency. Powell scored 14 points while adding 4 rebounds and 2 assists. If the rest of his squad played with his energy, the outcome may have been different but instead, the only value Norm can take out of this game was the success he had at leading the bench.
Player of the Game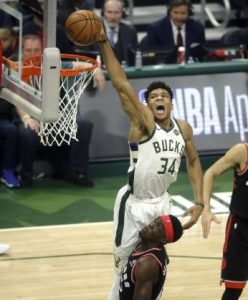 Giannis Antetokounmpo played like a modern day Monstar exploding to the rim early and often with visceral ferocity. It's almost unfair in the way that he covers so much territory with his Euro step. Just when you thought he was too far from the basket Giannis would extend his arms like Jordan at the end of Space Jam to smash home rim rocking dunks. Giannis was the focal point of Milwaukee's attack; he was a terror in the open floor and a defensive nightmare. The Greek Freak furiously gobbled up rebounds like he was playing "Hungry, Hungry Hippos" and he soared to the rim like his legs were made of pogo sticks. Antetokounmpo finished with 30 points, 5 assists, 2 blocks, a steal and a game high 17 rebounds (4 offensive). Giannis was the definition of a superstar; his energy was unyielding, his play was dominating, and his team deserved the win.
Game Notes:
No Support – Much has been said about Toronto's bench but a much larger, more glaring weakness is the lack of offensive production from 2 of the 5 starters. Danny Green and Marc Gasol have been invisible for weeks.
Free Throws matter – The Raptors found themselves victim to a harsh whistle which allowed the Bucks to get 10 more free throw shots (35-25).
Suddenly, the Bench – Toronto has been desperate for bench production and they finally received it as their reserves dropped 39 points. It is too bad Milwaukee's bench scored 54.
Adjustments— Coach Nurse should consider supplanting Ibaka and Powell in the starting lineup for Gasol and Green who have been largely ineffective in two games.
The series now shifts north of the border where the Raptors will have a chance to protect their home court. Toronto has played well at the Scotiabank Arena, but as the first two games have shown, they will need to be at their absolute best to stand a chance.