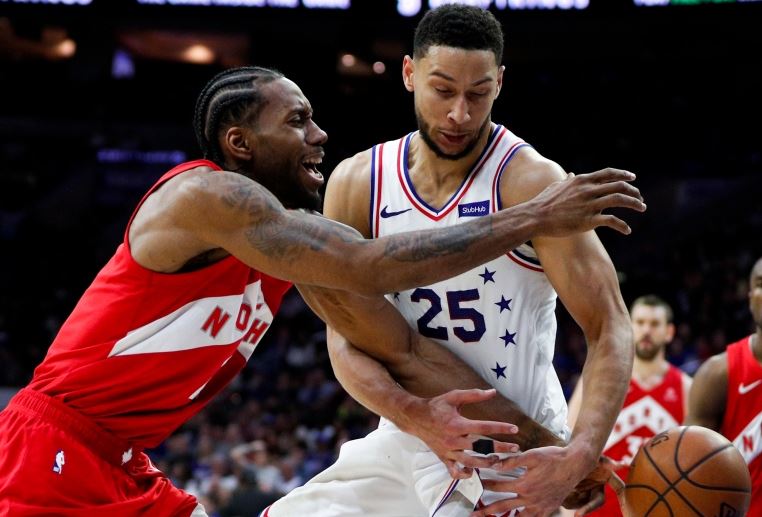 Raptors Recap – Round 2 – Game 6 – The High 5 – TOR 101 @ PHI 112
The High 5 is where I give my reaction to the night's games. This includes a look at the players who made a difference in the outcome and some unique details that caught my attention.
The Thumb (The Story of the Game)
The Toronto Raptors paid their last visit to the Wells Fargo Center for Game 6 against the Philadelphia 76ers on Thursday night. The momentum of the series has shifted and the Raptors found themselves in the rare position of being in the driver seat with the ability to close out in Game 6. The critics have changed their tune. No longer do we hear about Canadians being "soft" or how Kyle Lowry is not a "superstar", the stories are now "where is Ben Simmons" and "How sick is Joel Embiid, really". Toronto emulated the persona of their superstar and carried a quiet confidence heading into the game, while the 76ers were ready to leave it all on the floor in a desperate attempt to extend the series. The Raptors knew they were in for a war, the Philadelphia crowd has shown to be a formidable 6th man and the 76ers were not going to go down quietly. Philadelphia relied on their athleticism to apply pressure and keep Toronto on their heels. They drove at the basket relentlessly, propelled by a two-pronged attack from Jimmy Butler and Ben Simmons. The Raptors responded by doing just enough to stay within striking distance but once again suffered from another night of cold three-point shooting. The 76ers rode the energy of their crowd and out hustled Toronto to every loose ball. This was reminiscent of their Game 3 effort when the Raptors failed to give Philly any real opposition. Toronto missed a golden opportunity to end the series and prepare for the already waiting Milwaukee Bucks. Facing elimination, Philadelphia stepped up to the challenge and now live to fight another day.
Philadelphia 112 Toronto 101.
The Index (The Leader)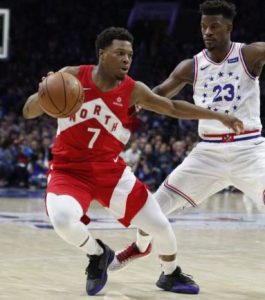 Kyle Lowry wanted this one bad. Picking up a knockout series win against his hometown team in their building would have been such a nice feather in his cap. Though he did his best to lead his squad, Kyle was unable to get his team over the hump. It was like he was pushing a bolder up a hill only to have it roll back down on him whenever he made any progress. He had an average game scoring 13 points with 5 boards, a steal, and a team high 6 assists. Kyle knocked down a couple of 3's which usually bodes well for Toronto's offense. Yet despite Lowry's solid, albeit unspectacular game, there was no overcoming the 76ers tonight.
The Middle (The Enemy)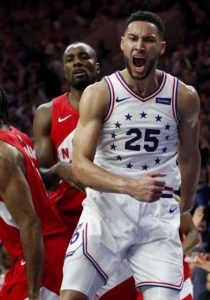 Ben Simmons finally lived up to his potential with his first break out game of the series. After playing Simmons in the dunkers spot, Coach Brown changed his tactics and put him in a position to excel at his strengths; attacking the basket and moving the ball. Simmons had a noticeable change in his demeanor and approach to the game. He played the role of Philly's primary ball handler, taking much of the responsibility away from Butler, and the results were immediate. His drives were bolstered by his incredible athleticism and his court vision opened the game for Philly's shooters to knock down easy looks. Simmons finished with 21 points on 9/13 shooting, 8 rebounds and 6 assists. What was most impressive was his 4 offensive rebounds, the Raptors have shown to be vulnerable on the glass and Simmons made them pay for failing to box out.
The Ring (The X Factor)
Kawhi Leonard proved why it pays to put the work in the weight room as he used his frame to muscle the opposition out of his way. When he wasn't being physical, Kawhi went to his collection of moves to shed defenders for open looks. However, the 76ers refused to allow Kawhi to embarrass them again and they did everything they could to force him into an inefficient night. Leonard's shot was unexpectedly flat, but he still led Toronto in scoring and contributed All-Star numbers. He had 29 points on a poor 9/20 from the floor, he nailed 11 of 12 FT's and added 5 assists, a steal and a team high 12 rebounds. Kawhi was Toronto's best player but even his magnificence wasn't enough to slow Philly down.
The Pinky (The Unsung Hero)
Pascal isn't scared of the limelight. He has an uncanny ability to remain unphased from the added attention and he has looked much better since coming back from his leg injury. Pascal has started to find his comfort zone from about 8-12 feet and although Philly was happy to concede that shot, Siakam hit it with consistency. Siakam finished with 21 points, 6 rebounds, 3 assists and 2 steals. He was one of the few Raptors that made an impact.  Despite his solid numbers, Pascal was a team worst -21 which doesn't look good in the box score.
Player of the Game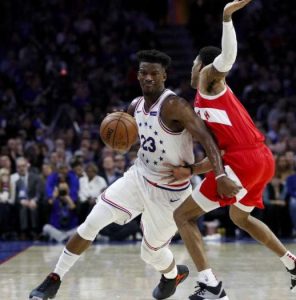 Notable Raptor killer, Jimmy Butler, went hunting again and came up with a number of Raptor hides to hang on his mantle. He continues to show excellent poise and focus as he evolves into a true playoff superstar. Butler was the catalyst for several Philadelphia runs and had moments where he displayed excellent leadership skills. Jimmy Buckets led his team in scoring and assists with 25 points and 8 dimes. He pulled down 6 rebounds (3 offensive) and came away with 2 steals. Jimmy mirrored Simmons efforts on the stat sheet, but he also brought gritty intangibles and an added a layer of toughness to the 76ers. In the moments when Butler took over the game, his team looked unstoppable. This series has been a coming out party for Butler, Playoff Jimmy is for real.
Game Notes:
Live by the 3 – The Raptors were frigid from distance. They only hit 9 of their 36 attempts for a paltry 25%.
Double Digits – Toronto had 3 players score in double figures while Philly had 6.
Slow that man down – This is now 5 straight games that Butler has scored over 20 points. The Raptors may want to do something about that.
Lesson learned – After enduring much scrutiny and criticism over their showboating following their Game 3 win, particularly Joel Embiid, Philly was much more subdued and reserved in the victory.
Glass Kicking – The 76ers obliterated Toronto on the boards 52-35. This included an astounding 16 offensive rebounds.
It all comes down to this. The Raptors and 76ers square off in a do or die elimination game on Sunday night at the Scotiabank Arena. In a game that has shades of Iverson/Carter from 2001, the Raptors will need to bring their best effort to overcome the 76ers.