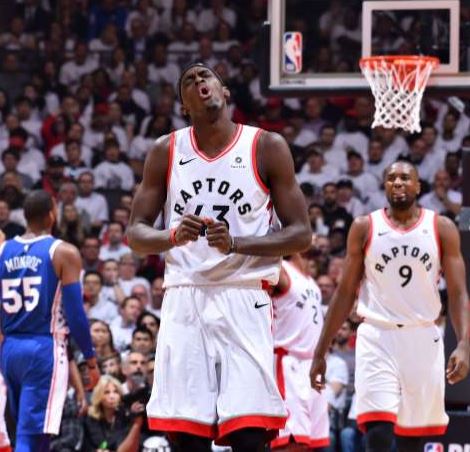 Raptors Recap – Round 2 – Game 5 – The High 5 – PHI 89 @ TOR 125
The High 5 is where I give my reaction to the night's games. This includes a look at the players who made a difference in the outcome and some unique details that caught my attention.
The Thumb (Story of the Game)
The Toronto Raptors locked horns with the Philadelphia 76ers on Tuesday night for Game 5 of what is shaping up to be a very compelling series. Kawhi Leonard, the current owner of the Infinity Gauntlet, can do no wrong on the floor and is playing at a cosmic level. He is putting up unprecedented numbers in what has become a truly historic playoff run, the likes not seen since MJ. Along with Leonard going supernova, Coach Nurse found some magic with his gigantic lineup in Game 4 and there was a feeling that Toronto's shooters wouldn't stay cold forever. Backed by a rabid fanbase, the Raptors carried a subtle confidence before the tip. Meanwhile, the 76ers, and especially Joel Embiid, were under the microscope over their let down Game 4 performance. As talented as the 76ers are, they still haven't found a way to all play well at the same time, and the Raptors are slowly starting to figure them out. Toronto revved up their defensive effort to choke out Philly's attack and spark their transition game to devastating results. Philadelphia could not get anything going against the Raptors D while Toronto's shooters finally started to find their range. That deadly combination, along with the dwarf star that is Kawhi, snuffed out any game plan Coach Brown drew up and left Philly scrambling for answers. This was an absolute drubbing from the Raptors and the most one-sided win in team playoff history. Toronto dominated the 76ers, completely out classing them with a remarkable performance. The Raptors put a stranglehold on the series and look to finish the 76ers on Thursday night.
Toronto 125 Philadelphia 89.
The Index (The Leader)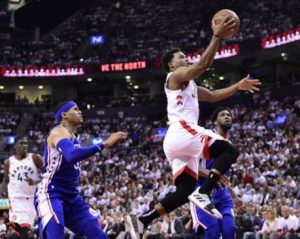 Kyle Lowry was once again in business mode, ignoring all the detractors and naysayers to power his team with another solid effort. He was aggressive with the ball and put in points quickly, forcing the opposition to respect his game. His team always plays better when he contributes on the scoreboard early. Lowry finished with 19 points (including 7/8 from the FT line), 6 rebounds, 5 assists, a steal and a block. KLOE's ubiquitous influence was felt throughout the entire game, in other words, he was the straw that stirred the drink. Kyle's resurgent play has domino'ed to his teammates and has elevated this group back to more familiar heights. He now looks to take them to the next level.
The Middle (The Enemy)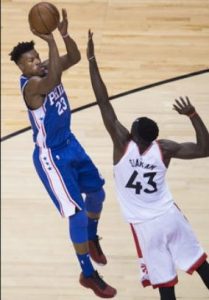 Jimmy Butler continues to be a thorn in Toronto's side as this series progresses. He has easily been Philadelphia's best and most consistent player. Jimmy Buckets paced the 76ers in scoring but got little help from his teammates. At times, he looked like the only one that cared while the rest of the 76ers wore the solemn look of defeat. He scored 22 points (hitting 10 of 11 FT's), grabbed 5 rebounds, dished out 7 assists and added a steal and a block. Though Butler had a good night, his efforts will be forgotten when compared to what Toronto did as a team. Jimmy was a man on an island trying to hold back a tidal wave.
The Ring (The X Factor)
Danny Green was due for a big game, his track record was just too good. It was only a matter of time until the law of averages would return Green's shot to form. His long-range shooting adds such a lethal wrinkle to Toronto's offense. Green played his best game of the series, finally adding some scoring to go with his always reliable D. The Green Ranger hit 5 of his 7 three pointers (5/8 overall) for 17 points, with 5 rebounds and 3 steals. Green was money and just might be the missing weapon that can put the 76ers down for good.
The Pinky (The Unsung Hero)
Pascal Siakam was back to form tonight after a lackluster effort in Philadelphia. He shook off his leg injury and regained some of the spiciness that makes his game so enticing. Siakam led the team in scoring with 25 points, 8 rebounds, 3 assists, 2 steals and a block. Pascal knocked down some deep shots, was able to strike in transition and played fantastic defense.
Shout out to Serge Ibaka for putting in solid work in back to back games. He took a dirty elbow to the forehead but fought through to finish with 10 points, 2 rebounds and 3 stitches.
Player of the Game
What else can you say about Kawhi Leonard at this point? His play has been simply prolific and utterly unstoppable. He has been turning heads all over the country and his production has been so proficient that his name has now become synonymous with the all-time greats. For the second game in a row, Kawhi had a double-double by half, punctuating his effort with a monster slam between two defenders to close out the quarter. It was much of the same after the break. He abused the 76ers again and again, with a cold unchanging look on his face. Kawhi force fed Joel Embiid a soul crushing dunk that will no doubt lead the morning highlights. Leonard finished with 21 points to go with 13 rebounds, 4 assists and 2 steals. Although others may have had a better statistical night, there is no denying that Leonard is the epicenter of this team and everything revolves around him like the sun. Leonard's play will be remembered for generations to come, parents will be telling their children bed time stories of how the heroic Kawhi Leonard slayed all those who opposed him.
Game Notes:
Live by the 3 – The Raptors finally started hitting shots from distance. They converted on 16 of their 40 attempts compared to only 6 makes in 24 tries from the 76ers.
Out Running – After being held down for most of the series, Toronto was able to get their fast break going. They outscored Philadelphia 33-8 in fast break points.
Glasswork – The Raptors out rebounded the 76ers 42-37. What was once Philadelphia's advantage has slowly turned in favour of the Raptors.
T-shirts continued – The Raptors released part 3 of their "We the North" concept T shirts. This time the feature players are Marc Gasol, Pascal Siakam, Jodie Meeks, Chris Boucher, Norman Powell and Eric Moreland.
Red Patch Boy – TFC star Jozy Altidore sat courtside for this contest.
NBA legends – Former Raptor Mugsy Bogues and former Sixer great Dr. J also graced the sidelines.
He knows, he knows, he knows – Drake, decked out in a Breaker High sweater, was vocal as usual in support of his team.
The Raptors now have a chance to close out the series in Philadelphia on Thursday night. With their season on the line, expect the 76ers to come out swinging in what is sure to be a dogfight.