Oregon State Scores Commitment from Sean Miller-Moore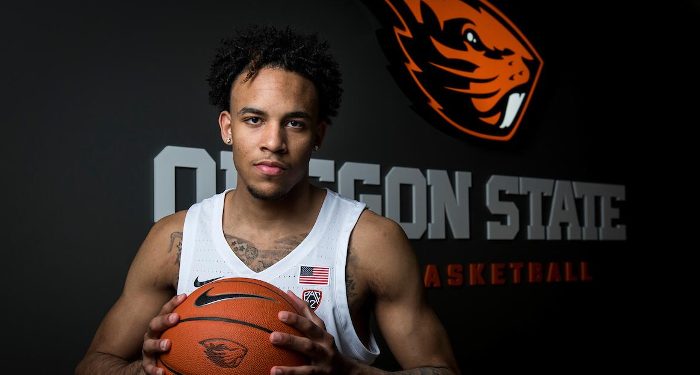 Sean Miller-Moore (Brampton, Ontario) has announced his commitment to Oregon State University after taking an official visit during Easter weekend. The 6'5 shooting guard came off of a sophomore season averaging 19 ppg (59% FG), 8 rpg and 3 apg at Moberly Area Community College. Oregon State's Coach Kerry Rupp had seen him throughout the JUCO season at Moberly and expressed the need for a player like Miller-Moore.
Sean Miller-Moore @RugzyMontvna 📢 announces commitment to Oregon State University. Big need on the wing for Coach Tinkle fulfilled pic.twitter.com/cmts25EY3O

— Elias Sbiet (@Elias_NPH) April 23, 2019
Miller-Moore had this to say about his visit.
"OSU was very family orientated… and I strive in any place where everybody has a common goal. It wasn't just basketball that they stressed on, it was about being LIFE champions! I love it. Besides that , I got a feel for all the guys and I think I could be that added piece for them to do great things next season."
This freak athlete of a wing can explode off his first step and blow by his man and really get it done in transition. The one weapon that is constantly underrated is his three ball. Coach Tinkle will be pleased to see that he also has a handle on the ball that wasn't seen much at Moberly behind Arizona State commit Alonzo Verge.
The idea of family is very important to Miller-Moore. He and his brothers and sister grew up without their mother and father who passed away early in their childhood. Sean and his siblings were raised by their grandmother and aunt. His aunt and sister were on the OSU visit with Sean.
Their father passed away from lung cancer before Sean was the age of 5. His mother was shot when he was 6. One can only begin to imagine the pain as a youngster and the questions that go on through someone's mind who has been through this level of trauma.
Today, Sean play's in their memory. In announcing his commitment, he typed the words, "God gives his hardest battles to his toughest soldiers."
When I spoke to Sean on the phone he mentioned that he constantly asked for guidance from his parents who he feels watching from above. He asked for that guidance when he was looking to make this college decision.
Originally committed to Buffalo, he decided to play out the rest of the season and heard from a large chunk of schools including Iowa, UMass, St. Bonaventure, Portland and many others.
There was a schedule visited to UMass coming in the next couple of days, yet Sean felt right at home at OSU and was ready to commit.
"I always trusted my gut.. ever since I was a kid. I prayed on the decision and I woke up the next morning with the same feeling and that's when I knew it was right.. I'm a firm believer that God will direct me in the right place.. It's just my job to nurture the opportunity and work as hard as I can next year and everything will take care if itself."
The Beavers got a kid that's cut from a different cloth. He will bring highlight plays, a relentless pursuit for excellence and overall culture that will hold teammates accountable.