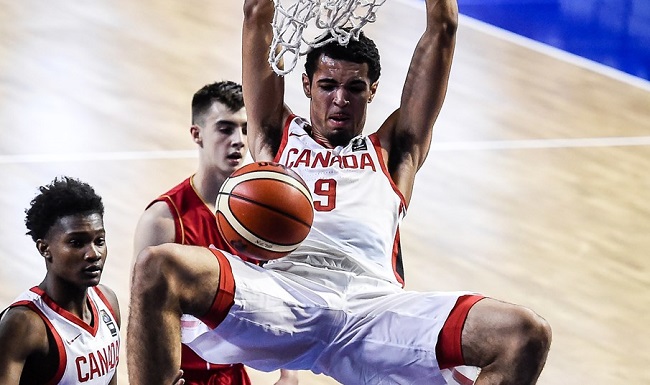 Day 1 Scouting Report from NBA Basketball Without Borders 2019
The spectacle that is NBA All-Star weekend kicks off in Charlotte, North Carolina with NBA & FIBA Basketball Without Borders bringing in a collection of high school aged talent from all over the world to train and compete in a camp setting in front of NBA scouts. With all the leagues teams represented in attendance, this is a prime opportunity for the elite caliber to build their Draft stock well before their year arrives.
There were several who made an eminent stand on day one.
Day one tipped off with agility testing, vertical testing and drill work for the first half of the morning before heading into scrimmages for the latter part and into the afternoon.
Nikola Jokic graced the camp with his presence and made it very felt by participating and providing advise to prospects in drill work. He emphasized to them to just be in the moment and take in the experience and have fun to make the most of it.
The Canadians represented well on day one, however it was Israeli guard Demi Avdija who stole the show. Safe to say, he is a special talent who is projected to play at the guard position one day in the League.
Addison Patterson, who pre-camp, was one of the more highly anticipated prospects to watch, had to sit out most of the morning after starting hot but catching an elbow to the mouth where he cut open his tongue. He later came back to compete and facilitated extremely well.
Best Point Guard:Santiago Vescovi Vannet
This was my 3rd time locking in on Vescovi Vannet after seeing him only a few weeks ago in Rhode Island at NPSI. He is the purest PG at camp. He has a sharp sense for play making and reading things before they happen. Some of the "english" he puts on the ball when he passes is unorthodox comparable to Manu Ginobili on the move in transition.
Best Shooting Guard: Demi Avdija
So composed, so skilled, so versatile. Demi Avdija makes the game look easy among this talented group of International talent. With tremendous skill to play from 1-4, he showed that he can play the lead guard position by showing great vision and a dependable handle on display. His trigger remains ready for walk up threes if the space if given. Avdija's feel in tight spaces was evident as the defense collapsed and he made the reads to assist. He's not a guy to leave open and he's not a guy to get to close on as he can attack well. So what do you do?
Best Wing: 
Addison Patterson

Despite taking a hard hit to the chin in the early going, Patterson bounced back poised to show NBA scouts what he has in his arsenal. The majority of people in the gym were already familiar with swiss army package but it was intangibles today that really came out. Sometimes at this age its tough for prospects to play with a rising star, but he made the players on his team feel very comfortable.
Patterson is providing clarity at this camp, in a sense that he's fit to play from point guard to small forward. Having tracked him for over 5 years, one piece of his game that his evolved is how he moves off the ball. He came back into the game after with a put back dunk that he extended way out for and then followed with a defensive board on the next play that he dished out in transition.
https://www.instagram.com/p/Bt4R-ybAroc/
Best forward: Thomas Chapero
Chapero nimbleness is what stuck out to me. Or rather the combination of nimbleness and then to follow up on other play with force. Finesse and force got Chapero onto my radar.
Best Centre: Oumar Ballo
Ballo was a beast at camp on day one. He is easily the most powerful among the bigs and knows how to throw his weight around in the paint.
As his body continues to dice up, he'll have more flow and be able to move better in transition. As of right now, he is a half court guy that can seal and receive over the shoulder with an ability to finish with authority around the rim. Since we're in Charlotte I'll give a throw back comparison which actually suits Ballo from the Charlotte Hornets.
He has a Larry Johnson type of projection once he's in League shape physically.