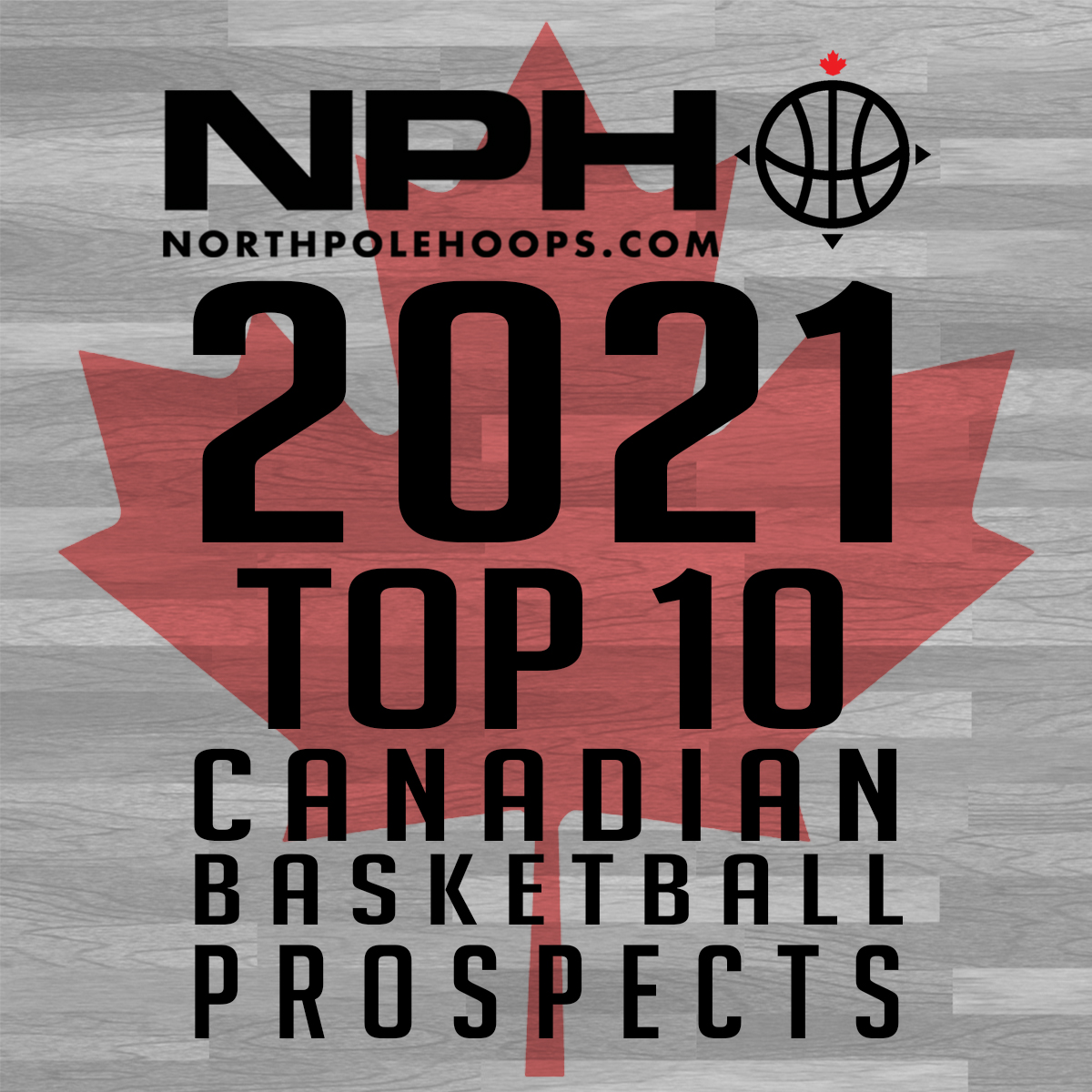 2021 Canadian National Player Rankings & Top 10
The 2021 class could be one of the strongest to ever come out of Canada as the exceptional skill and sheer size within this age division is unparalleled to anything we have seen.
The rankings will reflect this, as well as other factors that have gone into players both climbing the ladder or sliding down the proverbial snake.
Production and potential, in that order, will also be used to evaluate the following prospects with their skill set, athleticism and mental make up being the forefront. With that being said, there will also be additions made to this list with new players being discovered throughout the year.
Thus without further ado here is your top 10 Canadians in the 2021class.
#
Player
POS
School
HT
WT
Commitment
Muon Reath – Best Two Way Player
When taking everything into consideration for this class and the rankings that follow, Muon Reath has consistently shown his ability to effect both sides of the rock at a extremely high level. With all that being said, Reath is a high energy, coachable and hardworking player that is a great practice player as well as prime time performer.
Staring on Canada Top Flight Academy as a true freshmen two seasons ago, Muon was a important part of the back to back championships that the program was able to capture in the NPA, especially in guarding GTA and South Carolina's AJ Lawson. As always with Ottawa talent, it has taken some time for the basketball community to learn about Muon as the region has always been misunderstood and unappreciated but always determine (to steal LBJ's term of MUD).
This will be a big year for Reath as CTA graduated 6 players from its previous roster, leaving a gap that he will have to fill on a game to game bases.
Charles Bediako – Rim Protector
As one of two players (the other being #1 ranked 2020 Addison Patterson) to play on both the U17 & U18 team Canada roster, Bediako is a prospect that has a very high ceiling. His length, size and mobility are weapons on the defensive end, on the offensive glass, and a pick and roller as that is were he truly shines.
Now at International Sports Academy in Ohio, Bediako will continue to add to his offensive game and his comfort level of putting together solid post moves with counters.
Olivier-Maxence Prosper – Walking Bucket
OMP was first identified at the 2015 Quebec NPH Showcase camp and has been raising his stock ever since. At the time as a 6'2 combo guard his scoring aptitude was on full display, making jump shots, attacking the rim and finishing with either hand.
Fast forward and Prosper now stands at 6'7 and continues to add to his arsenal, displaying his best at Nationals averaging 15 points on 52 percent from the field and 41 from three  (3.5 attempts per game). He also got to the rim 5.4 times per game converting on 78 percent.
Add to that he was also at 1.5 steals per game and you have one of the best stat lines within the tournament, and also a 17U Boys all star first team birth. OMP will make a push for the #1 spot all year long, especially at this rate of production.
Zach Edey – Nimble Big
At 7'3 Zach Edey is a very pleasant surprise when he is first spotted on the court. Extremely mobile with a nice build, Edey is quite the prospect that is fairly new to the game of basketball and all of the nuances.
At this point Edey does a good job using his 7'7 wingspan to block and alter shots at the rim. Zach is also extremely coachable and picks things up quickly and with his new spot at IMG academy this will be a big year of development.
Jefferson Koulibaly – Focused Intensity
As an 8th grader Jefferson Koulibaly made the trip from Montreal Quebec to Hamilton for the NPH showcase with one thing in mind – MVP. Being from another province and speaking another language could have stalled Koulibaly but it didn't. He proceeded to being one of the most vocal leader on the court around prospects that knew each other for years competing in Ontario.
This same confidence and leadership was on display throughout Nationals with Koulibaly averaging 17 points, 4.6 rebounds, 2.4 assists, and 1.8 steals. He also slighting missed averaging 50 (FG percentage), 40 (3pt percentage) and 90 (FT percentage) from the floor potting 49, 43 and 88. He will be doing damage this year for Orangeville Prep. 
Victor Radocaj – Stretch Lefty Four
https://www.instagram.com/p/BnleCyyBaMh/?taken-by=nik_nph
At 6'11, Victor Radocaj is able to do some very special things on the court as the big man brings a variety of skills to the forefront.
Shooting, vision and handle are all very impressive for the BC native as his teammates all benefit from the big mans unselfish play. At nationals, Radocaj went to work proving his versatility to the tune of 12 PPG, 7 RPG, 2.2 APG, 1.5 SPG, and 1.5 BPG – scary.
Thow James Beil – Midrange Master
https://www.instagram.com/p/BnEr7UNHIbg/?taken-by=northpolehoops
Thow Beil James was an enigma for all of his defender at the 2018 Calgary NPH Showcase this past circuit. The 6'7 shooting guard has a fantastic dribble game and is able to change levels with relative ease even flying by guards three to five inches shorter then him.
James' real strength however lies in his inbetween game as he provides a flurry of on balance jumpers from the midrange area.  James excels at the "old man midrange game" as well as finishing above the rim. Thow will definitely make a name for himself this year at Thornlea under coach Charles Hantoumakos. 
Bennedict Mathurin – Lunch Pail Hard Hat
Bennedict Mathurin jumps on to the NPH top 10 with one of the most memorable performances to date at Nationals. Despite being a sixth man for Quebec, Mathurin ended up making the 17U Boys all star first team averaging 16 points, 7 rebounds and 1.4 steals per game.
He went against team Ontario, scoring the go ahead bucket leading team Quebec to the finals complimenting that it isn't how you start but finish. Mathurin is a prospect on the rise, and is firmly on our radar for years to come.
Matthew Nelsons – Athletic Freak
https://www.instagram.com/p/Bo9oG-7hlEV/?hl=en&taken-by=nik_nph
Representing Crestwood and Grassroots, Matthew Nelsons has one of the highest ceilings in Canada, regardless of class. In the finals of the Jane and Finch classic Nelsons made it a point to assert himself throughout the contest as he finished consistently in the lane with a variety of floaters, scoop shots with floating body control.
Matthew also had a few high flying finishes too, throwing down his signature windmill slam. Showing a more consistent shot from the three point line, we look forward to seeing Nelsons compete for Crestwood this year.
Javonte Brown – Growing Skill Set
At a slim 6'10 Javonte Brown has been a force within the class through his work around the rim on both the defensive and offensive end. Blocking shots and put backs have always been his bread and butter although now Brown has now made his way to Mount St. Joseph in Maryland under coach Pat Clatchey.
In order for Brown to fully maximize his potential he has focused this year on getting more acclimated on the perimeter and expanding his overall package. Clatchey, who coached 6 foot 9 Maryland commit Jalen Smith, believes Javonte Brown is a hardworking, great kid that has potential to be a top player North America.
2021 Watch List; 
6'9 F Marko Milivojevic –TRC Academy
6'3 G Joshua Primo – Huntington Prep
6'7 F Kordell Charles – ISA