2022 Canadian National Player Rankings Top 5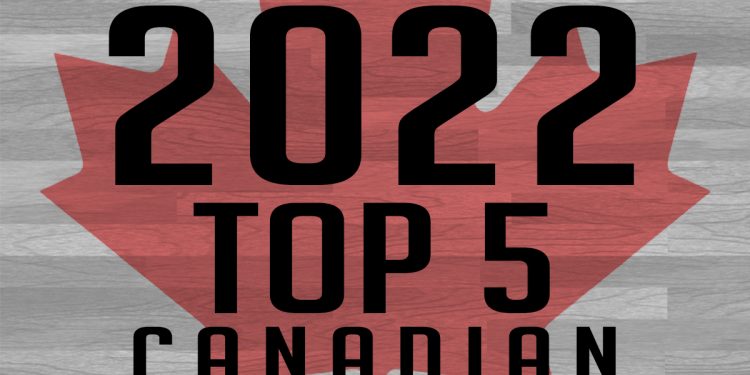 The class of 2022 is a very unique player wise as it signifies the first real Canadian generation of players that truly have gone all year around with basketball.
Traditionally basketball in the summer was for top end high school players. Elite middle school travel basketball for the summer was for only a few select programs.
Not for this class as the AAU culture that high school players have been accustomed to for years really bloomed for middle schoolers with big tournaments and exposure camps exploding.
With all that being said, this 2022 top 5 rankings of student athletes;
#
Player
POS
School
HT
WT
Commitment
Caleb Houstan – Point Forward
As a 6'8 freshmen last season at St. Marcellinus, Caleb Houstan not only played varsity but consistently came up with big time performances raking up 20 to 30 points nightly.
Caleb then made tons of noise throughout the summer becoming the only 2003 to make the U17 Canadian National team. Turn the page to the EYBL circuit, playing two years up for CIA Bounce, Houstan averaged 7 PPG with 3 rebounds and 2 assists on 45 percent from the field. Aside from those accolades, Houstan was also a first team all star at Nationals in 2017 for team Ontario playing competition 2 years older.
Aside from his production, Caleb has proven to have a very sooth and fluid game on the floor. Versatile at the wing, Houstan attacks the rim, can shoot the three and is a very underrated passer. As he continues his development at Monteverde Academy where we expect him to work on his explosiveness and stature.
Ryan Nembhard – Bulldog Mentality
Ryan Nembhard represents a lot of top notch qualities at the point guard position. From a production side at Nationals, playing two years up in the U17 division, Nembhard averaged 10 PPG, 4 APG and 4 RPG. This was good enough fora 2nd team all star as one of only two Ontario players to make the all-National team.
A very special trait that Ryan has at the lead guard spot is that he is very good at protecting the ball. At Nationals Nembhard hovered around a 3 to 1 assist to turnover ratio, an extremely elite stat for the point guard position.
Basketball is in Nembhard's blood as you don't have to look any further then his brother Andrew who will be attending and playing at Florida this year, he has practiced the best techniques from Hoops Beast ever since he was young. With a aggressive and confident demeanour Ryan will be extremely entertaining to watch. It will be fun to track the latest PG trying to join a elite group of Canadian lead guards to make it to the NBA.
2022 6'0 G Ryan Nembhard is young but ready to compete for Varsity minutes! 👀

🎥: @northpolehoops pic.twitter.com/Q7ZrvNge7s

— Montverde Academy Basketball (@MVABasketball) October 18, 2018
Jayden Webley – Mac Truck
At 6'10 and 265 pounds Jayden Webley has a chance to start a new wave and standard of excellence for big men north of the boarder. Webley first and foremost looks to be a very good shot blocker using his strength to stand his ground and length to swat attempts at the rim away.
Webley is a true post up big who enjoys mixing it up underneath the rim with his strength. Webley uses his footwork to bump and move defenders out of his way, finishing strong at the rim.
Jaden has also made the trip out to Monteverde to work on his game. It will be interesting to see the way he performs and develops now being surrounding by players of the same stature and abilities.
6'10 Jayden Webley Of @UPLAYCanada Highlights At Session 2 #Lea8ue

🎥: @pthoops_ pic.twitter.com/OePXhaa5lL

— MADE Hoops®️ (@madehoops) January 13, 2018
RJ Jock – Agile with Length
Alberta has been producing high level talent at the younger age groups. Looking at this current list, with Jayden Webley and RJ Jock this makes it two players ranked within the top 5, nationally.
At 6'6 RJ Jock provides a good shooting stroke, nimble feet, and high level intangibles. A big transitional threat, Jock has take the rebound from one end and has no problem converting on the run. 
At his first year attending Edge Prep, Jock is looking forward to putting everything together. With this new environment will come changes within his game and his mindset.
DJ Jackson – Elite Scorer
DJ Jackson put the entire country on notice this summer with his performance at Nationals going for 20 PPG and 7 RPG. These performances helped lead Team Ontario to a gold while also being named the 2018 15U MVP.
Jackson is a aggressive scorer that has an elite midrange, jerky jerky style of game. With multiple floater shots, good footwork and three point range, DJ is a tough cover.
Currently at St. Martins, Jackson will compete in ROPSSAA this year, and try to avenge the gold medal from last years loss in the finals.
Watchlist
6'0 PG Jaden Clayton – ISA
6'8 PF Enoch Boakye – Mount Zion
6'4 SG Shaedon Sharpe – HB Beal 
6'1 PG Josiah Davis – Huron Height
5'11 PG Kole Scott – TRC
6'5 Noah Ngamba – Vaughan SS