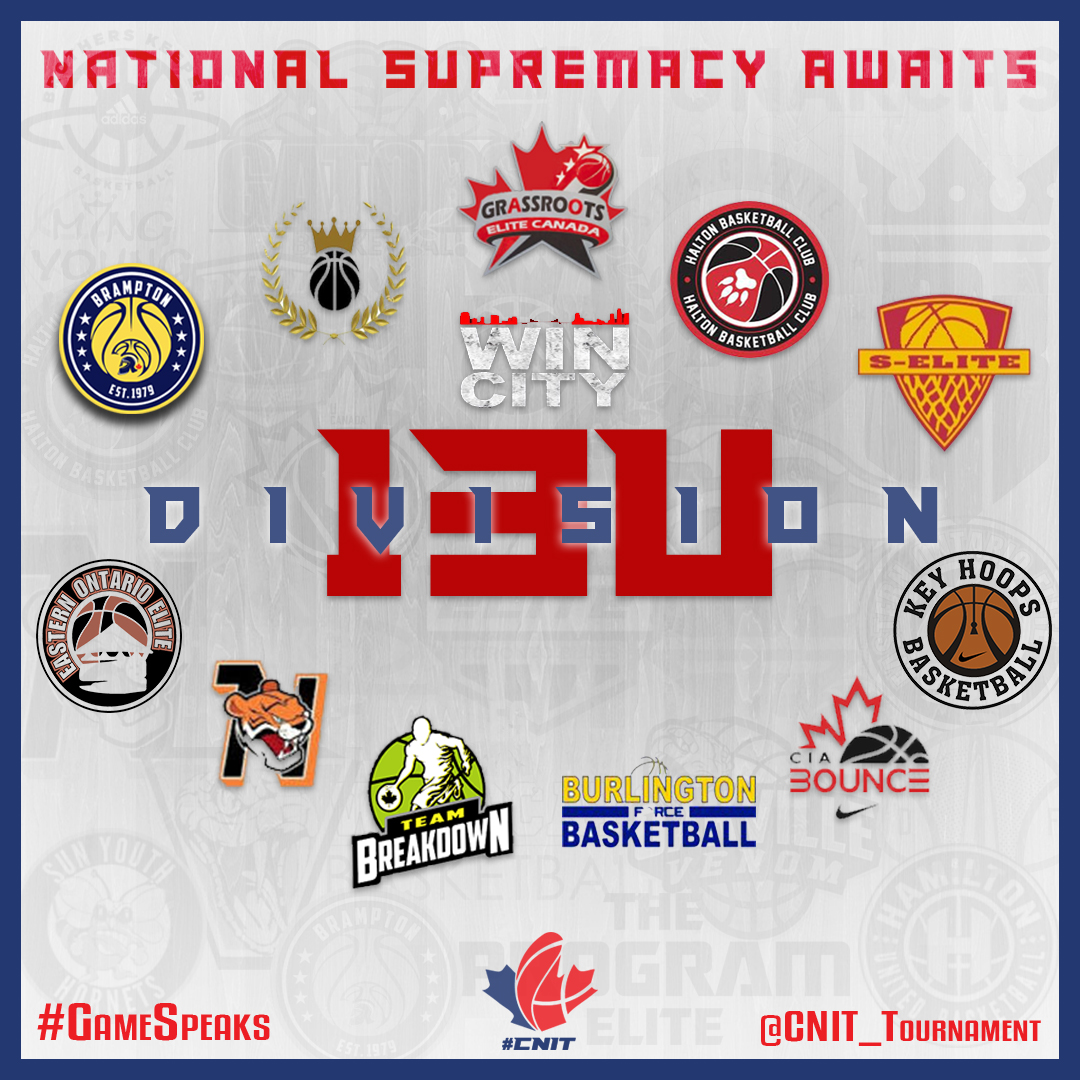 CNIT: 13U Division Preview
| | | | |
| --- | --- | --- | --- |
| Team | Ranking | Team | Ranking |
| Grassroots Elite | 1 | Win City | 9 |
| CIA Bounce Appiah | 2 | Eastern Ontario Elite | 10 |
| Team Breakdown Bright | 3 | CIA Bounce WEST | 11 |
| Halton | 4 | Brampton Elite Rodney | 12 |
| Grassroots Elite Red | 5 | Burlington Force | 13 |
| S-Elite | 6 | Brampton Elite Montague | 14 |
| Malvern Motion | 7 | Triumph 204 | 15 |
| Keyhoops | 8 | Niagara Tigers | 16 |
The U13 division brings forth the most diverse of the middle school age group with representation from Manitoba, Nova Scotia, and various parts of Ontario.
Right at the top reigning CNIT grade 8 champions Grassroots come in as favourites after a very convincing number of key wins including the Signature League and NYBL championships.
CIA Bounce Appiah claimed the 2018 CYBL championship as this talented and versatile group have ton of size, shooting ability and most of all grit.
OBA champions Team Breakdown Bright will be representing Canada at the Junior NBA championship in Orlando and have a ton of athletic pieces.
Halton Basketball and Brian Lopez have been knocking on the door for both the Signature and CYBL championships this year with finals and semifinals finishes – Halton will look be looking to finally reach the pinnacle here at the CNIT.  
Grassroots Elite Red, led by coach Deshawn Montague, are looking to make their name at the CNIT with a ton under the radar talent.
S-Elite, Malvern Motion and Keyhoops will all look to play a fast uptempo style, getting their looks in transition and also at the three point line.
Win City and coach Andrew Andrei come in as a WIndsor-Sarnia Regional team that will shock some people especially with their nothing to lose mentality.
Eastern Ontario Elite and coach Justin Wallace will have some very unique pieces as most of their team will be representing the Kingston, Ontario region and cannot be taken lightly as they have proved time and time again to be serious sleepers.
CIA Bounce West will represent the Tri-City region with a collection of talented players that were able to have a very successful CYBL competitive season this year finishing 15-1 while getting bounced in the semi finals.
Brampton Elite Rodney will bring forth a tough, versatile team with good athletes as the division 2 OBA team has been improving daily.
Burlington Force will have the home court advantage as this division two OBA bronze medal team brings in their 38-10 record to the CNIT.
Triumph 204 representing Winnipeg Manitoba will be a tough competitor as they will bring a out of province flavour to the CNIT.
Niagara Tigers will be coming to the CNIT to prove they can turn some heads especially with this group of talented uptempo unselfish group of players.