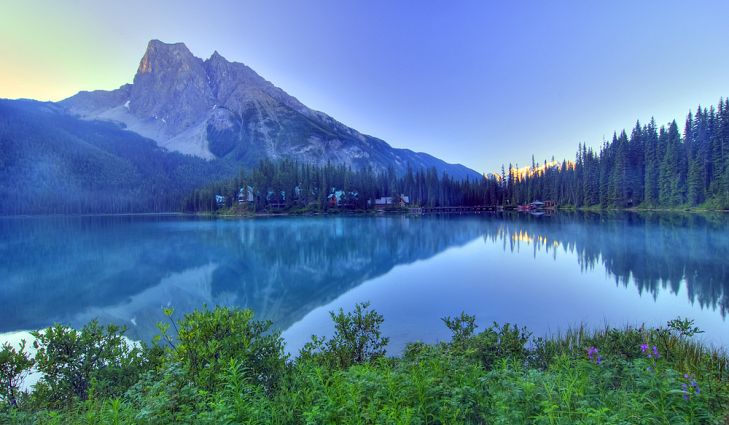 British Columbia is Ballin!
Hello Canadian Girls Basketball Family,
My teammate in Greece this past season was also my teammate on the Junior National Team; Cassandra Brown, British Columbia Native who played at Portland, won the State Farm Three-Point Championship, and has been playing professionally ever since.
Cassie was one of three BC Hoopers I really knew.. the other two are National Team, NCAA, WNBA and Professionals: Ruth Hamblin and Kim Gaucher. But I have a feeling the tide is turning and girls basketball in BC is ready to rumble…The U17 Canadian National team is off to FIBA Basketball World Cup in Belarus, the selection of 20 athletes for the U18 National Team tryouts has been announced, and I can't help but notice how many girls basketball players are coming from British Columbia. 
I had the pleasure of watching the U17 squad practice and scrimmage. The three BC Natives – Faith Dut, Deanna Tuchscherer and Olivia Morgan-Cherchas – were very impressive; not only are they highly skilled athletes, but they showed that they are cerebral players with great attitudes and coachability. Add on the 6'2, 6'0 and 6'6 frames respectively, and these ballers have the intellectual and physical tools to make an impact on the women's game. 
🍁@BasketballBC Centers 6'2 @faithdut7 & 6'6 Olivia Morgan-Cherchas bring length & rim protection defensively; offensively catch & finish high, clean footwork & facilitate possessions for Canada. Great height & solid mobility & factor of intimidation for 🇨🇦

— Micaella_ (@Micaella_15_) July 10, 2018
@BasketballBC 6'0 @deannamae462 is 🧠 +skill +toughness! Brings intangibles & gets it done; good touch on inside game& finishes w/contact. Don't sleep on her beyond the arc:👌🏾 balls for days. Length, footwork & anticipation defensively creates stops & fast break opportunities

— Micaella_ (@Micaella_15_) July 10, 2018
BC athletes selected for the upcoming U18 National Team tryout are Georgia Alexander and Taya Hanson. Those names aren't new to me; I remember both circulating the NCAA when I was on staff at Kansas State.
Taya is starting her freshman season at Arizona State this fall
"Taya is an unbelievable talent who will have a tremendous impact on our program and will undoubtedly be an eventual Olympian for her country," offered Turner Thorne."Her passion, determination, and intellect combined with her skill, athleticism and size (5-foot-9) are exceptional. Taya is both a versatile scorer and playmaker and will be able to play all three guard positions for us. We love her hunger to be the best at everything she does. She is also an excellent student and leader within her community." Charlie Turner Thorne, ASU HC
Georgia Alexander is heading to the Ivy League at Dartmouth.
"Georgia Alexander is a 6' 2" forward from Oak Bay High School in Victoria, British Columbia.  This past season, she averaged 27 points, 16 rebounds and three assists in leading her school to the Island 3A championship. Varsity Letters named her one of the Island's Top 15 players, stating "(Alexander) Has a feel for the game and a skill-set matched by very few in the province. Alexander can attack almost any matchup with her combo of guard skills, post size, and elite athleticism. She is a matchup nightmare." Belle Koclanes, Dartmouth HC
Other BC Hoopers in the NCAA are:
Emma Kramer and Georgia Swant; Simon Fraser 
Aislinn Konig; currently attending NC State
Sage Stobbart; UC Davis
Louise Forsyth and Emma Wolfram; Gonzaga
Jacey Bailey; played at FIU and Northern Arizona
We also have USports commitments in the 2018 class of BC girls:
Jaya Bannerman; Trinity Western
Hailey Counsell and Tanis Metcalfe; UBC
Natalie Rathler; Fraser Valley
As far as the next generation of BC Ballers, I had the pleasure to speak with Aman Heran, BC United Bluestar Director and Co-Founder of AthElite Basketball Academy since 2007; AthElite is the largest Basketball Academy, in BC. He established his BC United Bluestar program in 2015, and I am very excited about the plans he has for his program.  He is applying his experience and learnings to his basketball club which provides opportunities for excellence to countless girls basketball players every year! Here is some of the upcoming talent he's put on my radar…
BCU Bluestar teams finish the @USJN Indy 💯 12-2 as a program. Both our Elite & National teams finish undefeated to play one another in the Championship Game! We will share this 🏆 between both teams & our program. So proud of these girls reppin 🇨🇦
Next up DC! #BCsBest pic.twitter.com/cXPy3ZAIxi

— BC United Basketball (@bcunitedhoops) July 10, 2018
2019's
Tavia Rowell- committed to Grand Canyon University (BC United)

Kennedy Dickie- (BC United)

Maddie Gobeil- (BC United)

Jenna Dick (BC United)
2020's
Jessica Clarke (6'2")- BC United
India Aikins- BC United
2021's
Isabelle Forsyth- NexGen athlete- BC United
Tara Wallack- NexGen athlete- BC United
Deja Lee- NexGen athlete- BC United
Neyha Lali- BC United
I want to conclude by saying that looking at the facts, I'm honestly not surprised that British Columbia is producing this volume of talent… My friend Mandy Botham is a BC native who's competed at both Provincial and National levels, and is now a 14-year veteran in the coaching game; she's worked with Canada Basketball Center for Performance in Vancouver, U15 BC Provincial teams, she's coached at the post-secondary level, and now is the Head Coach at GPRC in Alberta. Mandy is a die-hard basketball junkie who works tirelessly to provide opportunities and guidance to up and coming girls basketball players in Western Canada. I had the pleasure of speaking with her and learning a lot more about girls basketball in British Columbia, here something she said that stuck with me… 
"With coaches like Rich Chambers and Alison & Mike McNeill who are so willing and available to help, it's no wonder that basketball in British Columbia is growing so fast on the girls side. In the last 4-5 years we've had a consistent flow of BC athletes invited to the National Team." Mandy Botham, GPRC Women's Basketball Head Coach
I won't even list out these coaching resumes… With minds like Rich's, Alison's and Mike's active and engaged in the girls basketball community, there's an explanation behind the success our female athletes are having in British Columbia! 
I am thrilled to be heading to Western Canada this August to see for myself the caliber of players coming from outside of Ontario! 
Here are the upcoming NPH Showcase dates: 
West Coast Tour
Manitoba August 15-16
Saskatchewan August 18-19
Edmonton August 23-25
Calgary August 26-29
Victoria August 30-31
Vancouver September 1-2