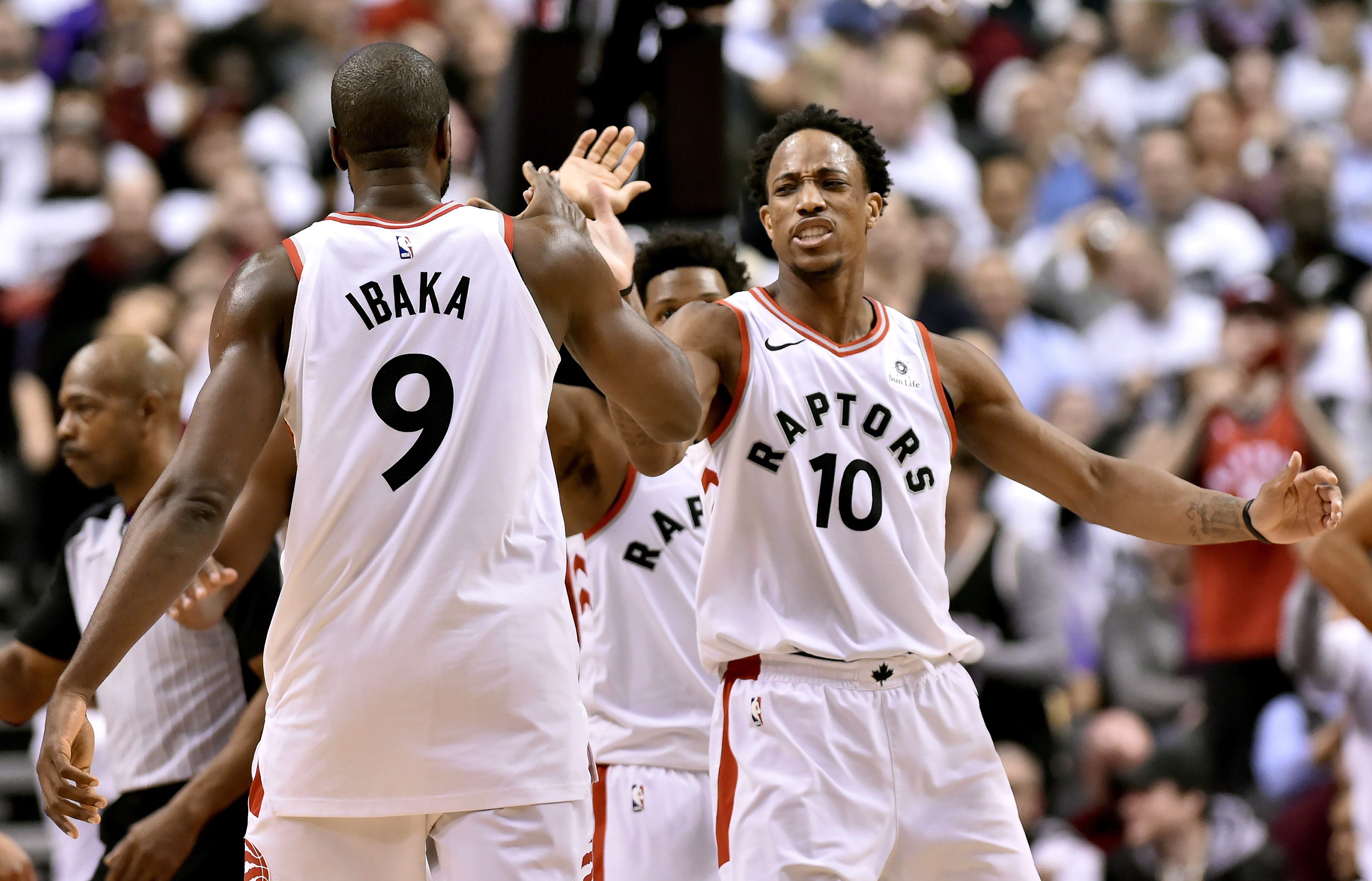 Raptors thriving as front-runners, crush Wizards
TORONTO — As the Toronto Raptors racked up wins over the course of the regular season and onlookers began to see what the team themselves believed all along, Dwane Casey kept reminding his players of the mindset they needed to have as the season wore on.
"Every team is coming in and giving us their best shot," Casey said after beating the Mavericks on March 16. "We're learning to be the hunted instead of the hunter, it's a different mindset. You're going to get their best shots and you have to be focused and can't make mental mistakes."
The Raptors had taken over the No.1 seed in the Eastern Conference in mid-February, boasted two all-stars and an all-star coaching staff, the most productive bench unit in the league, and were playing at a top-five level on both ends of the floor to cement their contender credentials.
It earned them respect, as well as a level of compete from opponents usually reserved for the elite. Whether it was a fellow championship contender in the Houston Rockets or a tanking Dallas Mavericks team that stretched them to overtime, teams were relishing the opportunity to use the Raptors as a measuring stick.
For the last few years, the Raptors have been the ones doing the chasing, pounding the rock and chipping away at it in the hope of getting to a point where there's nothing standing in their way.
Toronto has chipped away at a lot of that proverbial rock this season, and defending home court has been a major reason why. They finished the regular season 34-7 in the friendly confines of the ACC, and more than the wins, the losses indicate just how difficult it is to win when teams travel north.
The first was a traditionally disorienting first game back after a long West coast road trip against the Washington Wizards, and the second was on the second night of a back-to-back against the Miami Heat without Kyle Lowry after playing an overtime game in Brooklyn.
Then came the nail-biting two-point loss to the defending champion Golden State Warriors, a tough four-point loss to the Utah Jazz during their 11-game winning streak, and an overtime loss to the Milwaukee Bucks after what should have been a Jonas Valanciunas and-one play at the buzzer to win it. The foul wasn't called. The other two came against the Oklahoma City Thunder and Los Angeles Clippers during a brutal stretch of the season in which they played 13 games in 22 nights.
The point here is that, barring extreme circumstances, it has become nearly impossible to beat this team on their home floor. The Wizards, one of the few teams to do so during the regular season, are finding that out the hard way.
After winning their first Round-1-Game-1 victory in franchise history, the Raptors were back in a situation they faced all season: looking to make a statement as the front-runner.
Contrary to what its fan base has grown accustomed to, the Raptors are thriving in the role. They came out all guns blazing and jumped out to a 21-8 lead after just five minutes of play in Game 2, ending the first-quarter with a franchise playoff record 44 points. All their options were clicking. Lowry was distributing at will, DeMar Derozan was scoring, and Serge Ibaka, Valanciunas and OG Anunoby were getting it done on both ends.
They got both John Wall and Bradley Beal in foul trouble early, too, allowing Drake and the rest of the home fans to be their boisterous best, the 6ix god even posting an Instagram story of him trash-talking the Wizards' star point guard. Despite some mental mistakes in the third quarter and early fourth, the Raptors ran away 130-119 winners and, just as they have all season, never seemed under serious threat on their home floor.
This has been a long time coming for a franchise mired in unpleasant playoff memories of the past, but all the signs continue to point towards this being a team that deserves, at the very least, a clean slate in how they're viewed. They have made 29 three-pointers in the series thus far to go along with 50 assists. For some perspective, the Raptors needed a full three games in the first round a year ago to hit that mark.
If there is one player who has epitomized the Raptors' ascent from the bottom to where they are now, it is DeRozan. Viewed as a raw athlete with a limited ceiling when he was first drafted into the league with the ninth overall pick, he is now a bonafide superstar with an offensive game as complete as anyone's. He was masterful in the pick-and-roll and equally dominant in one-on-one possessions, finishing with 37 points on just 23 shots, five rebounds, four assists and just two turnovers.
"That's a great player making plays," Wizards head coach Scott Brooks said after the game. "He's an all-star for a reason — multiple year all-star — those aren't easy."
Casey was equally effusive in his praise.
"I thought DeMar was super on the offensive end. We needed every point. He showed offensive toughness, they were into him, doing a lot of switching, he attacked their feet. We figured that's what they were probably going to do, and he did a good job of attacking, attacking the blitzes early in the game, just all-around reading. That's just through his maturity, and we talked about it this morning, he's grown a lot from that standpoint. Two years ago, I don't know what he would have done."
DeRozan himself just needed one line to sum up where he's at with his game now, and it was a hint of where the Raptors are mentally.
"I'm like Neo (from The Matrix) now."
The Raptors and their star out of Compton have taken their lumps and suffered through it together. The benefit of having done so is that, now, they've seen it all before.
DeRozan's improved ability to see the floor to pick apart defences, no matter how many Agent Smiths are thrown at him, is what has taken his game to another level. By anticipating traps and the different coverages designed to limit his individual input, he has ensured that his team's output doesn't suffer as a result.
The bench had another big night with 42 points (even if Casey was unhappy with the fact that they didn't outplay the Wizards' reserves), Valanciunas and Ibaka combined for 29 points and 23 rebounds, and Lowry had another complete game with 13 points, 12 assists and seven rebounds.
It all adds up to the franchise's first 2-0 series lead, but for this team, it's just what they were supposed to do. Casey knows a job half-complete is just that. When the ball goes up in Washington on Friday, they will firmly be the hunted, the role he has preached about all year long.
"It's a seven-game series and you've got to go in with that mindset," he said. "It's great to protect home court and to have that mindset, but we're going into it like we haven't done anything."