Justin Jackson chooses Maryland after Raptors workout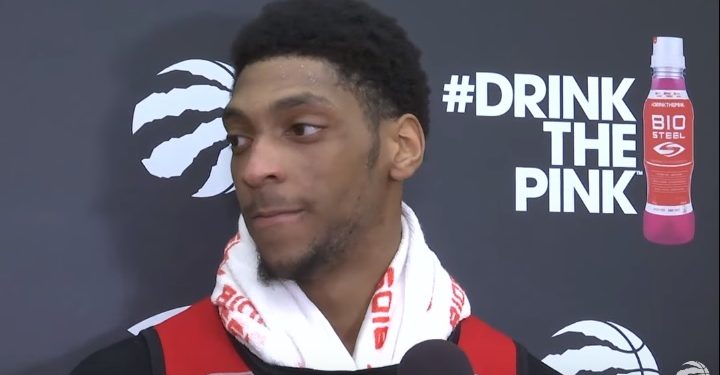 A day after being put through the paces of a pre-draft workout by the Toronto Raptors, hometown kid Justin Jackson has chosen to return to Maryland for another year.
Jackson went through plenty of 3-on-3's and shooting drills, and despite the competition, felt no pressure.
"I know I have something to fall back on if things don't go well," Jackson said. "At the end of the day, I just try to go to every workout, go to the combine, just give my 100 percent, and hopefully that 100 percent will come back to me."
This was his third workout for an NBA team, giving him a fair sample size to gauge where he stands. Nonetheless, it's an interesting decision by Jackson, since he was projected to be drafted in the 20s and would have been the top Canadian prospect.
"If he ends up going back the next year, he's going to be a highly scouted player in college basketball," Director of Player Personnel and Raptors 905 GM Dan Tolzman said after Tuesday's workouts. "If he stays in too, he's going to be a guy that's going to be discussed in our room for sure."
The Raptors own the 23rd pick in the 2017 NBA Draft, and Jackson presented the type of stretch-4 option that would have been nice to keep tabs on as Patrick Patterson is now a free agent and unlikely to return. He offers a rare NBA body-type as a 6'7″ combo forward with a daunting wingspan of 7'3″. He can score in a variety of ways and has consistently improved his shooting stroke every year. This past season, he made 46-of-105 college 3-ball attempts in 33 games.
"He's a player that's very intriguing because he's got so many things going for him in terms of size, positional size, athletic ability, and god-given intangibles that you don't find with a lot of people," Tolzman said.
With Masai Ujiri also talking about the potential shift of Serge Ibaka from the power forward position to centre, he wouldn't have necessarily been resigned to working on his game with the Raptors 905 either.
His season was marred by inconsistency, though. After scoring 28 and 22 points in back-to-back games at the end of January, he only averaged 8.1 points per game over his next 10. At the NCAA tournament, the sixth seeded Maryland crashed out in the first round to 11th seeded Xavier, 76-65. Jackson finished with 14. Over 33 games, he finished eight games with at least 15 points, and 17 games where he finished in single digits.
These are challenges that a freshman can endure, and another year of seasoning at the NCAA level will give him a chance to address these concerns. Other weaknesses he has are a lack of speed and explosiveness that will probably limit his ability to play the small forward position.
When asked about the feedback he's received on where he stands, Jackson admitted that he still had more work ahead of him.
"Truthfully, I'm hearing a whole bunch of different things," he said. "It's kind of mixed right now, so, I just gotta sit down, really discuss with my family—you know, my circle—and really try to figure things out."
One more season at Maryland should bring more certainty to where he stands, and perhaps even elevate him to the lottery.
Note: The Raptors also worked out Xavier Rathan-Mayes and MiKyle McIntosh of Scarborough and Pickering respectively, on Tuesday, but neither are expected to peak an NBA team's interest on draft day.