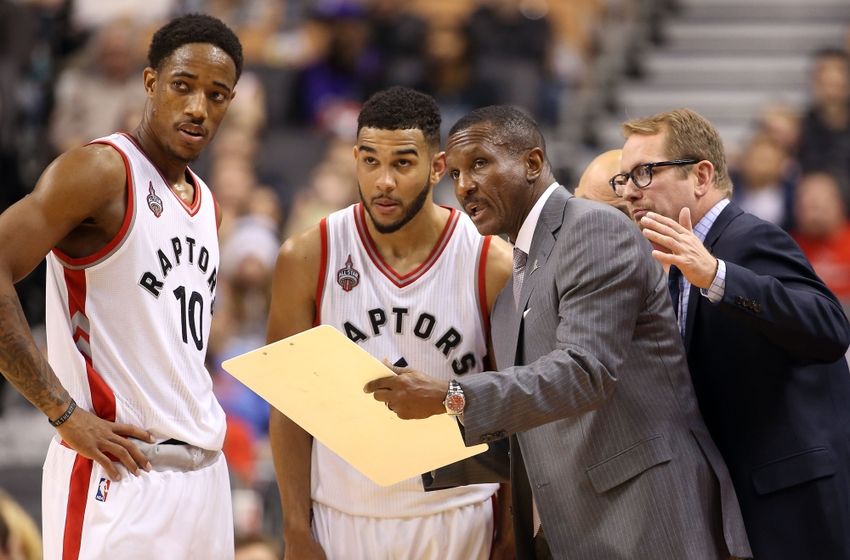 Cleveland sweep of Raptors shows 3 is the key
TORONTO, ON – DeMar DeRozan took his seat for his final post-game press conference of the 2016-17 season with his daughter Diar placed gleefully on his lap. He's usually accompanied by Kyle Lowry, his trusted ally. Together, the two have made jokes, all-star appearances, and even a Conference Final appearance. Not today though. Beside him sat Cory Joseph, who earned his spot on the podium with 20 points, 12 assists, and six rebounds in only his second playoff start. With Kyle Lowry sitting for the second straight game, it gave a glimpse into the future of what could be for Toronto.
The duo that compiled a 15-7 record during the regular season as the Raptors starting backcourt started in this final game against the Cavaliers. Together, they accumulated 42 points on 29 shots (1.45 points per shot), 20 assists, 10 rebounds, and six turnovers. They combined for 86 minutes of a possible 96, and gave everything they had to make sure Toronto's final game wasn't played on their home floor.
"One reason why I think Cory fit in seamlessly with Kyle out was because that group had been together probably more than Kyle and those guys," Raptors head coach Dwane Casey said after his team was swept. "It's no disrespect to Kyle—he's one of our best players—but the togetherness that group had I think showed in certain situations."
It didn't matter.
Cleveland's go-to combo LeBron James and Kyrie Irving combined for 62 points on 46 shots (1.35 points per shot), 15 assists, 14 rebounds, and seven turnovers in the same 86 minutes. Although less efficient than Toronto's duo, that 20-point difference came from an area that will haunt the Raptors the entire off-season. Cleveland's duo outscored Joseph and DeRozan 21-3 from beyond the arc, and perhaps not coincidentally, the Cavaliers outscored the Raptors from long distance by 18. Cleveland won 109-102.
The glaring weakness in the Raptors' offensive arsenal over the course of this series has been the 3-ball. The Raptors were outscored by 102 points (183-81) over the course of the series from behind the line in a series with a final tally of 465-404. Toronto even finished the series with one more field-goal made than the Cavaliers, but such is the power of three.
"They present so many problems offensively, it's going to take a Herculean effort to beat them," Casey said when asked to reflect on why Cleveland was so difficult. "You have to have very flexible defenders, and you're going to have to score 115-117 points a night to beat them."
No matter which direction the Raptors take in terms of player personnel this off-season, what is certain is that the three-point gap is one they must address. In an NBA that has completely changed its landscape over the past few years, Toronto can ill-afford to remain dinosaurs.
As of Sunday, the top five 3-point shooting teams in the playoffs averaged at least 11 three-point makes per 100 possessions (Cleveland averages 14.7). Milwaukee, 10th, finished with 9.7 and gave the Raptors hell for much of their six-game series. The Raptors finished second-last among playoff teams with 8.2 makes, only ahead of the Chicago Bulls.
The other problem for them is volume. The lack of personnel that must be respected for their ability to shoot from the outside without a second thought leaves limited space within which to operate. So, when the Raptors face the inevitable traps that defences throw their way during the playoffs, the distance that defenders have to cover once they retreat and rotate is much shorter.
Watch the Houston Rockets when they play. They have their elbow-three shooters stationed a couple of feet behind the three-point line to open up more room for James Harden to operate. It also provides an easier angle to pass out of a trap. Having them stand that far behind the line is one thing, being respected from that far out is entirely another. Ryan Anderson shot 40.3 percent on seven 3-point attempts per game during the regular season. Eric Gordon 37.2 percent on 8.8 attempts. Trevor Ariza only shot 34.4 percent from beyond the arc this past season, but the fact that he attempts just under seven 3-pointers a game makes defenders scramble to take away that shot. These are their comfort zones, so naturally, teams look to eliminate that.
As LeBron James said after Game 3, everything he does is mental for a reason. Five teams average at least 30 three-point attempts per 100 possessions in the playoffs (Boston leads at 38 with Houston next at 36.1) while Toronto languishes in second-last again at 24.6 attempts per 100. Teams sense their discomfort in shooting threes, and thrive on leaving them out there.
When the Raptors start DeRozan, DeMarre Carroll, and Jonas Valanciunas, it gives opponents three players that they need not respect from beyond the arc. Carroll was signed to be a 3-and-D guy, but shot 34.1 percent and struggled to provide any resistance on the other end.
Kyle Lowry is their most prolific three-point threat, but will presumably decline his $12 million player option in a week, triggering a domino of decisions for the Raptors front office headed by Masai Ujiri. Serge Ibaka became Toronto's best long-range marksman in the absence of Lowry, shooting 39.8 percent on 4.5 attempts per game, and will also look to find out his worth in the free market.
Patrick Patterson is another free-agent-to-be who is considered a three-point threat, but made two 3-pointers over the course of the entire series against Cleveland. He failed to attempt a single shot in 20 minutes of action in Game 3, and missed both of his attempts in Game 4. P.J. Tucker made the most three-pointers in Toronto's final game, is the team's best defender, and yes, will be a free agent as well.
There is plenty to consider this off-season, but if it involves Joseph and DeRozan as Toronto's new backcourt, the three-point mountain they need to climb will only appear rockier.