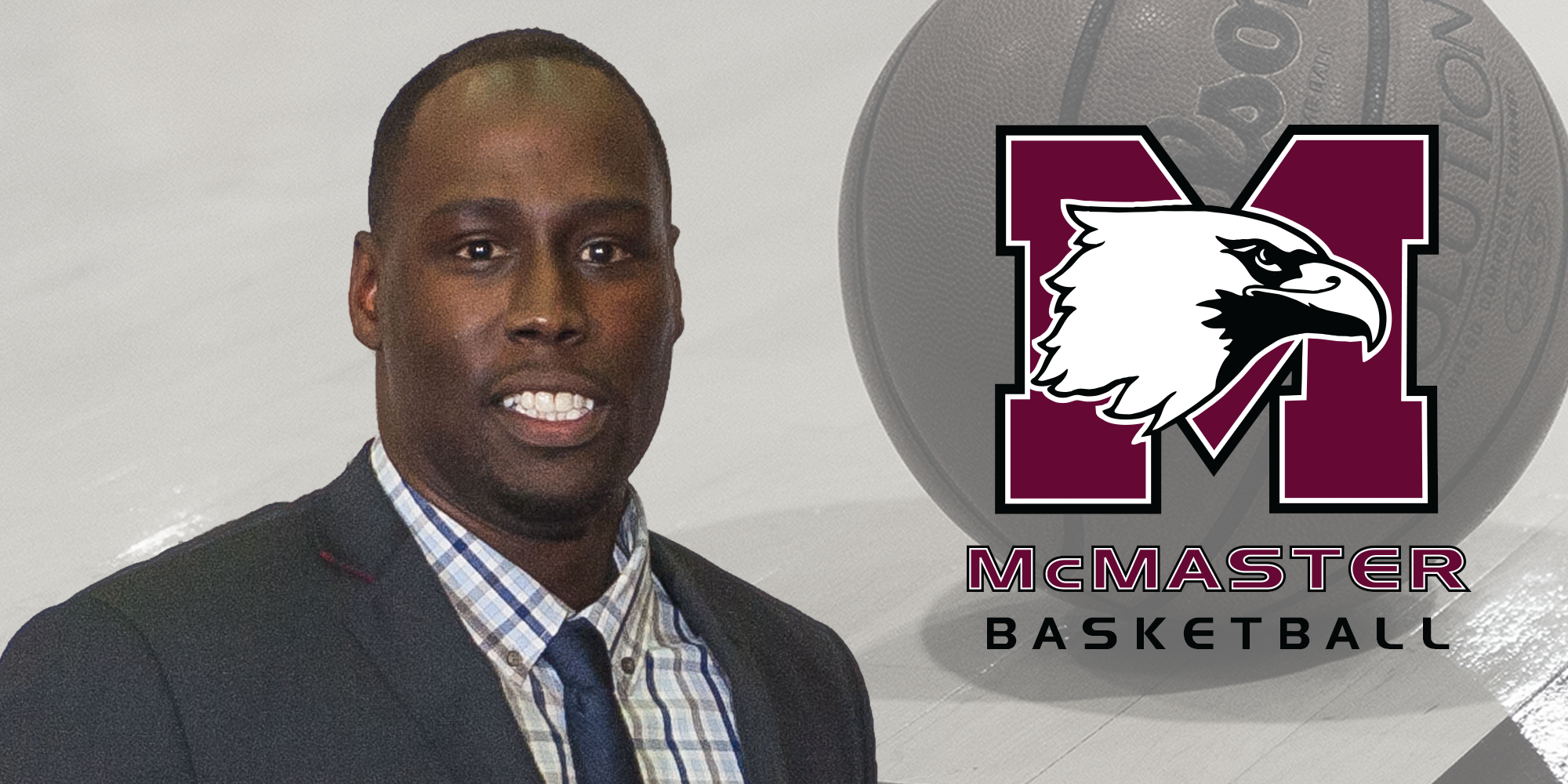 Patrick Tatham Named McMaster Head Coach
Via McMaster Sports
Already an OUA champion and U SPORTS medalist, one of Canada's rising coaching stars is bringing his winning ways to McMaster.
 
The University announced the hiring of Patrick Tatham as Men's Basketball Head Coach Friday, May 5, effective immediately.
 
Previously serving as head coach, Amos Connolly will assume the role of Recruiting Coordinator and Player Development Specialist as a member of Tatham's staff.
 
Entering his first full-time head coaching position in U SPORTS, Tatham brings a wealth of progressive experience to the role, including six seasons on the sidelines of the two-time defending Wilson Cup champion Ryerson Rams.
 
He joins the McMaster staff after spending the 2016-17 season as an assistant coach with the Maine Red Claws of the NBA Development League, while on a professional development leave from Ryerson.
 
 
Tatham helped guide the Rams through the most successful period of their program's history, after being added to the Rams staff as an assistant coach in 2010. He assumed the duties of interim head coach in 2015-16, leading the Rams to a 17-2 regular season record and finishing atop the OUA standings for the first time. The team's successful campaign continued into the playoffs, where the program captured its first Wilson Cup title as OUA champions by defeating the reigning, five-time U SPORTS (then CIS) champion Carleton Ravens in the final.
 
His effort in the interim role earned Tatham OUA Coach of the Year honours, and he became the first Ryerson coach to be awarded the Stu Aberdeen Trophy as U SPORTS (then CIS) Coach of the Year.
 
Experienced on the international stage, Tatham served on the staff of the Canadian Junior Men's National Team in 2012, helping to guide the team to bronze at the FIBA Americas U18 Championship for Men in Brazil.
 
He was a member of Team Canada's coaching staff for the 2013 Summer Universiade in Kazan, Russia, where the Canadians went 5-0 in pool play and finished fourth.
 
Tatham's involvement with Canada Basketball will continue at the cadet level, as he has been named as an assistant coach of the Canadian National Boys Cadet Team for the next two years.
 
A graduate of Cleveland State University, where he played basketball at the NCAA Division I level, Tatham was a member of the Canadian Junior National Team from 2002-2004. He played three professional seasons in Switzerland, Syria, Qatar and Germany at the conclusion of his varsity career.
 
"We are very pleased and excited to have Patrick Tatham as our Men's Basketball Head Coach," said McMaster Director of Athletics and Recreation Glen Grunwald. "Patrick has established himself as one of the rising stars among all Canadian basketball coaches and we are looking forward to his building on the great tradition of McMaster Marauder basketball.
 
"He personifies our values of Integrity, Passion and Inclusivity as we pursue excellence in all that we do – on and off the court."
 
Tatham credited opportunities for development that he had been afforded under the tutelage of both Ryerson Rams head coach Roy Rana – who currently heads the Canadian Junior Men's National Team – and Red Claws head coach Scott Morrison, who assists Rana at the national level.
 
"I'm very thankful for the progression and the learning that I've received from Roy Rana at Ryerson, including while serving as the interim head coach last season," said Tatham. "Working with Scott Morrison at the Maine Red Claws this year makes for two national team coaches that I've been learning under for the last six years, and now it's time for me to put everything I've learned to use.
 
"I'm really excited to be doing that at McMaster."
 
The Marauders incoming head coach is well aware of the rich tradition of the program that he arrives to helm.
 
"I've got a tall task ahead of me," said Tatham. "The history at McMaster in men's basketball is deep, and I used to dread coming to Hamilton to face the Marauders. Now, to be on the other side of that, I want to fill the shoes of the great coaches before me, including Coach Connolly.
 
"The culture is in place. Now, it's about fine tuning and paving the way for the new wave of men's basketball at Mac."
 
Tatham's vision is one in which McMaster is a suffocating place for opposing teams.
 
"I've always been a defensively-minded player and carried that with me into coaching," he said. "Right off the bat, I think we're going to be very tough and gritty and very quick on defence.
 
"I want to make other teams feel uncomfortable. Mac is going to get down and play 40 minutes of hard-nosed, blue-collar basketball."
 
 
For his part, Connolly completes a seven-year tenure as head coach with a career record of 151-66, having guided McMaster to the top of their division for three consecutive seasons between 2013 and 2016.
 
He was named as the OUA West Coach of the Year in 2014, after leading Mac to conference bronze.
 
His ability as a recruiter was evident early, as Connolly's McMaster teams saw first-year players Adam Presutti and Rohan Boney win OUA West Rookie of the Year honours in 2012 and 2013 respectively, with Presutti becoming Mac's first-ever winner of the Dr. Peter Mullins Trophy as U SPORTS (then CIS) Rookie of the Year.
 
Connolly's new role within the coaching staff is designed to maximize those demonstrated strengths within his skill set.
 
"This is an exciting time for the McMaster men's basketball program, myself, Coach Tatham and our families," said Connolly. "Changing roles, while it may be unconventional, provides me the opportunity to stay connected to this great program in a way that lines up with my strengths and goals as a coach. I'll also have more time to invest in other places, most importantly with my children.
 
"I'm thankful to Glen Grunwald, Associate Director Mark Alfano and McMaster University for being open to this concept and working to make it a reality. We've added value to the program, depth to the coaching staff and expanded our reach and connections for recruiting, which is the life's blood of a U SPORTS program. Most importantly, our need for improvement in player development is addressed with increased manpower."
 
Grunwald was pleased to retain a coach and character of Connolly's quality.
 
"I am thankful that Amos will stay on as Recruiting Coordinator and Player Development Specialist. Amos initiated this reorganization because he thought it would be the best thing for our student-athletes and our university, as well as his family," said Grunwald.
 
"Amos cares deeply about McMaster and wants our basketball program to be the best in Canada. His winning record speaks for itself; he did a great job here as head coach. We are fortunate that such a good basketball man and passionate Marauder will continue working with our program."