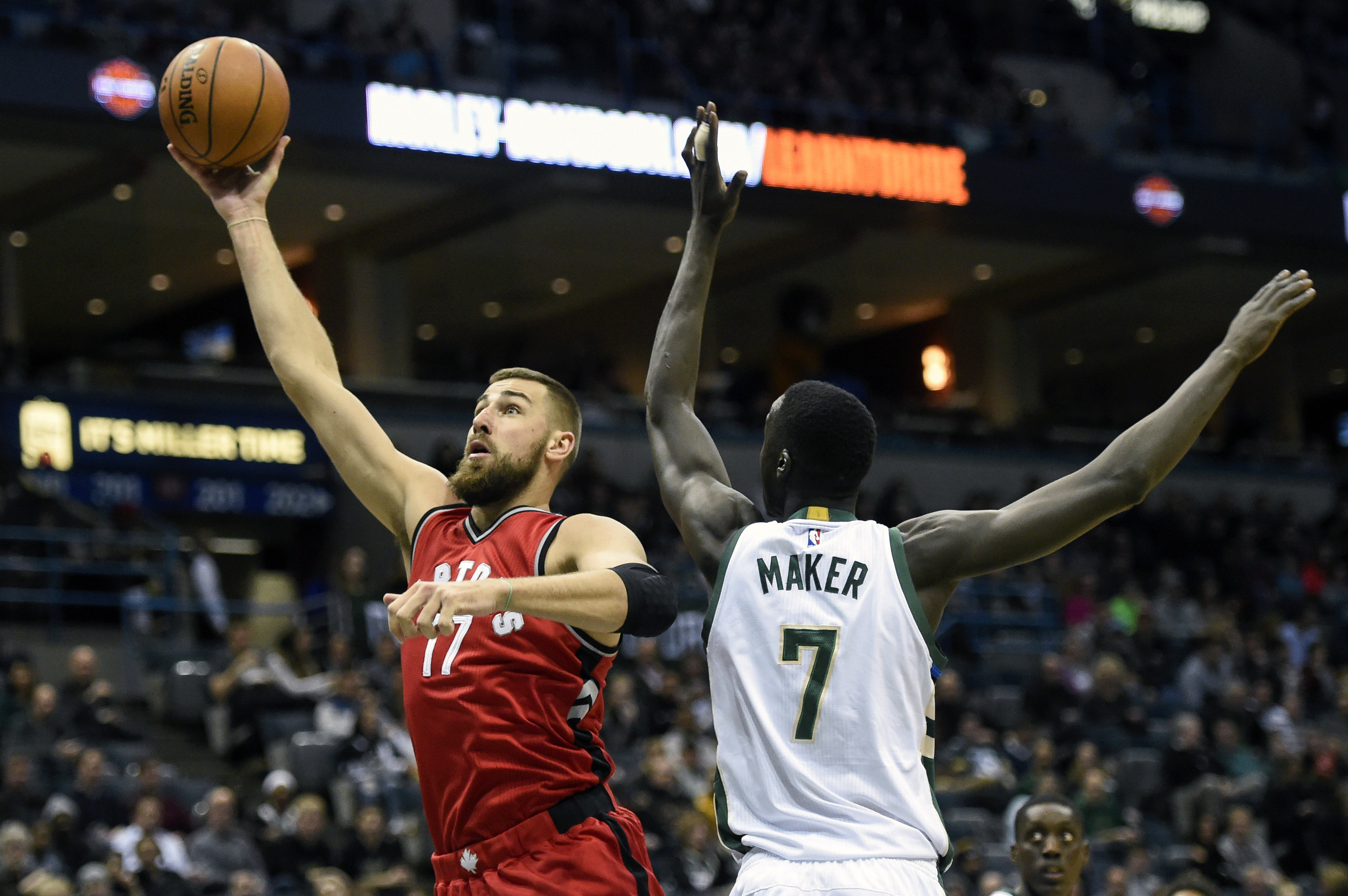 Going into Game 4, it's all about how the Raptors start
The Toronto Raptors have come back from double-digits to win 21 times this season. That number leads the NBA, but it sets a bad precedent. They finished 21-26 when they trailed by 10 or more during the regular season, a disconcerting amount of games to be trailing in for a team that won 51 games.
The playoff environment doesn't allow for teams to work their way into form, and the Raptors have learned this lesson the hard way.
Through 37 minutes of playoff action, the Milwaukee Bucks starters have an offensive rating of 117.0 and a defensive rating of 101.9. The Raptors starting lineup is at a distinct disadvantage when Jonas Valanciunas is forced to live with all the shooting around him. Like DeRozan, Valanciunas is a minus defender, and there is no room for both of them on the court for what has been such an effective lineup for the Bucks. The Bucks have done an excellent job of using Thon Maker and Tony Snell to drag Valanciunas and Ibaka out of the paint, thereby creating easier opportunities for them in and around the rim. They have outscored the Raptors 62-34 in the opening quarter in their two wins, including putting up an absurd 76.2 true shooting percentage in the first quarter of Game 3.
This has hurt the Raptors offence as well, as an already slow-burning offence comes to a complete halt when they're constantly taking the ball out of the basket and this has allowed the Bucks to execute their blitzes and traps more effectively.
This should come as a surprise to no one. The Bucks were one of the best teams after the all-star break in first quarter net rating at +7.1, while the Raptors were a -2.8. While Canada's team was able to overcome these deficits in the regular season, Milwaukee has brought an intensity and focus that needs the Raptors to show up from minute one.
In order to do this, the Raptors must start Serge Ibaka at centre. In fact, P.J. Tucker, Patrick Patterson, and Serge Ibaka have formed their best front court, and proved over the regular season that if they are good enough to be the closing lineup, they should be the answer to start. Having Ibaka guard Snell has been a waste of his defensive prowess thus far, and having him on Maker and ready to switch on to Giannis Antetokounmpo would make a significant difference in the Raptors ability to cross-match.
Something that could completely undo the benefit of starting Ibaka at centre is starting Cory Joseph for Jonas Valanciunas and going with a two-point-guard lineup. This is what Dwane Casey turned to in the second half of Game 3, but Joseph and Lowry on the court together against all the Bucks length is not a good solution to say the least.
For the majority of the 144 minutes that have been played thus far, the inexperienced Milwaukee Bucks have shown more poise, been more physical, shown more life, more everything. The Raptors rode a strong shooting performance from downtown (14-of-29) to escape with a victory in Game 2, but it still took two wide-open misses from Malcolm Brogdon and Matthew Dellavedova to get them over the hump.
Casey's position as head coach of the Raptors has never looked more precarious. This is the fourth straight playoffs where he has shown an inability to be proactive. For the third straight game, the Bucks stayed true to their plan of blitzing and trapping. It's the blueprint for beating the Raptors — test Kyle Lowry and DeMar DeRozan's willingness to pass, and dare their teammates to produce. It's not anything new Casey, Lowry, or DeRozan are contending with, yet, it appears as though they are trying to find a way to cope for the first time.
Toronto's head coach saved his job last season by replacing Luis Scola with Patrick Patterson in the starting lineup in the first round against Indiana, as well as inserting Norman Powell at a key time. The fact that he has put himself in a position to make a job-saving move doesn't bode well, but it's up to him to try.