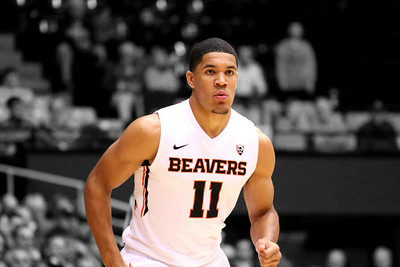 Georgetown Latest in Malcolm Duvivier Recruitment Bubble
As soon as word got out that Malcolm Duvivier was transferring the line has not stopped ringing for Duvivier, his peers and previous coaches. The four year Oregon State Beaver will graduate in June and be eligible immediately in entering a Master's Degree in business.
Akron, Rice, Niagara and most recently Georgetown are coming at Duvivier the hardest.
The recent hiring of NBA Hall of Famer, Patrick Ewing at Georgetown certainly brings in cache and great intrigue.
To add, Georgetown was Malcolm's favourite school since childhood. He didn't get recruited by them but he is now.
With all of the coaching changes at the DI level over the past few weeks, everything will be new for Duvivier wherever he lands; everywhere except Niagara.
Niagara in the grand scheme is a lower level program compared to the other teams listed above but they have a strong crop of eight returners who put them in contention of a conference title. What they're missing is a difference maker.
Akron just hired Coach Groce, formerly of Illinois and he brought on Coach Dustin Ford who has had a strong grasp on Canadian recruiting over the last 4 years, coming very close to getting Abu Kigab before he committed to Oregon.
Rice finished fifth out of the 14 teams that compete in Conference USA and retained coaches Scott Pera who was moved up to Head Coach in March, and JD Byers who has stayed on as an assistant. The owls put together a 23-12 record last year, the first 23 win season in 60 years.
Stability with the team combined with a high academic situation are key factors towards a decision for Duvivier. The options currently on his list are solid with other high major programs expected to dive in for his services.