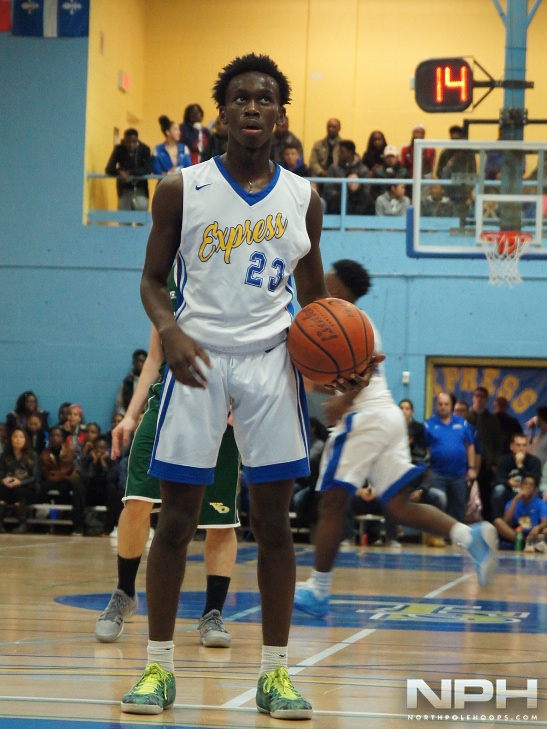 Day 1 Standouts at 13th St-Laurent Express Tournament
ST-LAURENT, QUEBEC–First trip of the season to Quebec and there have been several players already making a name for themselves and getting on the National radar. Amadou Kalba of Collège Jean-de-Brébeuf stood out in his very first game with a 17 point first half, carrying the load for Brébeuf and eventually finishing with 30 points, 8 rebounds, 3 assists and a block while getting the 89-80 win over Bill Crothers who made the trip from Ontario.
Host team École Secondaire Saint-Laurent (St-Laurent High School) has been a powerhouse women's program for the past decade under the guidance of Head Coach and Program Director Dan Lacasse. With the entire roster expected to play post-secondary basketball collegiately, its safe to say the level of excellence lives on.
This tournament is in it's 13th year, with a competitive field on both the men's and women's side.
Day One Standouts
Anthony Fritzgerald Felisma
A Canadian wing from the 2020 class who stands at 6'7 and presents versatility on both ends of the floor. The untapped potential has coaches all over QC at the CEGEP level after his services for next season.
Five minutes into his first game in the tournament, he skies for a dunk on a defender, a few minutes later an attack from the elbow to finish off the glass, a few possessions after hits a 15 footer to give his team the lead.
With continuous development on his body and fine tuning his skill set Felisma could end up among the top 2020 prospects in Canada. Tomorrow's evaluation will give a clearer indication on what he can provide.
Amadou Kaba
He can launch from anywhere on the floor and he'll show you that in the clip below. As a spot up shooter he should not be left alone or given breathing space to think about a shot.
Undecided in terms of guard position and posssibly a natural combo guard he has scoring abiities yet is unselfish and has a knack for finding the open man. Today he has been challenged by coaches to provide more on the defensive end as they know he's capable of. We'll see how he responds tomorrow.
https://www.instagram.com/p/BMtsRO9jrrv/?taken-by=northpolehoops
Justice Prentice
Another spot up sniper who put in 24 points for Bill Crothers in the outing. The cold look in his eyes suggested he's been there, done that. Prentice played with a lot of poise even when defenders began to close out quicker on him.
With so many scoring options on this young Colts squad he also had options to dish to, which he did to add 3 assists to his stat line. Another prospect that has not yet bought into the requirements of making defense a full time job. This would add to his value on the floor.
https://www.instagram.com/p/BMttWeoDGB5/?taken-by=northpolehoops
Ben Datro
In your face on every possession and you don't need to sick em' as a coach, he does that voluntarily. It's very rare to find prospects that enjoy playing defense as much as he does. For this is one of the reasons he stuck out.
Datro is an explosive guard with extreme leaping ability. On his way to the basket defenders have learned that they need to either foul him or get out of the way. As this was being typed up I looked up and heard the crowd roaring at another of his dunks.
With an improved three ball he can become a serious threat in half court sets for Coach Akram Sleiman.
Keep yourself in the loop and follow along for more from the 13th Express Tournament in St-Laurent, QC.