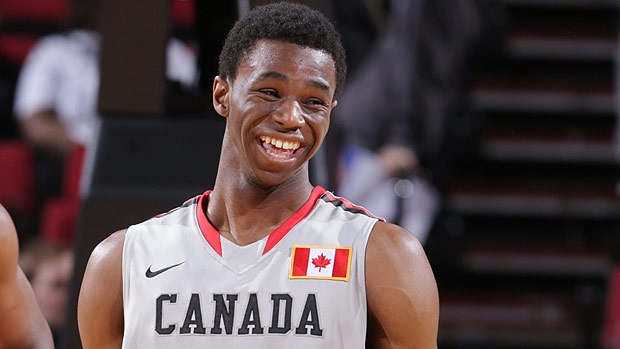 Wiggins has high hopes for Team Canada
Andrew Wiggins believes that Canada is the second most talented country in the world on the hardwood, and that in Toyko 2020 Team Canada can give the USA a run for their money.
Wiggins spoke with The Post Game about what's next for Team Canada, and how he wished they could have qualified last summer in Mexico, but when that didn't happen Wiggins decided to take this summer to work on his personal development in his role with the Timberwolves.
Andrew Wiggins (@22wiggins) believes Canada is the second most-talented nation in basketball. pic.twitter.com/m3Iba8HgFP

— ThePostGame (@ThePostGame) September 21, 2016
Canada missed a few opportunities to qualify for the Olympics over the past few years, including losing a one point game to Venezuela in the FIBA Americas tournament in Mexico City, and being knocked off by France in the qualifying tournament in Manila, Philippines earlier this summer.
A core of Canadian NBA talent, led by Wiggins, opted out of representing Canada this summer for a multitude of reasons. Wiggins and Nik Stauskas focused on personal development, while Andrew Nicholson, Dwight Powell and young gun Jamal Murray all were negotiating contracts this summer. Kelly Olynyk opted to have shoulder surgery this offseason, which left Canada with Cory Joseph, Tristan Thompson and Anthony Bennett to lead Canada to a qualifying win.
The potential for the Red and White is very promising though, and Wiggins brings up a valid point that when Canada puts its full strength on the court, they fill out an entire roster with NBA talent. Outside of US, Canada is the only other country that can boast that statistic, but still struggles against the top talent internationally and hasn't been able to get over the hump of qualifying for the Olympics.