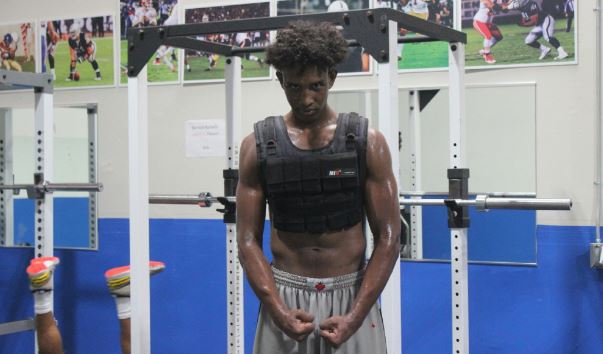 Abu Kigab's Physical Transformation
Abu Kigab has been holding the conch in the upper echelon group of the 2017 National Canadian Player Rankings for quite some time. Now with his recruitment blowing up he has not settled or slowed down.
Kigab has visited both Oregon and Illinois and still has USC and Cal on the docket.
In the meantime, he's getting his body right for the next level. This is the most chiseled version of Kigab that there has been. The difference between what his frame looked like at National Team workouts and now is night and day; definition and bulk packed on.
"After the season was over last year I realized that I wasn't where I wanted to be from a physical stand point, so over the summer I devoted most of my time to working on my body."
It's not just the physical appearance and strength that A.K. has improved, he has addressed another area that was noted during the NBA Basketball Without Borders Camp. NBA scouts were looking for Kigab to increase his flexibility in order for him to improve his defensive stance.
This is another improvement to check off, it's been an area of focus during his time with the National Team, UPlay Canada and while training at Prolific Prep.
"My flexibility has definitely improved and it's been a big reason why I can move better and perform some of the things I can perform now."
All it takes is one game of watching Abu Kigab to learn about how well suited his intangibles are for the next level. He plays every possession, he's highly communicative, liked by teammates and is ultra competitive. Now with his body maturing, athleticism up and a more defined off the dribble skill set; Abu is shaping up to look like an all conference student-athlete.
A visit to Cal is set for October 7th and a date for USC is yet to be determined.
Coach Mike Mennenga (Oregon) and Coach Dustin Ford (Illinois) have been tracking Abu for over two and a half years, those visits are complete and it's on to the next.
Wherever Abu ends up, these things are sure to happen: Instant impact when he's injected, and a persistent effort level towards improving. In the major NCAA conferences Kigab can defend multiple positions, rebound and score from everywhere on the floor.
Where will he end up?
Illinois, Oregon, USC, Cal.