17 Years Old going on 30: Who is Jonathon Nicola?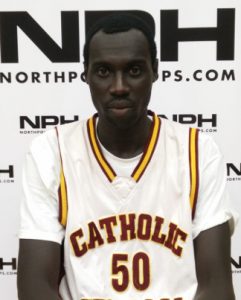 Jonathon Nicola, basketball player out of Catholic Central in Windsor, was arrested Friday, April 15 by Windsor Border Patrol and remains in custody for allegedly violating the Immigration Refugee Protection Act. He is being held under the authority of that act. The agency didn't expand on what Nicola, who is in Canada on a student visa, is accused of doing.
There is no official word yet on how the authorities will proceed.
Nicola, who was enrolled at Catholic Central as a 17 year old Grade 11 student, is believed to be a 30-year old man, according to the Windsor Star.
The six-foot-nine, 202 pound Nicola came to Windsor from South Sudan, escaping a war-torn country for a better life in Canada.
Through the program Canada Homestay, Nicola was living with Catholic Central's basketball coach Pete Cusumano since November 22nd 2015, when he told the Windsor Star he had moved to Canada just three days before his 17th birthday. 
Cusamano is a well known name in Canadian basketball circles, and has built a strong reputation over 36 years within the coaching game. Through my experience in Canadian basketball, I've seen first hand Cusamano's commitment to the game and helping youth stay off the streets, by volunteering his time all year long.
With respect to Nicola's situation and in speaking with Cusamano in the fall [after evaluating Nicola during a high school game] the Windsor coach explained that he was on a student Visa in Canada and met all the school's Protocals in terms of I.D. The standard procedure includes providing Birth Certificate, passport and student VISA.
Nicola was scheduled to represent Ontario at Nationals for the provincial program.
In addition, we at North Pole Hoops, had Nicola Nationally-ranked as a Top-20 prospect in class of 2018.
Based on the look test, we questioned his age, however the documentation checked out.
What will happen to Nicola moving forward is yet to be determined.
In the fall, Cusamano described Nicola as very polite, respectful and appreciative– that the big fella took on tasks like laundry, cleaning around the house, and emptying the dishwasher.
Over the last 24 hours, all sorts of rumours have been swirling around the internet and social media.
Until this situation is clarified by the authorities, they will remain as rumours.
–
Stay tuned on NPH as this story develops.