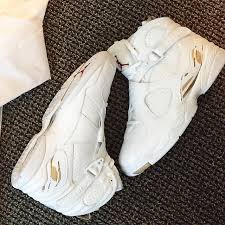 OVO Air Jordan 8s in Two Colorways?
We all know that Toronto hip hop superstar Drake has a deal with Jordan Brand.  We also know that he's been seen about the world wearing some hot exclusives that will soon be released like the Air Jordan X x OVO in a few weeks.  He did get caught at the annual OVO Bounce Tournament in Toronto wearing a pair of black Air Jordan XIIs which was followed up by him wearing them on stage at his annual OVO Fest.  For all of you sneakerheads out there looking to get really good looks at them Champagne Papi has posted them on his Instagram feed …
The best part about these pictures that Drake is putting up is that he also dropped a SECOND dope colorway …  
OVO "6IX YEAR" 8's A photo posted by champagnepapi (@champagnepapi) on Aug 20, 2015 at 5:38pm PDT
And a profile view …
As you can see this white on white with gold accents is pretty hot!  Drake was even kind enough to show the inside flap of one of the straps showing off his love for his hometown.  He has labelled the white pair "6ix Year" so assuming that Jordan Brand actually comes up with a official model name for these Js this will be the street name.
There is no release date for either the black on black or white on white with gold Jordan XIII models yet but remember that the OVO Xs had images released over a year ago so these may be a year away, if that.   Stay tuned here for any new info on their release date.