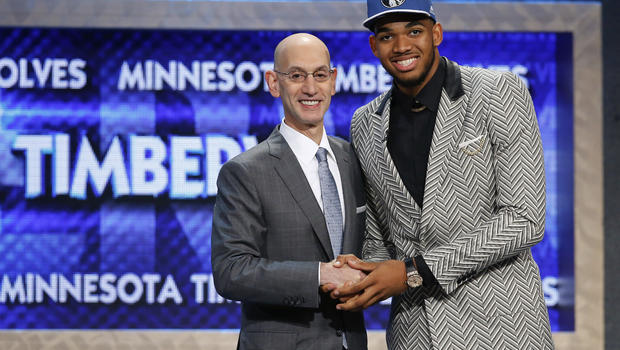 The Wiggins-Towns Connection
This time last year Andrew Wiggins was trapped in no-man's land.
Having been anointed the "next Jordan" and becoming the top overall pick in the NBA draft, Wiggins was riding high… until LeBron returned to Cleveland, didn't name Wiggins in his letter, and proceeded to remake the Cavs roster with his demands.
The "What Ifs" are expansive, but Wiggins may have landed in the best spot possible for him.
Allowed the freedom to grow, have the ball in his hands in clutch situations, match up with the best, and experiment with his game, he's the reigning Rookie of the Year with a franchise building around him.
And they just expediated that process with the selection of Karl-Anthony Towns first overall.
Towns could be a generational talent. So could Wiggins. At worst each is a multi-time All-Star and NBA starter for a decade-plus. Best case scenario – two Hall of Famers.
Wiggins and Towns have played together at the Nike Hoop Summit game for the World Team in 2013, trading shots and learning each other's game (check out the air guitar!)
The seven-footer Towns averaged 19.5 points, 12.7 rebounds and 4.2 blocks per 40 minutes with Kentucky last year with improving handle and post game. He also shot 81% from the charity stripe.
He can shoot with respectable range for a big, finish around the rim with either hand, and is mobile enough on defence to challenge or block a shot and still come up with a rebound on the second jump. He's athletic but he's no Bounce Brother.
Towns will give Wiggins more spacing at the rim than Nikola Pekovic ever has (which will be crucial in a full season playing with Ricky Rubio) and is a better rim protector, allowing Wiggins to gamble for steals.
Rim protection is sorely needed on a team that finished dead last allowing 69% shooting there last season, and corralling just 71.6% of defensive rebounds.
Having more talent on the roster overall allows Wiggins to play off the ball more and be creative with team offence.
The Wolves also acquired March Madness hero Tyus Jones from Cleveland who selected him with the 24th pick. Jones will complement Rubio nicely in the backcourt.
Minnesota also holds the rights to Euroleague MVP Nemanja Bjelica, a 6-10 Serbian "point-forward," and the Wolves are trying to bring him to the NBA next season.
All in all, things are working out for Wiggins. Cleveland or not.