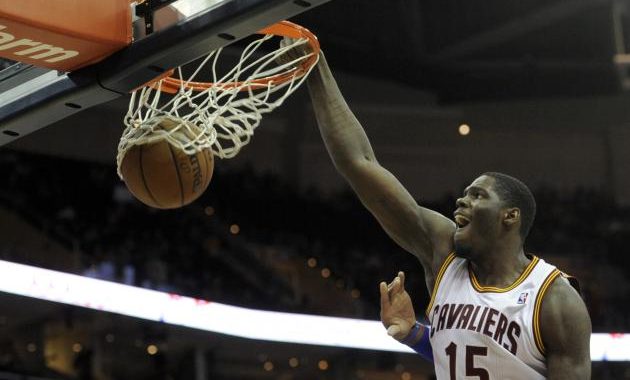 Anthony Bennett is on the trading block for the second year in a row according to sources at ESPN.
The 2013 first overall pick has already changed scenery – after one season with Cleveland he was dealt along with Andrew Wiggins to Minnesota in the Kevin Love trade.
But though he saw his minutes rise, Bennett still struggled with the long difficult NBA schedule and nagging injuries and appeared in just 57 games averaging 5.2 points on 42% shooting, and 3.8 rebounds.
Teams seem to be giving up on the 22-year old athletic forward too easily in a league where undersized, rangy 4s are taking over. Bennett should still be able to salvage a career but he needs to land in the right system that will work to his strengths.
Five Places Bennett Could Go
Atlanta Hawks
On a young and developing Hawks squad that relies on Paul Millsap and Al Horford, Bennett could model his game on theirs and fill Elton Brand's minutes. Like the Spurs, Coach Bud and ATL move the ball and have a controlled system that will work to Bennett's advantage. Atlanta could use some depth in the frontline as injuries derailed them in 2015's playoffs.
San Antonio Spurs
I can't think of many players that wouldn't thrive on the Spurs, and they'd give Bennett the spacing to create off the dribble and pass. He'd need to become a more clever set-up man to keep the offence zinging but playing with Duncan and Diaw would impress good habits. His two best games last season were both against San Antonio, which may positively skew their opinion of him.
Boston Celtics
The Celtics have hoarded assets including four picks in the upcoming draft and are in the perfect position to make some moves to upgrade a young roster. Brad Stevens is a creative coach and playing with Kelly Olynyk could help Bennett keep some chemistry from summer play with Team Canada. Boston already has some size up front but Bennett's ceiling is higher than Tyler Zeller or Brandon Bass.
Milwaukee Bucks
Jason Kidd has the young Bucks executing on offence and locking down the defence all the way to a surprise playoff run. Jabari Parker will likely own the 4-spot when he returns from injury but the frontline is in need of reinforcement in an atmosphere without too much pressure and all the incentive to develop. Bennett could fit into an eight or nine man rotation here nicely.
Toronto Raptors
With some expiring contracts coming off the books and Masai Ujiri having had a real good look at the current roster, he will need to trade for need as well as upside and bringing Bennett home to Toronto could fill both. He'd play largely the same role Patrick Patterson plays, but with Amir Johnson on the decline maybe there's room for that. The pressure of playing at home may not be what Bennett needs, but maybe he'd be more comfortable back in the city he knows best.