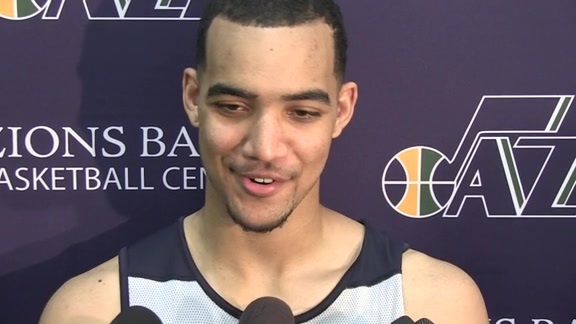 Drafting the North – Predictions on Lyles, Hanlan, Pangos, Walker, Nastic
The 2015 NBA draft is Thursday night in Brooklyn as Barclay's Center plays host to the best prospects and the worst suits.
Talent abounds with potential draftees that were the stars of March Madness, have been groomed in professional leagues overseas, and in some cases will represent Canada on the big night.
60 players get drafted in two rounds of picks – which Canadians have made their game speak and done enough to be recognized by NBA scouts?
Can Ball Ray & I break down our thoughts on the Canadian prospects:
Trey Lyles
DG: Lyles is one of the hardest of all the prospects to project because he does everything well but nothing truly great, as well as being lost in the shuffle on a stacked Kentucky team. He's got the size to play legit NBA power forward and a skill set that he wasn't able to completely display at UK; I've heard Phil Jackson likes him for the Knicks and they could trade down to get him. Likely drafted anywhere from 8th to 18th.
CBR: I don't think there is any doubt that Lyles is a sure fire First Rounder come Thursday night. The only real question is if he will be in the Lottery or not. The rumours of Phil Jackson really liking him could have the Knicks make a move to ensure he gets into the top 14.
Olivier Hanlan
CBR: Hanlan is First Round talent but will be a Second Round pick. His time at Boston College should show potential employers that he could do just about anything needed.   I'd expect him to be a mid to late Second Rounder unless he's thoroughly impressed a team enough that could use backcourt insurance.
DG: Hanlan has certainly made the rounds, visiting 17 or 18 teams during pre-draft workouts. Teams need a first-hand look at the high scoring guard with good size (6'4″) at his position that made a name for himself after being lightly recruited out of high school. He projects as an early second round pick but don't be surprised if someone scoops him near the end of the first.
Kevin Pangos
DG: In a guard driven league where spacing, passing, and three-point shooting just won Golden State a title, there just might be room for Pangos after all. The senior from Gonzaga isn't slated into most draft boards but could be nabbed with a late second-rounder by a veteran team looking to retain his rights.
CBR: Do I think Pangos can play in the NBA, yes. Do I think he'll be seeing his name on the big board, no. He's had one great college career and he is one very, very good player but he's probably going to be hit by the "Draft a big or uber-athletic type" mentality. I expect he isn't Drafted but a team already has him signed to a training camp contract just after the Draft bell tolls midnight.
https://www.youtube.com/watch?v=J7_1YxG9fkE
Maurice Walker
CBR: Walker is an intriguing prospect. The work he put in between his junior and senior seasons has transformed himself into a legit player. He's been on a few workouts and I'm sure he's impressed with is mobility but teams will likely opt for a bigger name or more athletically gifted player than Mo. Summer League will be his next stop for sure.
DG: The 6'10" senior centre from Scarborough famously shed 50 pounds to play a more up-tempo style in Minnesota and that type of commitment won't go unrecognized in the draft process. He's worked out with about eight NBA teams and is hopeful to get drafted but more likely will join a Summer League squad as a free agent.
https://www.youtube.com/watch?v=j4JCBNz7hfY
Stefan Nastic
DG: Alongside Dwight Powell he made a name for himself in the NCAA tournament playing for Stanford two years ago, but his ceiling isn't getting any higher. I know the Clippers gave him a look over leading up to the draft process and they're in desperate need of depth up front but they don't hold any second round picks. Expect him to go undrafted.
CBR: Another Canadian big who worked out with many teams Nastic will be looking from outside when the Draft finishes. Teams seemed to have been impressed with his mobility and shooting touch in workouts. He has a rep for being a tough defender in an equally tough PAC-12 Conference, which will warrant a second look from team I'm sure. But it will be a summer league look.