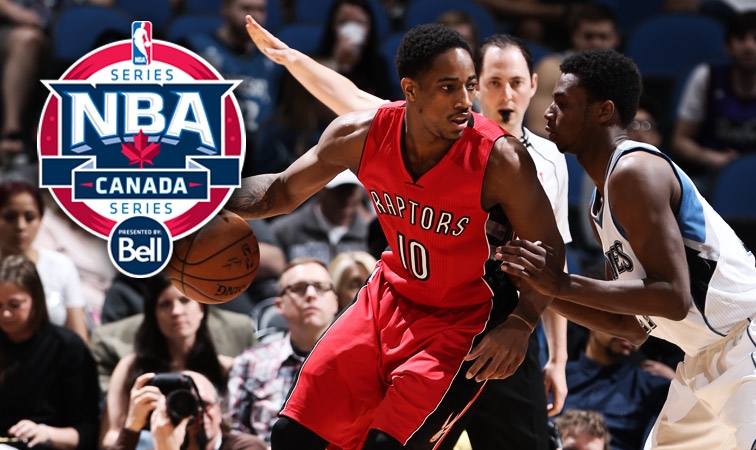 Raptors, Wiggins Headline NBA Canada Series
Wiggins in Winnipeg? Lob City in Van City?
The annual tradition of playing preseason NBA games on Canadian soil outside of TO continues in 2015 with the biggest lineup yet.
The Toronto Raptors will play three games, while the Minnesota Timberwolves will play two games, and the Chicago Bulls, Los Angeles Clippers and Washington Wizards will each play one game.
Matches will be held in Montreal, Ottawa, Vancouver and Winnipeg.
"As the country's lone NBA team, we are honoured to again be part of the NBA Canada Series," said Masai Ujiri, President and General Manager of the Raptors.  "The crowds last season in Vancouver and Montreal were enthusiastic and passionate about the NBA.  We look forward to the same excitement for the Raptors in those two cities and our nation's capital."
Per NBA Canada on Raptors.com;
The 2015 NBA Canada Series schedule includes:
The Raptors, led by 2015 NBA All-Star Kyle Lowry, taking on eight-time NBA All-Star Chris Paul and five-time NBA All-Star Blake Griffin and the Clippers at Rogers Arena in Vancouver on Oct. 4
2010-11 Kia NBA Most Valuable Player Derrick Rose and the Bulls squaring off against Toronto native Andrew Wiggins and the Timberwolves at the MTS Centre in Winnipeg on Oct. 10
The Timberwolves facing the Raptors at the Canadian Tire Centre in Ottawa on Oct. 14
The Raptors playing two-time NBA All-Star John Wall and the Wizards at the Bell Centre in Montreal on Oct. 23