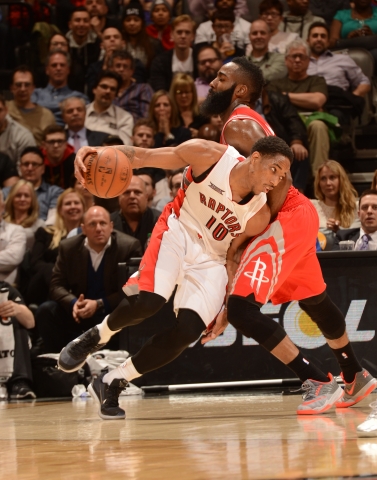 DeMar DeRozan scores career-high 42
With DeMar DeRozan and James Harden matching up on both ends, the ACC was rocking Monday night.
Those fans witnesses something special – two of the League's great offensive players playing each other shot for shot and guarding each other in the fourth quarter.
In the end it was DeRozan who scored career-highs in points with 42 and rebounds with 11, and his Raptors who came out with the 99-96 win.
"I thought DeMar did a magnificent job defensively against Harden and I thought the way he played defence set the tone for everyone else," head coach Dwane Casey said after the game.
Harden had a great game for the Rockets too, notching 31 points with five rebounds and five assists in his ongoing MVP campaign.
DeRozan and Harden raise each other's games. They're teammates from the gold-medal winning USA squad this past summer, and they often match up in the Drew League for summer rec play.
"It's definitely cool because we've been playing against each other since we were kids and that's one of my close friends in this league to this day," DeRozan said of Harden. "I'm close to his family, he's close to my family so it's cool and we'll cherish this 20 years, 30 years from now."
The first time they matched up?
"I was young, maybe 12 or something… And he didn't have no beard."
Friday's six-point performance aside DeRozan has been rounding into form in the past month or so. The Raptors will need a rejuvenated DMDR to take them through the playoffs, having found his legs after his groin strain midway through the year.
"Any time you miss 22 games it takes time to get back the confidence in your body, the explosiveness to fight through that," said Casey. "I think that's where he's at now, just getting his conditioning, his legs and confidence in extending and getting separation on his shot."
"I've always said DeMar's an All-Star."
He's our All-Star.