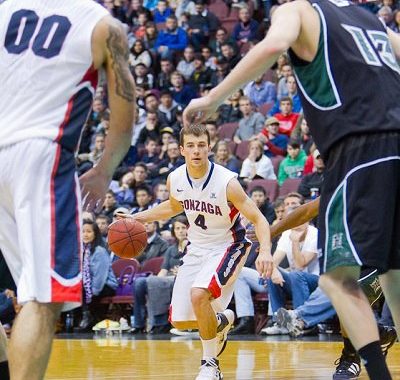 Canadian Point Guard Kevin Pangos Leaves Legacy at Gonzaga
Kevin Pangos' career at Gonzaga has come to an end in the NCAA Elite 8, at the hands of the Duke Blue devils.
The Canadian point guard has left a legacy, through his career at Gonzaga, beyond the statistics and the accolades.
Pangos has represented himself, family and Canada with class throughout his 4 years as a Bulldog.
KP speaks on his experience at Gonzaga:
Coming from Canada where you can't really watch NCAA games in person; that was a big goal of mine, was to go to an NCAA school play.

To finally get here, play in a couple games and be extremely nervous, it's been a great journey, something I've always wanted to do my entire life, something that I've worked so hard for…it's been more than I imagined and a great stepping stone for the rest of my career and rest of my life.
Where the next step may be is yet to be seen, but the legacy won't be forgotten…
Thank you ZagNation for an incredible 4 years.. Words can't describe what Gonzaga means to me, I'm so fortunate to call myself a Zag!

— Kevin Pangos (@KPangos) March 30, 2015
No better group of guys than the ones in our locker room and I'd do anything for my brothers.. Love each and every one of them!

— Kevin Pangos (@KPangos) March 30, 2015