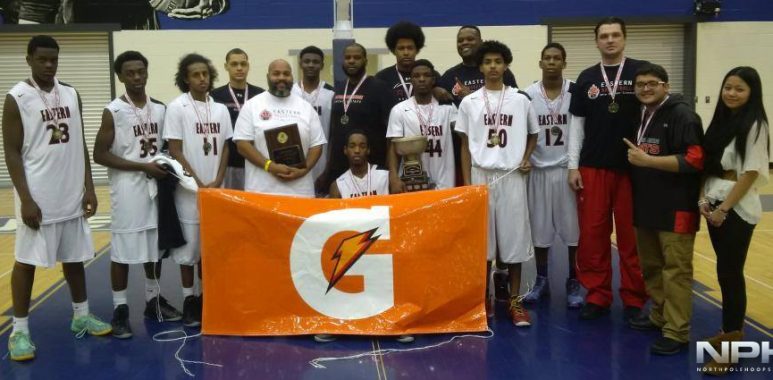 Eastern Commerce Adds Title to Legacy – "We want to Go out as Champs"
Eastern Commerce Head Coach Kevin Jeffers is a motivator…and a creative one at that.
Word is, in early November, Jeffers printed out copies of the National Rankings and posted them in the locker room. They were ranked at #18 in the country to start, and boyyy were we wrong, currently up to #5 and inclining.
Dwight Dixon, who stepped up for the Saints in the Holiday Classic championships, spoke on this tactic by his coach.
"It's in our locker rooms, so everytime we go in, we're just motivated. Coach told us rankings don't mean nothing. Just go out and play your hardest, and everything will be good. That's what we do," Dixon told North Pole Hoops.
Rolling into December, the Saints look as good as ever, both conditioning wise and execution. The team combines their speed and athleticism in getting to the rack, with multiple threats when it comes to shooting the basketball, keeping pressure on defenses.
Narcisse Ambanza, whose recruitment has been picking up (Fairfield, Ryerson, UofT, and now has Carleton intrigued) earned MVP once again, displaying a full game including put back jams, shooting, passing and getting to the rim, finishing with a game-high 23 points in Eastern's win over Thornlea 64-48.
I was at an Eastern practice in the beginning of the season. EC was in the trenches, in preperation mode–all sweating buckets. They have come a long way.
"We run a lot, definitely. We work on a lot of drills (shooting, ball handling) and coach Mac, he just pushes us to our limits, he's a great coach and I love playing for him," explained Dixon.
About a month and a half later, the Saints are ballin, adding another championship title to the program's legacy, in it's final year.
But it's the big one that the team has its sights set on.
Dixon kept it real, and didn't hesitate, stating the team's mindset.
"Well we definitely want to dominate and OFSAA is our number one thing."
"We want to go out as champs."
That would be special.